The self-help section of Barnes and Noble is my happy place. It's especially awesome when I need a big pick me up and state change. I just get in my car, stop at the starbucks cafe for a latte and then meander around in search for a new self improvement gem that will change my life. Sometimes it's hard to make a decision. There are so many to choose from! But when I saw You Are A Badass by Jen Sincero, I was pretty much sold on the idea that THIS would be my next book.
And I read it in like… two days. I devoured it. And then when I was done, I read it again.
It was that amazing.
So Guess what I decided to pick for April's book of the month? YUP….. YOU GUESSED IT.
You are a bad Ass.
Because "You are a Badass"is badass.  Seriously, with a name like that, how could you not feel inspired?!
You Are A Badass – By Jen Sincero
When I picked up the book, the cover seemed too good to be true: "How to stop doubting your greatness and start living an awesome life."
Yeah… okay. Doubt much?
But the minute I started reading it I fell in love. It's the real deal guys.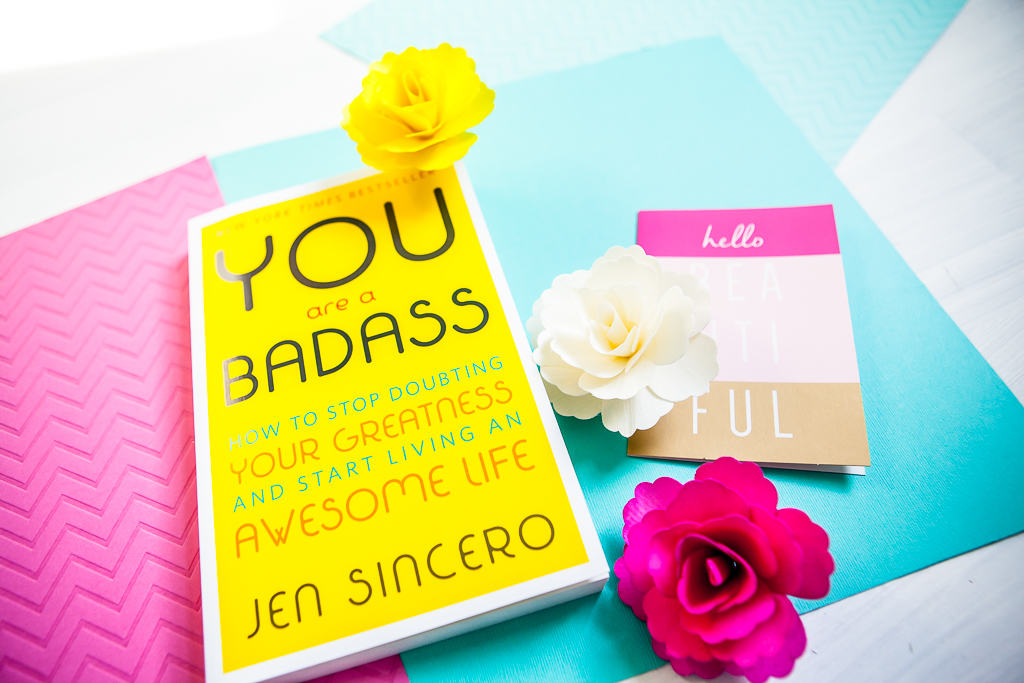 Why The You Are A Badass Book is Truly Bad-Ass
You will develop a great understanding of ego. If you're unfamiliar with the term Ego and what it means for your personal development, don't sweat it.  You Are A Bad Ass by Jen Sincero will give you a great introduction on Ego. You'll learn what it is and how it effects your happiness. But in case you're curious, I'll clue you in. Ego, or "the Big Snooze," as Sincero calls it,  is that voice of self doubt in your head that holds you back from actually becoming the person you truly are meant to be. It's that little person talking to you telling you to be afraid of going after the things you want to accomplish in life.
You will discover what exactly is holding you back from happiness. Once you understand your ego, aka your own "big snooze," you will quickly uncover the root of your problems. If you have limiting beliefs like, "other people control my life," or "I cannot have the life I want," this book will help you completely dismiss those ideas and help you create new ones. Sincero really dives deep into self perception and helps you understand exactly how to change your beliefs so you can get what you want in life.
Other Awesome Things You'll Learn when You Read You Are A Badass
You'll totally grow your self love. You are a Badass is totally 100 percent focused on helping you grow your self love. It is literally the foundation of this book. And that's a really good thing. Because you cannot accomplish anything in your life (like finding happiness) if you don't learn to love yourself first. In order to go after your dreams, you need to believe that you can accomplish them, and you need to start acting like you can and believing in yourself. You are a Badass shows you just how to do that ..
You'll star taking more risks so you can be successful. Jen Sincero tells a great story about this in You are a Badass. She wanted to grow her financial status, but also needed a car. So she went out and bought the car of her dreams. She didn't have the money for it at the time. But by purchasing that car, she pushed herself into a lifestyle she wanted. Because of her big crazy purchase, she became determined to actually create the life she wanted for herself. Jen Sincero is a rockstar. She really shows you that it is okay to take a big leap of faith; especially  when you are trying to accomplish big things. If you go after your goals with tenacity, the universe will reward you.
Okay.. the end. I hope you've realized how amazing this book really is, and I hope you go out and grab it. Total game changer.