Whenever I have a rough couple of weeks, I know I am in desperate need of some TLC. But once my wheels start turning and I overwork myself, it is hard to remind myself to take a break, stop, relax and care for myself. Anytime this happens and I have a hard time decompressing, I know one simple quick fix to solve my problems: A total at home spa day!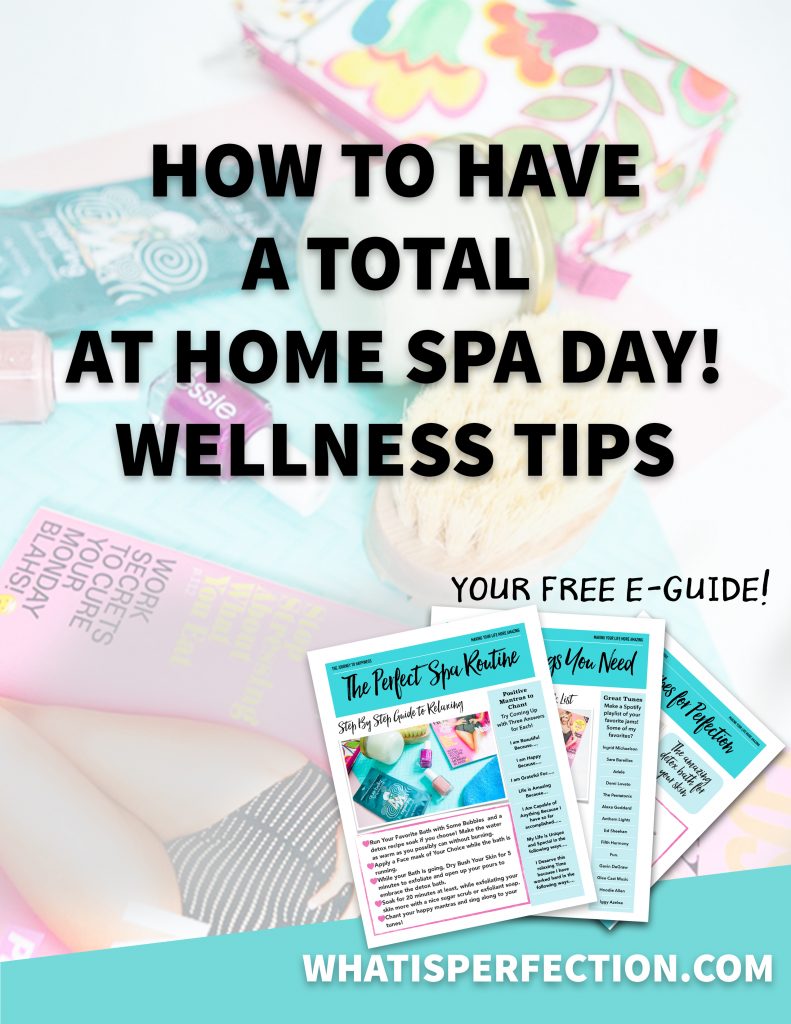 Having an at home spa day is an easy way to treat yourself without breaking the bank.
I love using an at home spa day as a way to relax and regroup. It's especially useful when I want to relax but have zero energy to leave my house to do it.
Forget the spa, the massage parlor and the nail salon. I'm gonna do all that fun stuff without having to put on mascara or get in my car.
Because all I need is a good girl magazine, a face mask and a jam out session in my bathroom to boost my spirits.
Oh.. and bubbles in my bathtub. I also really need bubbles in my bathtub.
So here are a few tips and tricks for how I leave behind the stress and jump into relax mode with an at home spa routine.
The first step in having an at home spa day:
Make an announcement that you are having an at home spa day.
Don't laugh. Seriously, do this. You'll thank  me later when your boyfriend isn't banging on the door and your kids aren't shouting to ask where you left the Apple TV remote.
When I have my at home spa day,
I NEED TO LET EVERYONE KNOW WHAT'S ABOUT TO GO DOWN. 
I tell everyone in the house that it is time to leave me alone. I'm not kidding.
I literally go around the house and broadcast this public service announcement: 
"Okay, I'm having a Lauren Day," – I call it that so people no they aren't invited.
"I'm running a bath and taking my time." – This also let's people know I'm not pooping. Because for some reason, that's important to me. 
"I'll probably be in there for a while." – This is my way of politely saying F*** off and go find some other bathroom to use for the next three hours.
"If you need anything, nows the time to let me know." Because yes, I will be playing ALL the tracks of that old Michelle Branch playlist I have saved on my spotify. And I will be singing. Loudly. Thank you. 
If your a mom, or live in a house with other people, this is a major major "must do" on the check-list for having an at home spa day. Because nothing is relaxing about being interrupted when you are trying to relax. Come up with your own natural script if you'd like, but feel free to use mine. It works.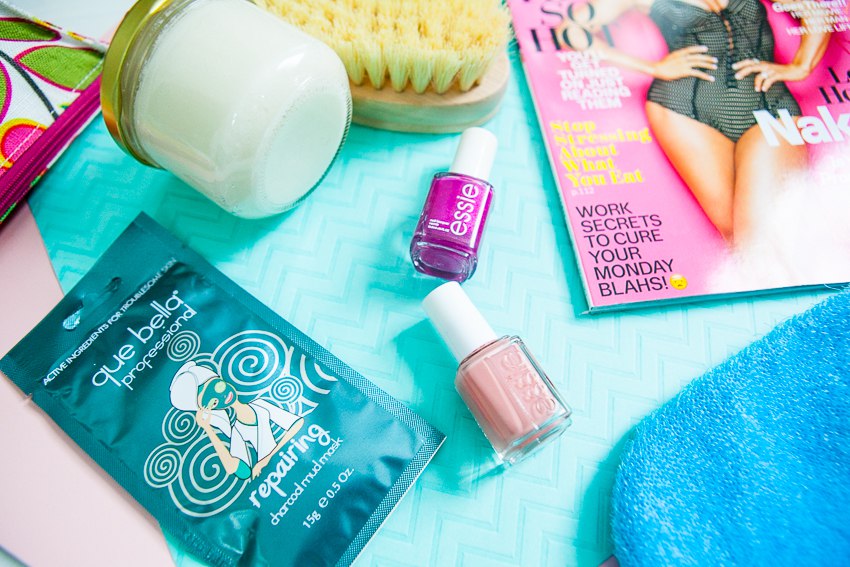 Now that you're alone for your at Home Spa Day…
Pump up those jams, light some candles, apply a face mask and sing your heart out. 
It's game time, yo. 
You can make a face mask at home, or you can grab a cheep one at your local drug store. Target has a really good one that I featured in these pictures. It's like three bucks.
While my face mask is sitting, I treat myself to a nice dry brushing session. If you don't know what that is  you should check out my post on dry brushing to get the deets. I gently brush my whole body from head to toe using a special routine motion until I feel refreshed and energized.
Then I draw my bubble bath. I love adding a few drops of essential oils in there. And sometimes if I'm feeling bold, I'll go with a full detox bath recipe.
Now it's time to have nice calm ME moments. I read my magazine, recite some positive affirmations and dream about some new goals I want to accomplish.
I usually like to soak in my bath anywhere from 15-20 minutes depending on how much time I have in my day.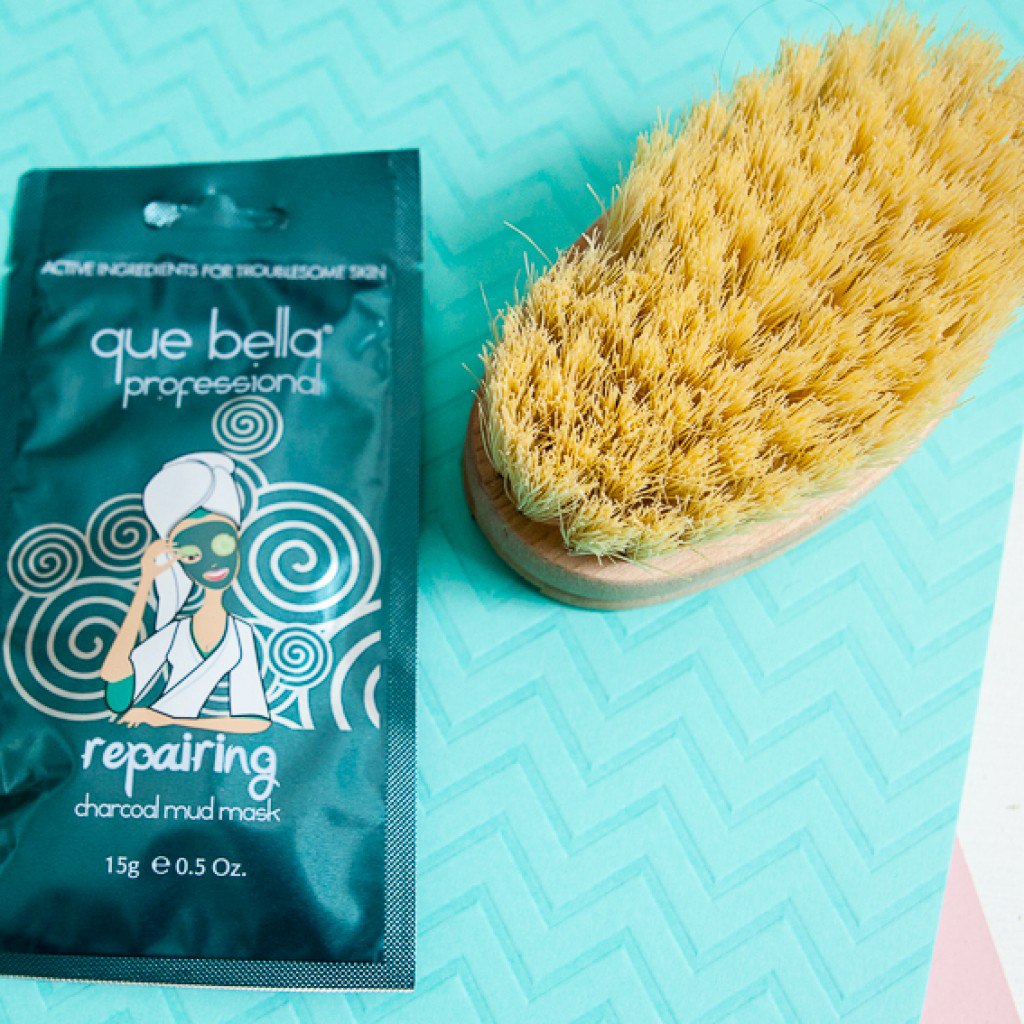 This is the time where I love shaving my legs and using my favorite sugar scrub. Find a sugar scrub that has oil in it and isn't too dry on your skin. I love following this easy to make DIY Sugar Scrub recipe This is great to do right at the end of my bath soak and before I shave. It gets all that extra dead skin off!
If you want to take that skin care up a notch grab one of those hand gloves that exfoliates the skin. Again, Target. Seriously is there anything you can't get there? 
Once I am done with my bath, I like to paint my nails. It is the best thing for feeling pretty from head to toe. I follow a simple step by step on getting the perfect manicure at home.
I spend the time reading my magazine and just relaxing. Taking time to just let my mind wander and stay calm. Surrounded by my candles and some good tunes you can't go wrong!
Once My manicure is done and dry, I run a nice cold water under the sink and let my nails soak. Soaking the finished manicure in cold water is great for keeping it fresh and solidifying your coat so you don't mess it up!
Then I draw my shower and rinse off. Wash my hair, maybe put in a nice hair treatment and sing along to my tunes. This is by far the most relaxing routine ever. Am I missing anything ladies?? Any thing else you love adding to your routine?
Don't forget to grab: THE FREE AT HOME SPA GUIDE 

Oh, and Here's My At Home Spa Day Checklist:
I try to do my best to get everything on my list. You don't have to have ALL of these things to enjoy a relaxing at home spa day, but these are all the things I usually grab for my me time:
Your Favorite Nail Polish
A Polish Base
A Polish Top Coat
Nail File
Nail Buffer
Dry Brush
Face Mask
Candles
Magazines
Nice Calm Music That Makes You Happy
Sugar Scrub
Epsom Salts
Oil or Lotion for Your Skin and Face


Sign up for Your Free Life Coach Guide! Find Confidence, Feel Beautiful and Transform your Happiness step by step. Make an Amazing Change for Your Life. I'll give you the tools to make it happen!


What is Perfection is the Self Improvement blog for the imperfect girl everywhere. Learn to find happiness, feel beautiful, and be confident in who you are. We all deserve to be happy, and we all deserve to be the best version of us. And we all are truly capable of getting there. Because Perfection Is Impossible. Happiness isn't. See The Self Improvement E-Guide Collection For Your Life Coaching Guides to Change Your Life Today!