The best analogy for what I realized yesterday: I'm like a girl obsessed with buying shoes…The girl who is constantly purchasing new pairs but doesn't really know she has a problem. And then one day she is cleaning out her closet. And suddenly she realizes: "OMG. I have SO MANY SHOES." ….Except I'm not obsessed with buying shoes. I'm obsessed with making help guides. And yes.. I have A LOT more than I thought I did.
I've created a TON of self help guides in the past year. I guess I didn't realize how much content I put out there, until I was organizing it all  for a big project coming up (more on that later.)
So I thought it was time to "clean out the closet" so to speak. Especially because I've officially been at this for one full year!
Yesterday I wrote a post celebrating and marking my first year blogging and a full twelve months running What is Perfection LLC. It's truly been an incredible year. I am so super blessed to be spending my days coaching and creating personal development tools and courses that actually HELP people.
And I love the Perfect Life Library I created – it's full of all the help guides that actually HELP people.
I love it. And my subscribers seem to love it too! (Go check it out here if you want FREE access)
So I thought today I would do a roundup post of some of my favorite help guides. I have created so many self improvement printables in the past year, that sometimes even I have a hard time picking which one to use.
So in honor of the one year mark: here you go. My top favorite FREE self improvement worksheets and self help guides. Have fun browsing them! And if you ever have an idea or topic for a future guide – go get at me girl and give me a shout out! I LOVE hearing from my readers.
Alright. Ready? Set? GO!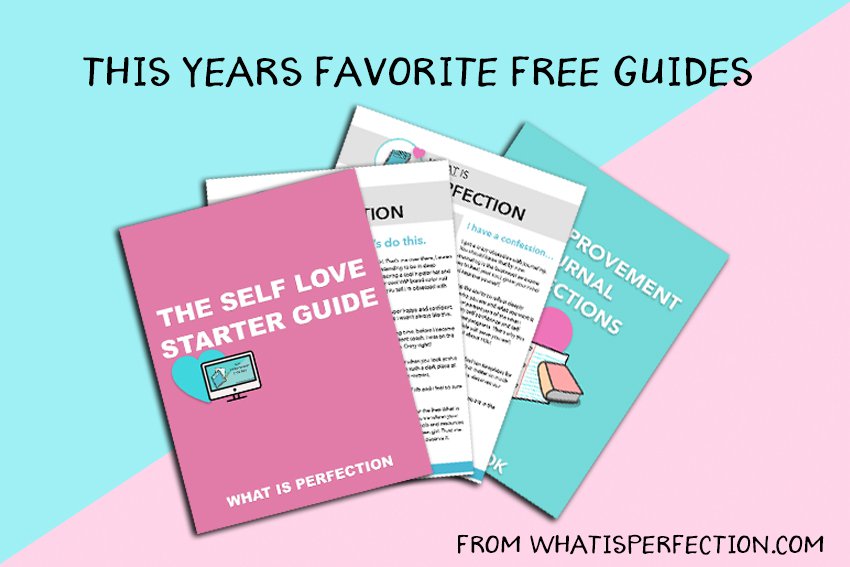 TOP Help Guides

FREE Personal Development Tools from What is Perfection


Goal Setting Help Guides
We all have different goals – goals to be more organized, more financially responsible, or just more happy. In the Perfect Library I've thrown a TON of goal setting help guides over the past year, but the two that seem to be the most successful for my clients (and the most popular among subscribers) are the Weight-loss Goal Setting Guide, and the Guide For Reverse Engineering Your Goals.

Use this Help Guide to get clear about WHY you need to lose weight so you can actually motivate yourself to do it.


This Guide takes your MAIN Big goal and breaks it down into smaller more short term baby step goals. (What easier way to feel less overwhelmed by a big project!


Confidence Building Help Guides
Since a lot of my clients come to me with confidence and self love struggles, these two E-Guides are always something I recommend ANY girl print and use. Daily Journal Prompts for Growing Your Confidence and the How to Feel Beautiful Guide really go a long way.





"How To"  Help Guides 
And finally, my three most game changing Help guides.
How to Stop Caring What Other People Think






I hope you get a lot out of these help guides!
Feel free to browse around, print them out, go have fun.
Oh.. and remember: Go sign up for