Cleanse & Restore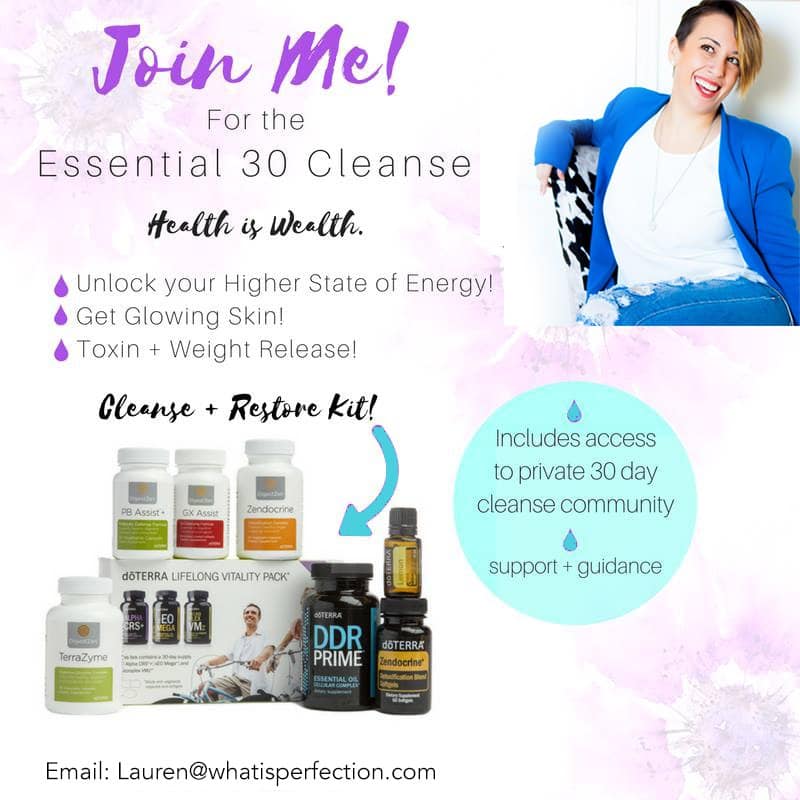 How are you feeling?
Have you been feeling sluggish, distracted, foggy, overwhelmed, bloated, tired, kind of icky, and in need of a bodily re-boot? Is it time to flush toxic "build up" from modern living?   Do you want more energy and to stop craving foods that taste good then feel bad?  Are you tired of indigestion, heartburn, gas, bloating and/or constipation? Would you like to have clearer, glowing skin and the peace of mind that you are taking action towards a healthy future?
How can I Cleanse & Restore?
With this 30-Day program, using high quality essential oils and supplements to cleanse, detoxify, and bring your digestive tract into a state of healthy balance, you will begin to cleanse and restore your body naturally.Whatever it is that is drawing you here, how awesome would it be to treat your body to a cleanse after the binges of the holiday season? How much better could you feel? How much healthier could you be? How much more energy could you have? Are you curious? Would you like to find out?Commit to your 30-Day Cleanse.  It's an excellent way to detoxify and take charge of your health with a focus on vibrant health!
Challenge Overview
Days 1-10: 
Build a solid foundation of nutritional support through micronutrients, healthy fatty-acids, and antioxidants; prepare for healthy elimination and detoxification using enzymes and a blend of essential oils.
Days 11-20: 
Add GI (gastrointestinal) support, as well as cleansing of the liver, kidneys, and colon.
Days 21-30: 
Add the repopulation of healthy microflora in the GI Tract.Throughout this challenge, you will be encouraged to enhance your cleansing experience by engaging in moderate exercise, choosing high quality, whole foods, simplifying your life, and de-cluttering your personal environment.  Your program begins with a one-one consultation with Rebecca and ends with another one-one call.  Throughout your 30-day program, you can ask questions and get the support you need throughout the program via the private FB group.
This is not about starvation, dieting, or deprivation.  This is about giving yourself a gift: holistic health, from the inside out.
This is an opportunity for you to choose real food, rebuild your adrenals (most likely burned out and fatigued from stress), and boost your metabolism naturally, while learning new ways to live a healthy life beyond the 30 days.
Your Tool Kit (The Cleanse and Restore Enrollment Kit $245) 
-Cleanse & Restore Enrollment Kit
Lifelong Vitality Pack, Zendocrine Softgels, TerraZyme, GX Assist, PB Assist+, Lemon Essential Oil
-Private FB group and coaching community
-One-One Support & Access to Me!
2) Enroll as a free "wellness advocate" account.
3) After inputting your information, choose the Cleanse & Restore Enrollment Kit
*Not sure? Contact me directly to walk you through the steps.* – CONTACT
Let me know if you have questions.
<3