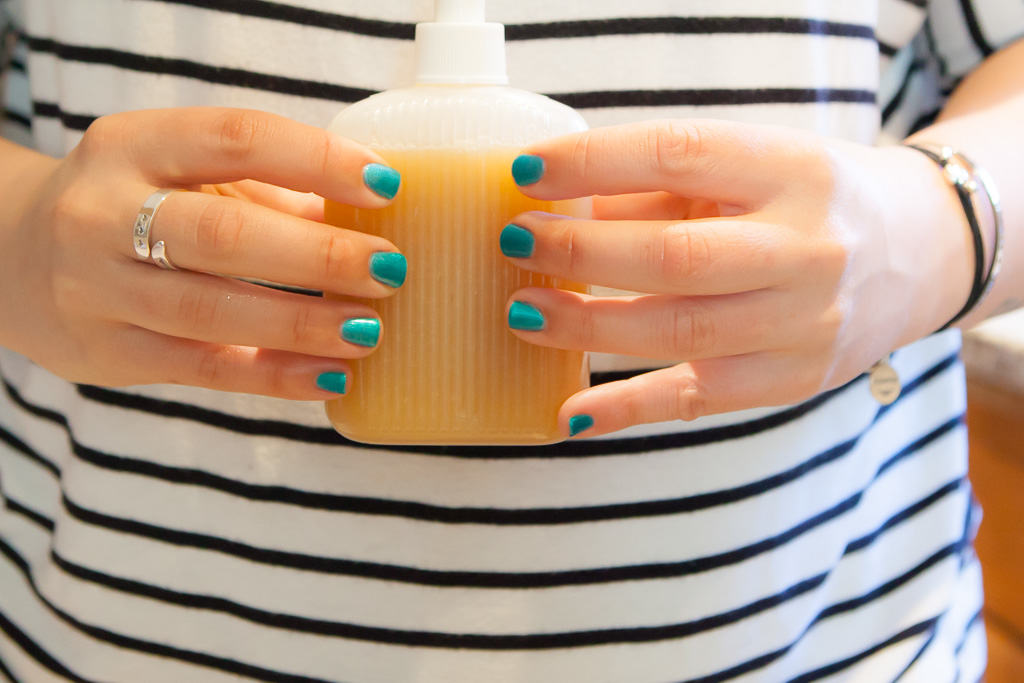 I'm pretty obsessed Essential Oils lately. The idea of using them to make new beauty products has become my obsession. I am constantly googling new ideas on how to make lotions, scrubs and lip balms. It's been super fun. If you're going through your cabinet trying to figure out what products to replace with a DIY, I highly suggest starting with your body wash. This homemade body wash recipe is easy to follow and smells super great. Ready? Set? Go!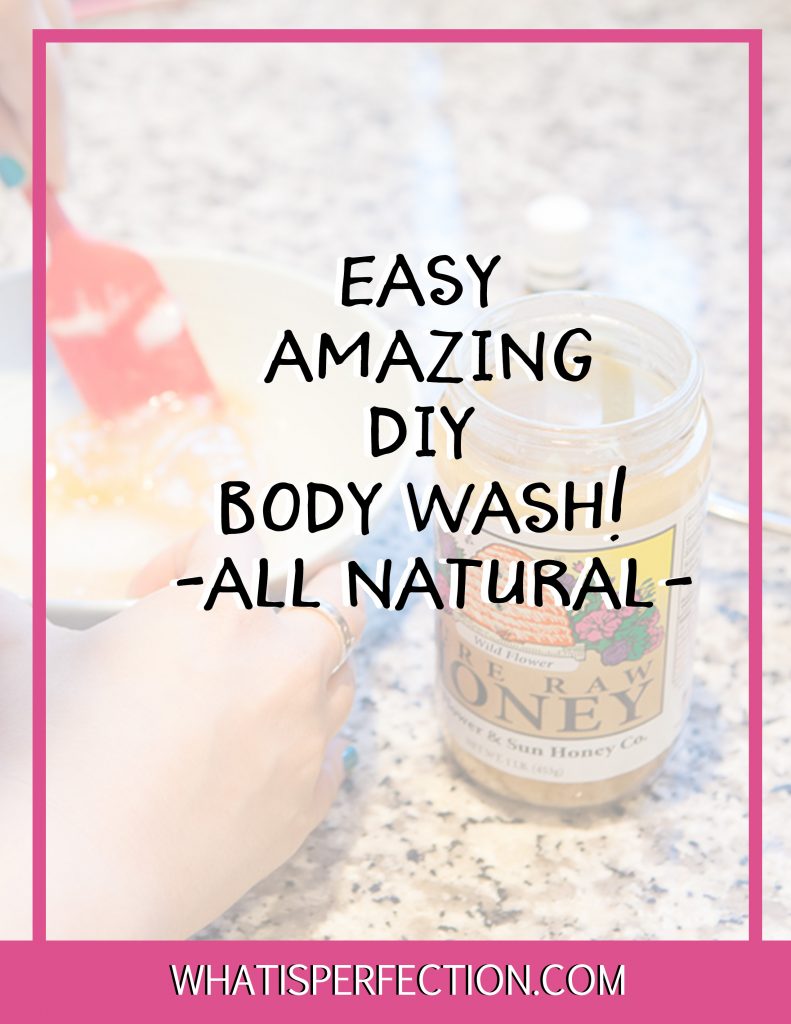 Before You Try this Homemade Body Wash Recipe
You should check the label of your body wash to see what ingredients you've been lathering up with. Big companies that mass produce cheap products get to stay cheap for a reason: They use lots of chemicals that are low in cost and bad for your body.
These two harmful chemicals were in my body-wash, and they were the reason I decided to come up with my own homemade body wash recipe.
Parabens. Parabens are widely used preservatives that prevent the growth of bacteria, mold and yeast in cosmetic products. Sounds good, right? Not so fast, they do more than that. Parabens possess estrogen-mimicking properties that are associated with increased risk of breast cancer. These chemicals are absorbed through the skin and have been identified in biopsy samples from breast tumors. They can be found in makeup, body washes, deodorants, shampoos and facial cleansers. You can also find them in food and pharmaceutical products.
Triclosan. Tricolson is widely used antimicrobial chemical that's a known endocrine disruptor — especially thyroid and reproductive hormones, and a skin irritant. Studies raise concerns that triclosan contributes to making bacteria antibiotic-resistant. There also wasn't enough supporting evidence that washing with antibacterial soaps containing triclosan provides any benefit over washing with regular soap and water. Tricolson can be found in toothpastes, antibacterial soaps and deodorants
Huf-Po has a great article about the 10 Toxic Beauty Ingredients to Avoid  you can go ahead and check it out and compare your labels to the list to see just how safe your beauty products are.
Homemade Body Wash Recipe Ingredients: 
Pure Raw Honey 1/4 Cup
Organic Extra Virgin Coconut Oil 1/4 Cup
Pure Castile Soap 1/2 a Cup
And your favorite oil 8-10 Drops (I used Lemon)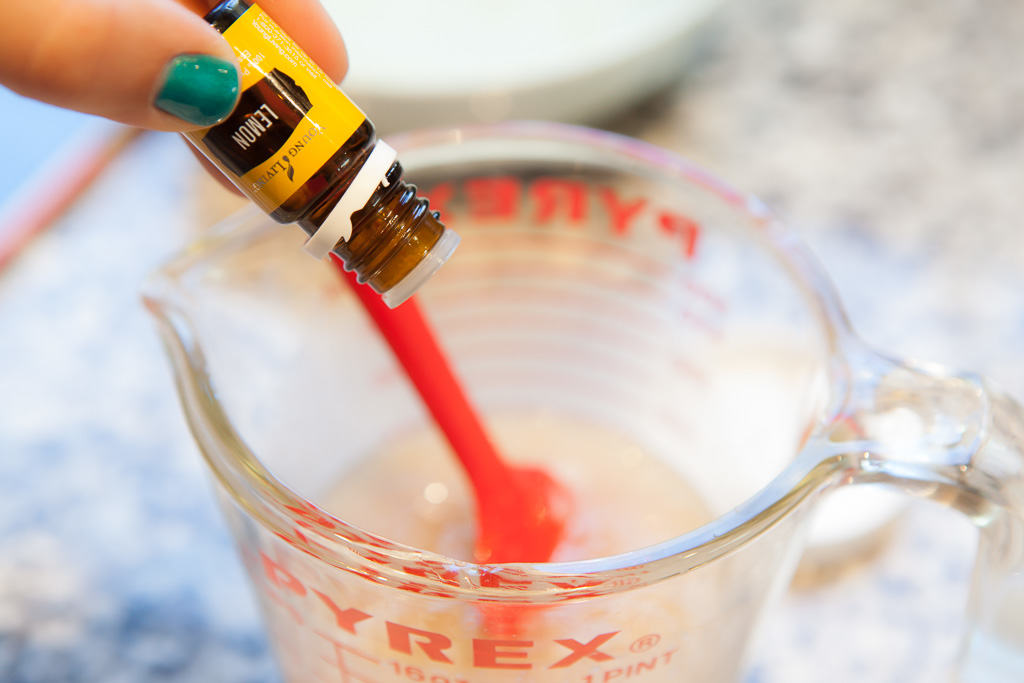 The Lemon oil is fresh and rejuvenating — and works well with another awakening scent. Young Living is a Theraputic Grade of oil that you cannot buy in stores.. But they are the best of the best! I get mine Here.
You can get all of the other ingredients at Whole Foods or Target in case you are wondering. Castile Soap comes in Unscented and Scented.. This one is Eucalyptus and smells awesome.
How to Use the Homemade Body Wash Recipe
-Melt 1/4 cup of Coconut oil in a bowl.
-Then add your honey into the mix and stir it as best you can.
-The honey is very thick so its okay to take some time mixing it up. When you feel you've mixed it evenly, add in the Castile Soap!
-you want to be sure to mix in the castle soap slowly and mix it occasionally.. Stirring the mix too fast can cause bubbles so be careful.
-When you are done, and have an even mix, add in your oil. I always add the oil last to get the perfect scent for my wash.
-This is the second batch I've made, and in all honesty, it saves you a ton of money in the long haul, averaging about 40 cents a bottle! YAY!!!


Sign up for Your Free Life Coach Guide! Find Confidence, Feel Beautiful and Transform your Happiness step by step. Make an Amazing Change for Your Life. I'll give you the tools to make it happen!


What is Perfection is the Self Improvement blog for the imperfect girl everywhere. Learn to find happiness, feel beautiful, and be confident in who you are. We all deserve to be happy, and we all deserve to be the best version of us. And we all are truly capable of getting there. Because Perfection Is Impossible. Happiness isn't. See The Self Improvement E-Guide Collection For Your Life Coaching Guides to Change Your Life Today!