Full disclosure: I have some pretty bad habits up my sleeve. Some that I am holding onto for now, because I am not ready to commit to the step of letting go, and others I have been trying to quit for years. If you're honest with yourself, I'm sure you could admit to having a bad habit or two no matter how close to perfect you are.
The question is how do we kick butt and remove an unhealthy habit from our lifestyle? And how do we find the passion and drive to stay committed to quitting a bad habit?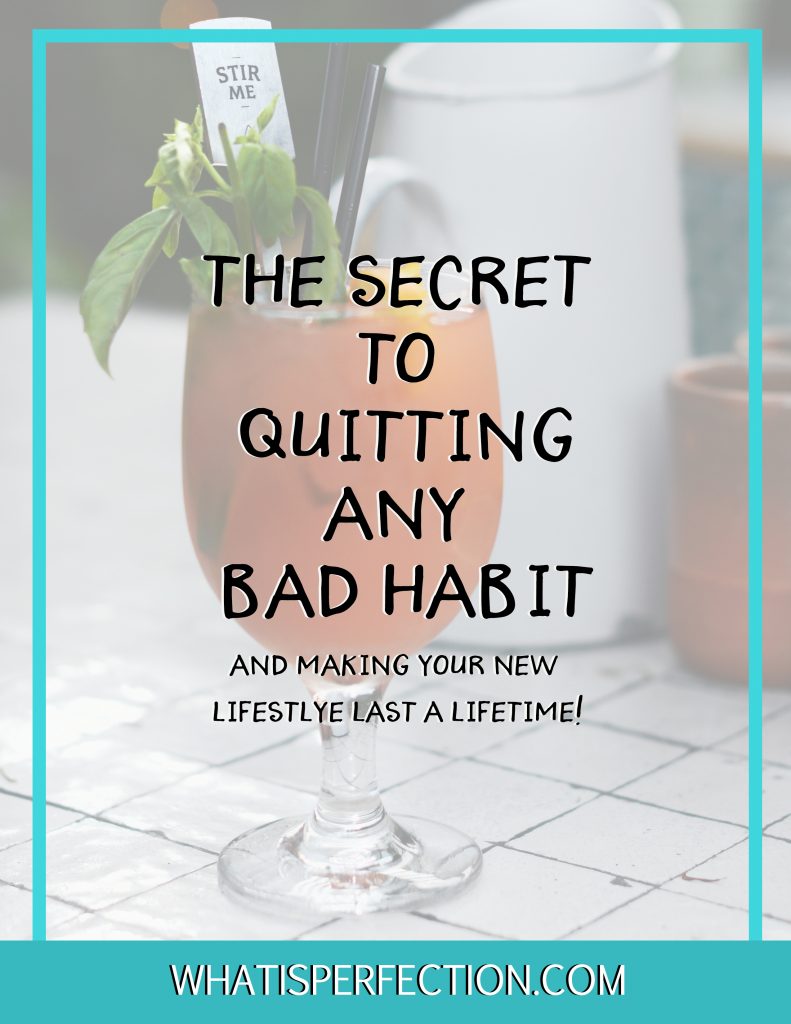 PART ONE: Steps to Getting Rid of a Bad Habit
Step One: Acknowledging your bad habit it is holding you back. Ask yourself this important question: "How is this bad habit negatively effecting my lifestyle?" When I was a heavy drinker, for example, I needed to recognize that drinking too much was really preventing me from living the life I truly deserved. I knew this. But I guess  I didn't want to admit it. So I made myself admit it. I got out a pen and paper and I made a list.
Set Two: Make a list of all the reasons your unhealthy habit is negatively influencing you. I'll give you an example from my personal life just to help you on your own self discovery process. I used to be a heavy drinker. How did I change that? First, I recognized that my drinking was negatively affecting me. Then I listed all the reasons how it was actually doing that. When I was drinking heavily,  I was feeling behind on my weight-loss and healthy goals. I was also holding myself back from emotional balance because whenever I was drinking heavily, I had a hard time relaxing and being present. Most importantly (the biggest eye opener of them all) my heavy drinking was effecting my relationships with others: I would fight a little more often with my boyfriend and my sisters when I was under the influence. And that was a big no no for me. Making that list really made me want to give up drinking. I couldn't deny the truth when it was staring me in the face.
Step Three: Figuring out exactly what that bad habit provides you. It's true though, we all get something positive from our bad habits. And we need to acknowledge that too. You cannot get rid of a bad habit without replacing it with a good one. So you need to ask yourself what that bad habit offers you and how it enhances your life. Do you smoke to relax? Maybe you drink to have a good time? Or perhaps you are an overeater who uses food to cope with anxiety. Whatever it is – figure it out.
Step Four: Replacing your unhealthy bad habit with a new healthy habit. It's easy to pass up the idea of quitting a bad habit when we program our brains to think that the bad habit we love is actually adding value to our lives. But once we get real deep and honest with ourselves, we can recognize how that bad habit enhances our lives and then figure out a new healthy habit to replace it with. Maybe instead of drinking to relax you will go for a walk or meditate. Maybe instead of overeating to cope with anxiety you read a book or paint your nails. Whatever works for you is what you should do.
PART TWO: Finding The Drive to Change NOW.
Step Five: Discover the reasons why you must change this bad habit now as opposed to later on in life. Have you ever known someone who says they want to change but they never do? There is a reason so many people put off the idea of making a positive change for their lives: They don't have the motivation to make that change NOW. Instead, they just keep putting it off. How many times have you wanted to start a healthy lifestyle and kept telling yourself, "oh I'll start on Monday." Or maybe you were trying to quit indulging on sweet foods but kept telling yourself that the holiday's were around the corner, "Why not wait until after then?" Find the momentum to change your lifestyle NOW. Ask yourself, "What will happen if I don't make this change NOW in my life? as opposed to two years from now, or next year or next week?" There has to be something about your situation now in life that will give you the urge and desire to take massive action TODAY. Find the reasons.. reflect on those reasons.. and push yourself forward.
Step Six: Implement new healthy habits. Remember how I said bad habits stick around because we get something good from them? What do you get from your bad habit right now? You have to be getting something good or else you wouldn't be keeping that bad habit around! Does your bad habit relax you? Maybe it gives you something to do and keeps you busy when you are bored. Perhaps your bad habit has become such a routine part of your life that you don't even remember what that good feeling is that you got from it. Dig deep. Figure it out. You can't give up a bad habit without replacing it with something new. That's just the truth. If you don't find new ways to feel good, you'll just give up a bad habit, feel bad, and then go back to it! So don't do that.
All of these Steps and more for sustainable bad habit kicking are outlined in my free E-Guide. Come grab it by clicking the button below and start making positive changes to your life today!