Can you tell me more about your journey? How did you get to where you are?
I got this beautiful message in my Facebook inbox this week from a girl wanting to know how I got here. I sat on this message for two days totally stumped on how to answer her.
How the hell did I get here?
It's not that I don't know, it's just that responding and answering this in a short couple of sentences in messenger seems almost impossible to me. I have been through so much in my life. Even though I am life coach and business coach today – it took me a very long time to get here. And to tell the story of how it all happened I knew I was going to need way more than just a couple of text messages. I needed a full on blog post. So here it is. Everything you need to know:
My Crazy F**ked Up Life Story of How I Got Here
Like most light workers, I was born into this world feeling like I didn't fit in. I always felt older than everyone around me and it made it really hard to deeply connect and form friendships. But also like most light workers, I had a series of really terrible and tough experiences that for a shot time left me jaded. Looking back I believe all of those hardships were put there in my life for a reason: So I could learn, grow, heal, and then eventually coach. So no wonder that's where I am.
Let me take you back to where it all started.
My Crazy Childhood.
I started to feel out of place at a really young age. I had terrible bullies during grade school – mostly boys – who picked on me for being ugly, chubby, and as an italian girl – a little extra hairy. I felt so alone. (read my bully post if you want to know more)
I spent most of my days at recess sitting in the piano room alone writing music and brainstorming my big girl dreams in a journal. Looking back, that was kind of an early stage sign of my passion about writing. I had such an unhealthy body image back then, but this time in my life was also the start of my unhealthy relationship with men. I wanted desperately to have a boyfriend who could make me feel pretty and safe. I started pouring my attention and energy into trying to attract a boy and getting him to like me. When it didn't work in my private tiny little Catholic School, I found a boy outside of that environment who took an interest in me.
His Name was Mike. He was 17 and I was 13, which of course has some big red flags. I was naive and inexperienced. He was aggressive and had been around the block a few times. He wasn't good news. One night I was babysitting my sisters, he broke into my house with six of his friends and attacked me. When he left I was bruised, in tears, and robbed of my stereo and jewelry. I pretended like it never happened.
Teenage Fog.
Pretending something big, traumatic and very adult didn't happen in my life wasn't as hard as I thought it would be. I went through high school and actually didn't ever feel anything come up surrounding the assault. I wouldn't consider it a suppressed memory, since I knew it had happened, but the emotions weren't there. At least not usually. When they surfaced or got triggered from time to time, I would drink or cut my arms to feel something other than the past experience I had. I forced myself to live in fog. It was almost like I watched something happen in my past rather than actually having experienced it. Emotional detachment at it's best.
Raped on Campus.
My freshman year of College I was raped by someone I knew. It was nearing Easter Vacation when it happened, and it turned my world BLACK. Everything I experienced as a young 13 year old girl started to surface, and the trauma consumed me. I suddenly developed severe emotional issues. I couldn't sleep. I was taking drugs and using alcohol aggressively to cope with the heavy overwhelmingly painful feelings I was experiencing. I developed manic tendencies and became extremely reckless in my decision making. Part of me wanted to die. All of me wanted to forget. So I tried to. (see this post)
Overdose.
I attempted to kill myself and ended up in the hospital. When I woke after about 10 hours or so of being unconscious, the man who rapped me sat by my bedside with a teddy bear. I always wondered if he was feeling remorseful in that moment seeing me there near death, or if he was trying to keep me from telling the doctors what had led me to this decision to try and end my life. Surprisingly, I was sent home. When I tried a second time, I was mandated into an inpatient treatment program. I left college and spent weeks in a psychiatric ward.
Diagnosis.
Bipolar Disorder. Borderline Personality Disorder. Anxiety. Depression. These were words I would hear for the next seven years as Doctors tried to find the medication cocktail that worked. I was numbing my body from experiencing and dealing with what had happened, and it was exploding out of me in the form of mental illness. I wanted it to go away. Pills did that. My mental illness was the problem  – not my life – right?
Finding Husband.
I left that university, came home, and spent the next years of my life trying to feel safe. I enrolled in a local collage, and spent the rest of my college years burying myself in school work, and I found an older man to keep me safe. We got engaged. I got a job working for a National News Broadcast. I did all of this while ignoring my trauma and popping pills to treat my mental illness. About a few months after we were married – I found out he was a series liar and a drug addict. Our relationship turned abusive. Why is this happening to me? I kept asking. The universe kept sending me trial because I wasn't facing my shit and was trying to run from it instead. So when we got married and he turned out to be a heavily addicted drug addict – I think it was the universe's little love note to me that I needed to stop running.
Rock Bottom and Alone.
When the world hands you a bunch of chaos, you have two choices. You can sit there and say, "yup, this is me and my life sucks," and sort of conform to the idea that everything will always be horrible. (This is what most people do.) But what many don't realize is that you have a second choice: You can do the work and fight for what you deserve. Walking away from my unhealthy marriage left me at rock bottom again – a place that I was very familiar with. Having been there so many times before, It was almost felt like that was where I was supposed to be – as if to say, rock bottom was just how life was always going to be.
I was labeled with a mental illness, had a serious of traumatic experiences in my laundry list of accomplishments, and I was broke, Who will love me now? was the big impending fear-based question. What I didn't realize back then was that I needed to love myself first if I was ever going to get someone to treat me with love.
Rock bottom was only familiar because I wasn't facing any of my bull shit or doing any of the work around my trauma. And I kept falling into Rock Bottom because I was never actually facing my shit. I was just trying to run from it hoping that one day I would run so far that it would be gone. It never goes away. No matter how fast you run.
Returning Home.
Over the next five years I started to change. I was ready. And even though i didn't know how exactly to make that happen, I knew that not knowing how was okay. The universe would show me the way so long as I was ready. So I decided to jump. Slowly, I started to shed the old me. I made a list of all of my bad habits and decided to start shedding them one by one.
Smoking Cigarettes
Drinking Hard Liquor
Drinking Wine
Drinking anything I can get my hands on
Prescription antipsychotics
Prescription anxiety pills
Prescription pills just for fun
I decided that if I was going to work through all my bullshit I needed to do it in full authentic feeling – I Couldn't be numbering myself. So my slow transition into sobriety begun. I spent a great deal of time shedding the negative -since there was so much of it in my life. When that was done, I had room to replace and repair what was left with positive love and emotional education. I went to the bookstore and started studying on my personal development journey. During my down time at work in my corporate job, I would study Tony Robbins, Gabby Bernstein and Wayne Dyer.
I lost everything in my life. And I lost it multiple times. The process of finding my way back to who I truly was meant to be took me a long time – I spent five years trying to fix and repair my life after all of this. But in the process of losing myself, I gained so much more: I was able to become the person I was meant to be.
Here's what happened – in the process of finding my authentic higher self,  I realized my old life no longer served me anymore. Suddenly my job and my career felt so inauthentic. I was screaming in my soul feeling like I was ready to leave and unleash a new me. I had to walk away from my corporate world. I was ready to branch out. I just had no idea what was next.
My coach now told me this quote I remember in times like this: "When you find your authentic truth, everything around you that is inauthentic falls apart." It is so true.
When you shed your old self and you start to heal, something magical happens – your intuition starts to speak to you. And here, in this case, my intuition and higher self were screaming "leave your job." — your inner voice sometimes doesnt seem like it makes much sense. I was living in Manhattan and had a steady income at the time – walking away from my job seemed to make no sense at all. I ignore the urge for a while, but it got to a point that I couldn't NOT listen. I had to jump. And so I did. ( I wrote about it here.)
Vulnerability.
At first, I had a great deal of healing to do when I walked away from my job. It was kind of the final last straw of shedding my old self – the one final thing I needed to let go of. But as exciting as that shift was, it still hurt. I felt like a failure. I felt like a fraud. I felt like I had given up on a passion for my corporate job – a passion that once was very much alive. I was sad to walk away but at the same time I knew it was right. My soul was calling me for something bigger. The minute I started to listen – everything changed.
I didn't know what was next. All I knew is that I loved to write – and I was going to learn how to do it authentically in a way that allowed me to share my stories and make a difference in the world. A few weeks after I had quit my job, I was sitting in my apartment brainstorming website names for whatever big thing I was about to do (I had no idea what it was going to be.)
I sat there googling and looking around my apartment for things that represented me that I could somehow translate into a brand name. "I love journals dot com?" or how about "this color blue I'm obsessed with really rocks dot com?" Ugh I felt ridiculous. And then, there it was, right in front of me on the beautiful poster that I had been carrying around with me for years.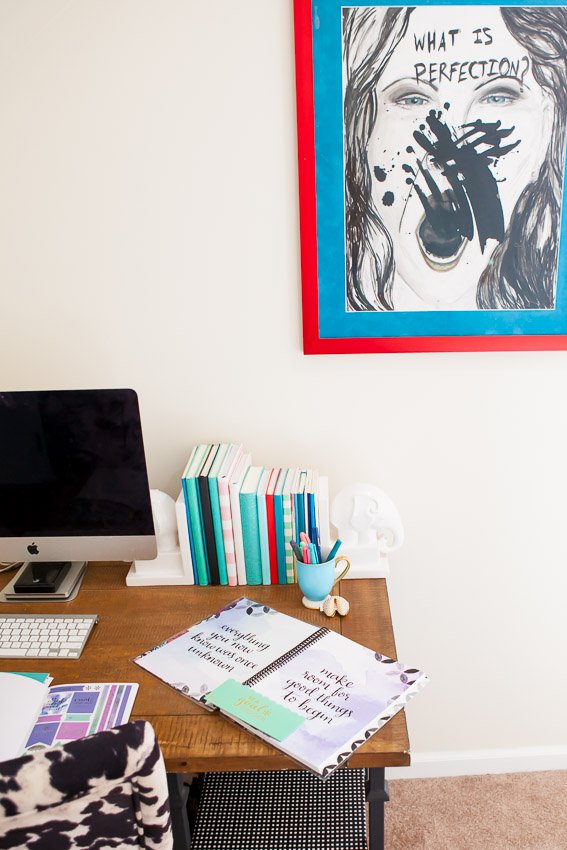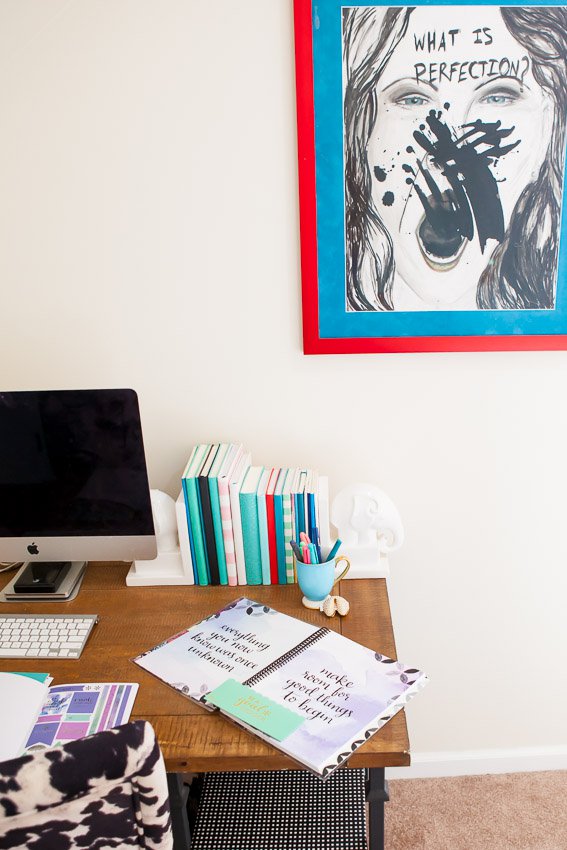 It all made sense. So I did it. When I started my website I had no intention of being a life coach. But through my spirituality I told the universe I would be ready to receive whatever it sent me. And boy was it sending me the signs I was ready to coach. As I shared my stories and started opening up on the blog, an outpour of people started to follow. Rock bottom wasn't such a lonely place after all. In fact, so many people were there too, trying to get out, trying to figure out how to fix their life. And here I was having done just that, and they wanted to learn how to do it too.
Now my business – which started as just a safe space and blog for women who were struggling has turned into something much more incredible.
What is Perfection is note just a blog anymore.
It's a transformation resource for women.
The Brand New Me Course teaches women how to have their own massive life transformations in 12 weeks.
Broken to Beautiful is a 30 day program that helps women heal through their breakups of unhealthy relationships
The Self Love Method Program shows women how to become life coaches and get certified in my coaching method.
My 1:1 Coaching 6 Month Program has helped so many women through their transformations in a private sacred space.
The WIP Tribe Facebook Community is a safe space for women to come together and grow during their healing journey.
It started with one small decision to listen to my heart.
Here's the lesson here. Wherever you are right now is not where you have to be. You have the power to change anything in your life. If your soul is calling you to lead others – go do it. If your heart is begging you to heal yourself – go spend time and money working on that. Take your self love journey seriously. Do not ever compromise your worth.
Today I am happier and more full than ever before. I have an amazing wonderful future husband who supports and encourages me every step of the way. I have a beautiful purpose and a fully raw and open heart that doesn't feel hurt anymore. I feel truly amazing and blessed to have gone on this journey and be where I am today. Had I not been through the trauma – I wouldn't be able to do what I am doing now – so remember – your life and your journey has a purpose. Listen to your calling and follow your heart.
xoxox