Before the beginning of every month, I ask myself this very important question: What can I do to feel more awesome and happy? It's around this day every month that I take out a notebook, shut off the television and snuggle on the bed with nothing but my thoughts and my ambitions to reflect on. Setting goals every month gets me feeling like I have something to look forward to – something to go after – something to try and strive for. It may seem silly to be asking myself the question "What can I do to feel more awesome and happy" every 30 days or so, but the truth is that I sort of need to do that for my mental sanity! Setting goals makes me feel awesome! Like my life is always improving, growing and changing.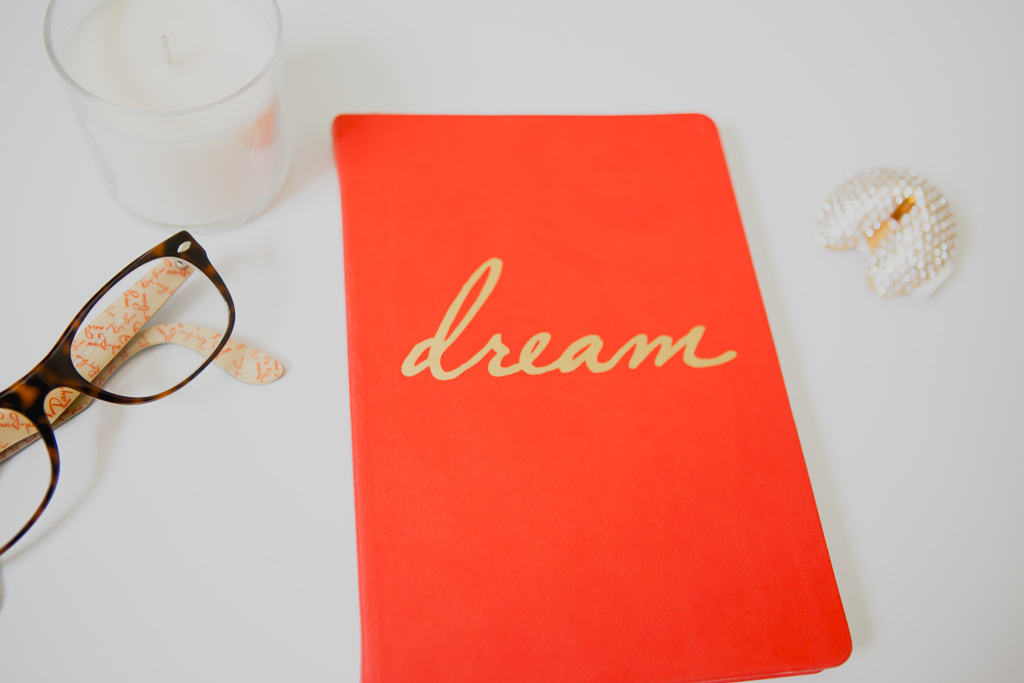 How I Set My Goals
I've talked a lot about healthy goal setting on the blog because it is really so important to not only get crystal clear about what you want for your life, but to also make sure that you are going after certain things that are actually fulfilling, satisfying and diverse. So here's what I do to make sure my goals are healthy:
Keep Things Diverse: I make sure that I have one of the following on my list: A Relationships Goal (family, friends, loved ones etc.) A Healthy Lifestyle Goal (career, weight-loss or fitness) and a Self Love Goal (time to myself, things I want to accomplish for fun, stuff like that.) Having multiple goals that aren't all focused on one area of my life makes things much easier for me. You can check out my calendar guide for free and get access to your own chart for keeping track of your three goals this month!
Keep It Simple and Specific: I Keep my list short, and make sure that everything I want to achieve is simple, specific and realistic. It needs to be doable within 30 days and it needs to be something I have control over – no one else.
Have an Emotion Attached to Every Goal: I try to add some sort of emotional term or language to my list when I set goals.. If my relationship goal is to go out on more dates, I want to make sure my goal really is "Go out on more dates with my guy and feel more connected and satisfied with our relationship." Without the emotional idea attached to it, there is really no point in achieving that right?
GRAB YOUR FREE SEPTEMBER CALENDAR GUIDES FROM WIP!
My Goals This Month
Here's a peak of what I am trying to strive for this month.
Relationship Goal: To Make More memories, get out and be more active with Matt (he recently had surgery so I am excited for this new change) and to feel happy and in love more frequently in our relationship.
My Healthy Lifestyle Goal: I want to focus on my running this month and hold myself accountable to a set half marathon running schedule I created. I am hoping to feel healthy and more strong than ever before.
My Self Love Goal: This month, I really want to focus on being more comfortable going out and spending time by myself.. I want to make more memories by doing things and exploring my new town and not being afraid to do it on my own.
Set Your Own Goals Now!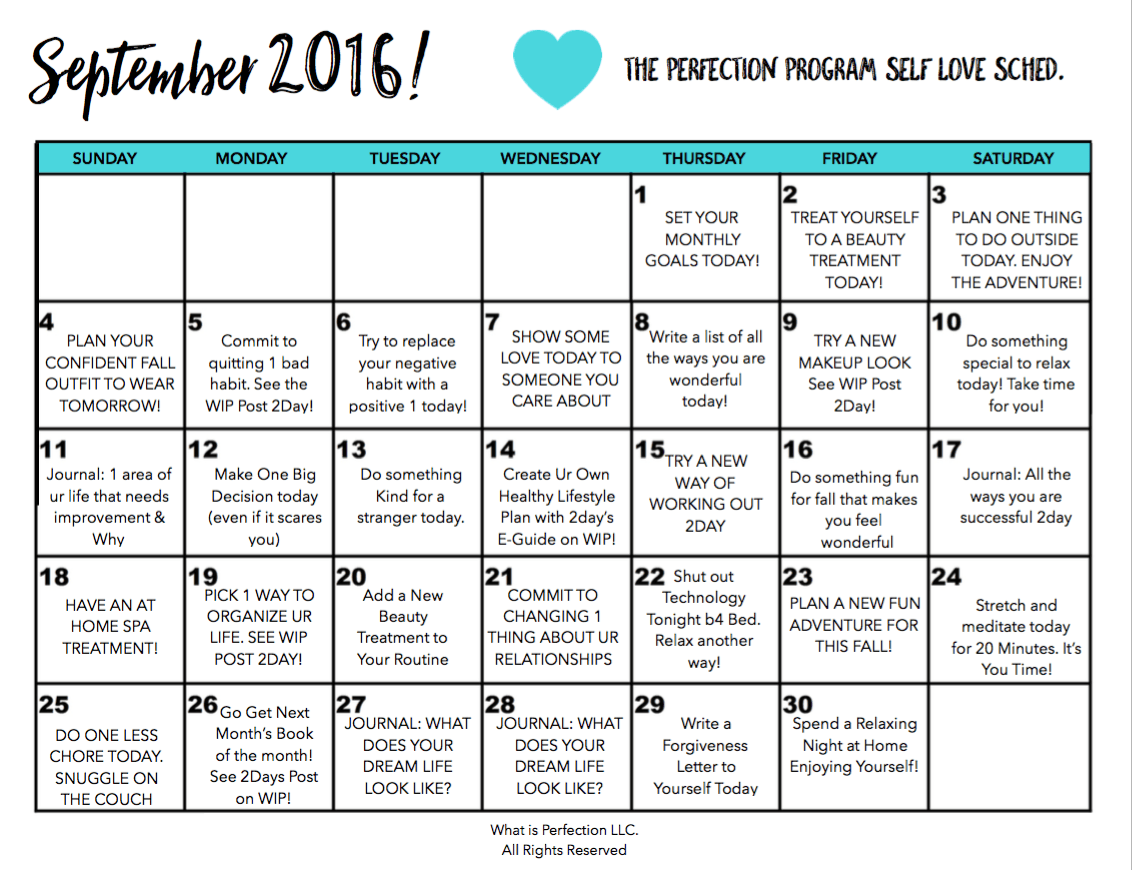 GRAB YOUR FREE SEPTEMBER CALENDAR GUIDES FROM WIP!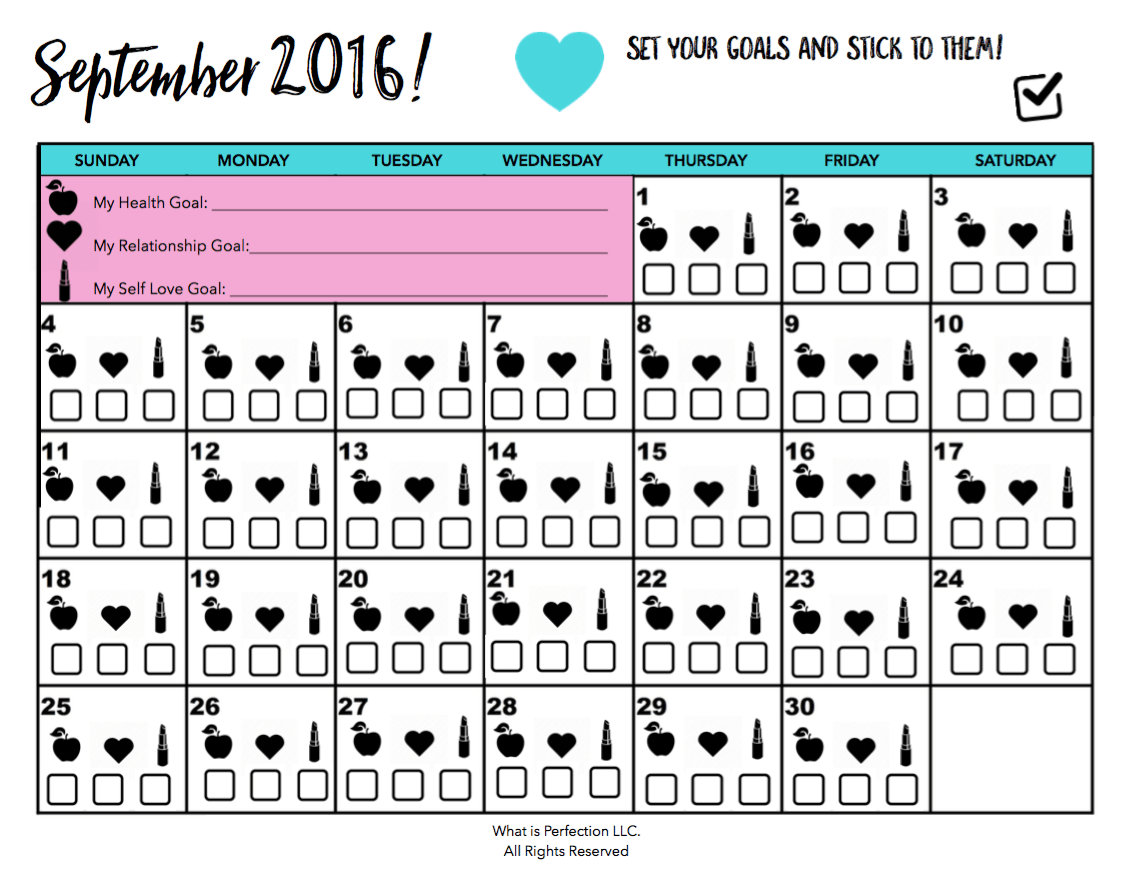 GRAB YOUR FREE SEPTEMBER CALENDAR GUIDES FROM WIP!
Every month as part of the Perfection Program, I offer everyone a free Calendar Guide for self improvement. Each day there is a challenge assignment for you to feel a little more happy and confident in who you are. Print out the Calendar, hang it on your fridge and start going after a more confident life! There is also a new Calendar as part of the program, where you can list and keep track of your three big goals this month! Come grab them here by submitting your email address and get instant free access to both calendar guides! Start brainstorming and get excited for your new amazing month! September is here!!


Sign up for Your Free Life Coach Guide! Find Confidence, Feel Beautiful and Transform your Happiness step by step. Make an Amazing Change for Your Life. I'll give you the tools to make it happen!


What is Perfection is the Self Improvement blog for the imperfect girl everywhere. Learn to find happiness, feel beautiful, and be confident in who you are. We all deserve to be happy, and we all deserve to be the best version of us. And we all are truly capable of getting there. Because Perfection Is Impossible. Happiness isn't. See The Self Improvement E-Guide Collection For Your Life Coaching Guides to Change Your Life Today!