Nerd Alert!!!  Seriously P.S.A. for whoever is reading this – today's post is for all those organization nerds out there (and the aspiring ones) who really enjoy having their life together. (and the ones who need a little help doing it.)
I need to get real about time management with ya'll. Because it's important. Actually.. no … it is VITAL to our overall happiness. Yup. Super vital guys.
If you were to ask me what the most important thing is for my happy lifestyle, it would be: BEING ORGANIZED. Without mastering that skill, who knows where I would be.
WIP would not exist and neither would my happy feel good vibes if I didn't have my shit together on a regular basis.
So yes… today I am getting real about time management. If you are that girl out there who needs a few tips on how to stop being that hot mess and have a little bit more of a relaxing lifestyle, listen up – this post is for you. Not to mention today is National Tidy Desk Day! So yeah I am sharing a bit of my office area too!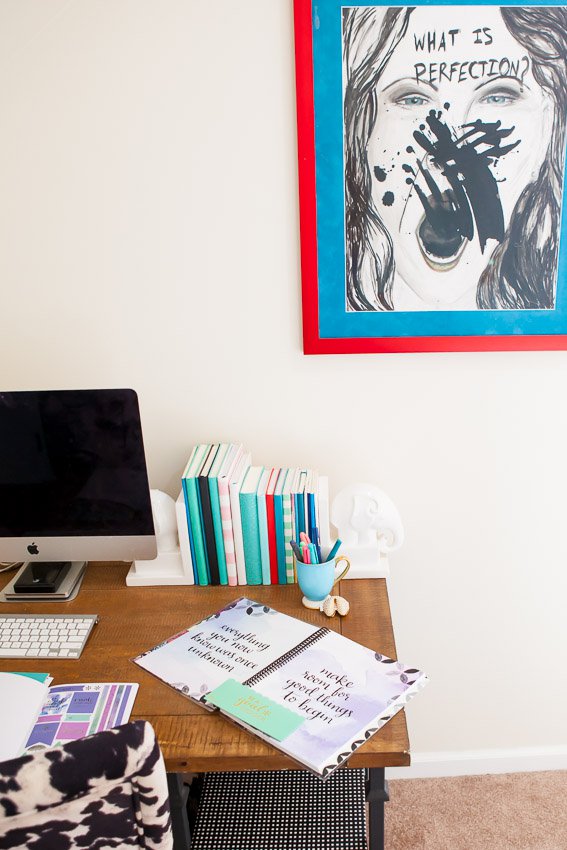 First off, none of my organization is possible without my planner. Every year I always choose an Erin Condren planner that has me inspired and motivated to keep on top of my lifestyle. The quotes and prints are absolutely stunning, and I always feel so excited to decorate my day to day list with her stickers. More on that later in this post, but if you want to check out her line of gorgeous notebooks, Check out Erin Condren's Planner's Here
(Not to mention you get $10 off your first order!)
But first, let me tell you why organization is SO super important (if you didn't think it was already.)
An organized life, is a happy life.
Being a "master of time" is really super important to your overall wellness. It's one of those five areas of life we need to master in order to create happiness.  But I really wanted to elaborate on this today with some really simple and important strategies for the girls out there are who are trying to get a better handle on their lives. Last week I released a video training lecture on the five areas we need to master in our lives in order to create happiness…….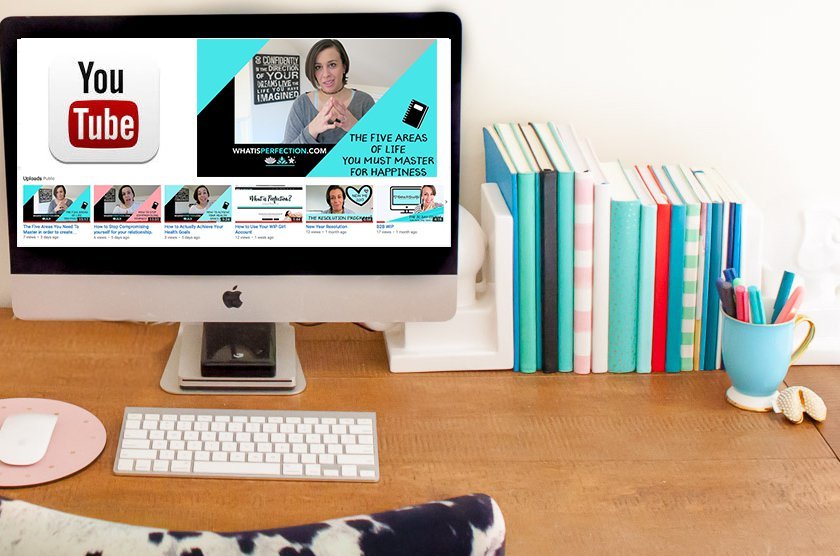 (Check it out here if you haven't seen it yet – and subscribe!)
But I'll give you the break down, in case you aren't into that jazzy video stuff.
The Five Areas We Need to Master In Order to Feel Happy
-Our Emotions
-Our Relationships 
-Our Health
-Our Finances 
and…. drum roll please….
-OUR TIME. Yes. OUR TIME. 
Here's a little secret though:
If you aren't Organized with your life, IT IS IMPOSSIBLE to master almost all of these things.
WE SUCCEED IN ALL AREAS OF OUR LIFE WHEN WE MAKE THE MOST OF OUR TIME.  
So considering What is Perfection is dedicated to showing all you ladies  how to feel GOOD,
let's learn…..
How to Get Organized and Master Your Time [Free Worksheet!]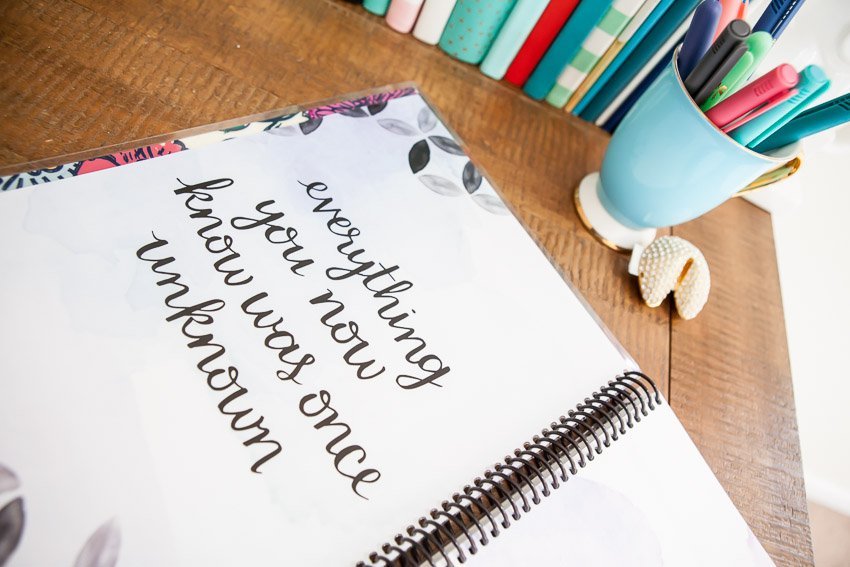 (This is Erin Condren's Monthly Planner for 2017 – totally gorgeous)
 So every year I grab a notebook and sit down and ask myself a few questions: 
-What responsibilities do I have each week? What things MUST I get done every single week?
-What things can I fit into my schedule to take care of myself each week and feel good and happy?"
-What Chores do I have to do vs. What responsibilities can I add each week to live healthier and focus on my own personal development?"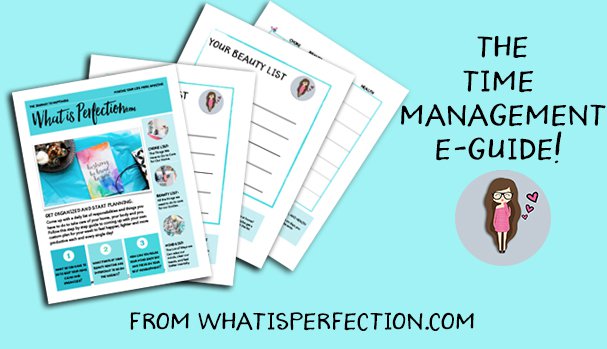 Yes.. I make a series of different lists before I map anything out into an official planner. I sit down and evaluate what my "life responsibilities are" so I can best figure out how to put them into my schedule.
Things like- paying the bills, folding the laundry, feeding my dogs (….. I promise I never forget this one….I'm not starving my fur babies, I swear.)
Let me tell you, I am not perfect when it comes to having my time mapped out….life gets challenging sometimes. Especially since I started my own business.
What is Perfection has me on my toes 24-7. Especially with the Self Improvement courses I run -like Brand New Me – that is open for enrollment this week!
And then last month we bought our first home things just got even crazier. Suddenly I had a HUGE amount of things I needed to make sure I was getting done each day. Why is it important to map all this out? Because when I didn't map out my day, guess what fell on the back burner? ME! literally.. I burned myself out trying to get everything done at once!
ME. And MY HAPPINESS suffered when I wasn't organized. Big no no.
My health suffered when I didn't dedicate a certain amount of time to working out or meal prepping each week.
My relationship suffered when I wasn't organized enough to make room for "fun and relaxation."
That's why getting organized has become such a super big important part of my lifestyle. When I am not organized, I am stressed, overwhelmed, and feeling like I can never catch a break or "catch up" to my to-do list.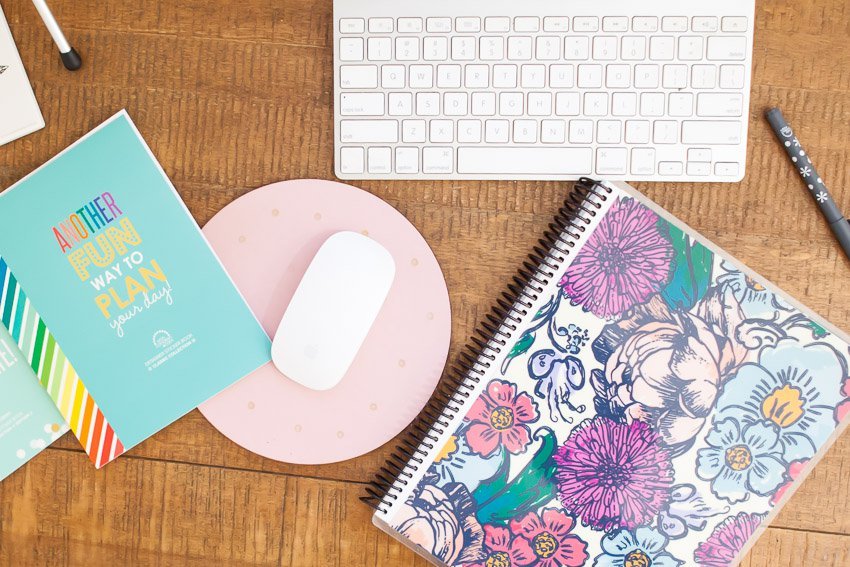 -So I map out my lists with my worksheets
-I get clear about 5 things I need to do each week in all the important areas of my life.
-House Chores
-Bills
-Self Care
-Healthy Lifestyle Habits.
I MAP IT ALL OUT.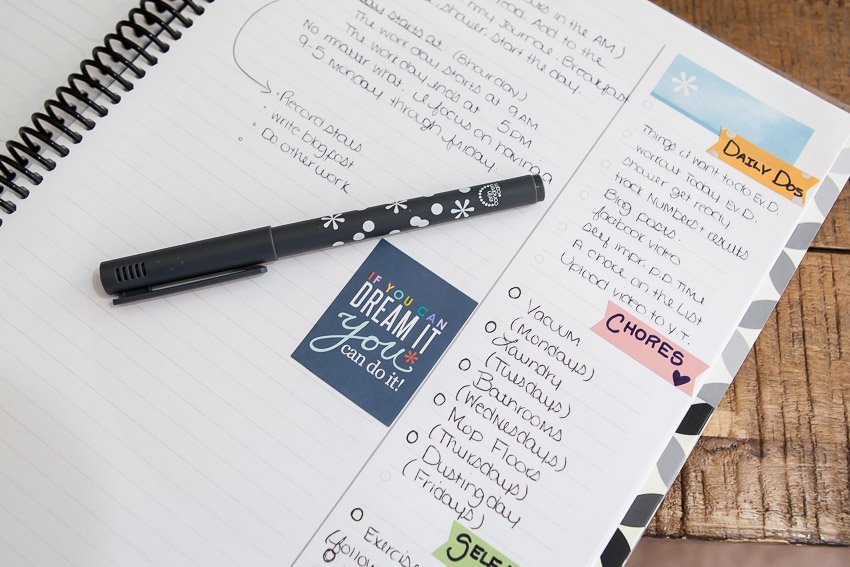 And when I am done, I am happy, organized and put together! It take the guess work out of the "Musts" I have to get done every single day.
Being organized like this allows me to really make the most of my time and fill my day with way more happiness!
I hope these tips and tricks helped!
Don't forget to grab the free worksheet!
xoxox!