Get on those sexy heals and walk your gorgeous ass out of that unhealthy relationship girl! Okay, sure, it's easier said than done sometimes right? Because learning how to move on after a break up can be a really hard thing to do. And it's especially difficult when we are walking away from a relationship that we have been in for really long time right? I mean – it seems like the longer we are in it, the harder it is to find the courage to break away and move on.
Years ago, before I built my confidence and self love, I found myself single for the first time and struggling to feel good about it. Okay, "struggling" is a kind choice of words. I was emotional wreck! I was on my own for the first time in five years. The relationship I walked away from was unhealthy, abusive and emotional destructive. So here I was feeling lost and alone. "How the heck can I feel good about being by myself?" I needed to learn how to move on after a break up and rebuild my life. And no joke, it wasn't easy.
But it was one of the most important lessons I could learn. So Let's talk about it. So you can learn it too.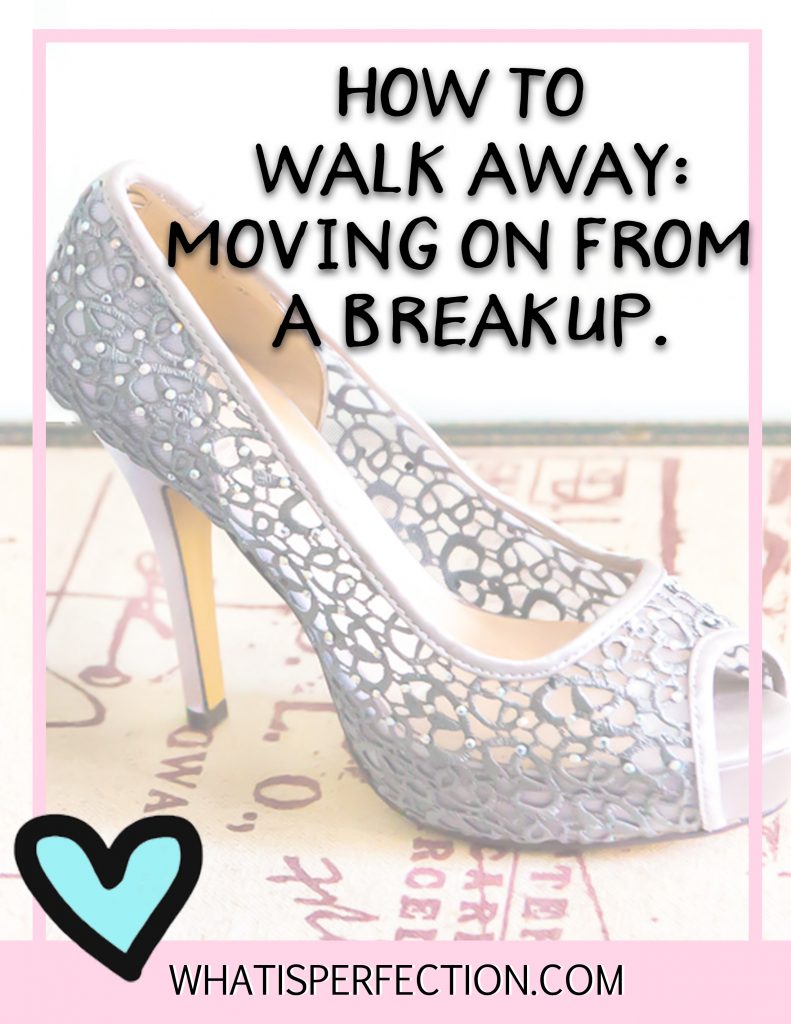 Taking the First Step and Calling it Quits
Majority of women stay in relationships way longer than they know is good for them. So many women I coach stay in their unhappy romances because they try to "make it work" or "fix the relationship." They know they aren't getting what they need from their partner, but they are hoping that if they work hard enough at the relationship then maybe they will.
If you're one of these women, don't be ashamed. Trust me. You aren't the only one out there guilty of this.
This is how things usually play out:
First, you start feeling unhappy. It's almost like something is missing in your life that you really want but don't know how to find. So you start trying to fix the relationship and alter it so you can finally get what you need. You want the person you fell in love with long ago to be the one person that provides you everything you need. So you try to make it work. but then at some point you realize you can't get what you want and you never will. So what do you do? Do you call it quits right then and there? Some women do.. but most ladies out there don't.
Majority of women will think about the decision for a while before they actually make the choice to walk away. They start weighing the pros and cons of being single again to make sure it is the right decision.  We start asking ourselves questions like, "Should I do this?" and "Is this the right choice for me?"
Toying with the idea of becoming a single woman again is much like shopping for a new pair of shoes.
Before we retire our old worn out converse for a pair of sexy stilettos, we want to be sure we are making the right choice.
And so what do we do? We try them on first!
We start imagining what our routine would be like if we didn't have our partner.
"What will my evenings be like?"
"Who will I call to tell about my day?"
"What will I do and who will I share my experiences with?"
And the scariest question of all – "Can I actually do this?"
You shop around the idea of being single in your head, and you imagine what walking around as single woman would feel like for you. Is it comfortable? Does it make me feel good? Do I want to make this investment?
And then you have a choice – you can either put those sexy single girl stilettos back on the shelf, or you can be brave and take that first step towards independence. And if you have taken that first step and are reading this post – you know first hand that it's an uphill climb: Learning how to move on after a break up.
Steps for Learning How to Move On After a Break Up
Okay.. So you buy the shoes. You are a single woman again. Amazing! But it hurts right? I mean, just continuing with this shoe analogy for a second here, sexy stilettos aren't exactly comfortable. Especially if you haven't worn them in a while. It takes time to get used to a new life walking in new shoes. And sometimes we need help learning how to move on after a breakup. We need to heal, recover, forgive ourselves and strengthen those sexy single girl calf muscles! So here's how you do it. Here are some simple steps for learning how to move on after a breakup.
Replace your negative thoughts.
How many of you out there have ended a long term relationship and think that you can't find someone else? Are you blaming yourself for why the relationship didn't work? Do you feel like a failed human? It's normal to think that way. But you need to do your best to replace those negative thoughts. Make a list of all the things that you are scared of. Get clear about what negative thoughts are holding you back from actually moving forward.
You need to replace that insecure mindset with positive beliefs. Walking away from an unhealthy relationship is the best thing you can do for yourself, but you will never learn how to move on after a break up if you are constantly feeling unworthy of a better life. Get clear about what you believe and start to replace all your negative thoughts with positive ones. "I deserve better" or "I can find true love again," are mantras you should be reciting every day.
Start believing in your new positive mindset.
It's one thing to just repeat crazy chants of positivity, but it's way more inspiring when you start to believe it. Find a positive thought about why being single was a good decision. Make a list of all the wonderful opportunities you will now have as a single woman. If you want to start believing that you actually deserve better than your unhealthy relationship, you need to come up with reasons why you are worthy. Ask yourself, "Why do I deserve better?" What is so wonderful about you that makes you worthy (and capable) of having something better in your life. Getting clear about those reasons will only help you in the process of learning how to move on after a break up.
Find support and encouragement.
This is a really important vital component of moving forward in your life. When you aren't used to being alone, you will definitely feel lonely in the beginning. It's only natural. Find people in your life who are supportive of your decision and hold on to them tightly. Spend a few months embracing those people who are supportive of your decision to end your relationship. And do your best to rely on your healthy support system for learning how to move on after a break up. If there isn't anyone in your life that you feel comfortable relying on, you can always join my community support group. It's a free group where I provide women the resources and tools they need to recover from their unhealthy relationships.
Start setting goals and making plans
In the beginning, you are going to need to keep busy. It is only natural that you will feel some empty-ness in your life once you become a single woman. Fill it with things that bring you joy! Start setting goals for yourself and your new life as a single woman. Did you always want to join a gym but felt like you had no time to workout? Well guess what – you are single, go do it girl. Start focusing on your own personal development. Learning how to move on after a break up is really about learning how to "be you" again. Find the things you enjoy, and surround yourself with them constantly. You can even make a single girl bucket list! You can check out this post about it and get the free E-guide for your single girl goals!
Re-Establish your worth.
It's really easy for women to define their worth based on how much other's value them. And when our relationships go sour, we start to lose our sense of self confidence. So when you start learning how to move on after a break up, you will slowly need to rebuild your self worth. Start growing your confidence and focusing on rebuilding your identity. And don't just do it by keeping busy and setting goals.
Practice self-esteem building exercises. Start journaling more often. Take a good hard look at yourself and start figuring out what makes you wonderful again. Now I know this is a really challenging complicated step for most women learning how to move on after a break up. So if you feel like you are in need of guidance and want to completely transform your life, you should check out the Perfection Program. This is a custom designed self confidence course for completely transforming your life and growing your worth. Go take a look.
I hope these tips help! If you are still searching, try these other posts:

And if you need some more guidance, check out that sexy E-guide for making a single girl bucket list!