There was a time in my life where I just wanted nothing more than to feel happy and inspired.. I was constantly searching for the inspiring quotes on pinterest, and the beautiful art work that I could print and order to display in my home just to give me a quick pick me up when I was feeling down. I talked about it a little in my post on Finding Inspiration and Staying Positive  — Finding ways to fit little thoughts of inspiration into our crazy busy lives is so so important.
In my crazy search for beautiful art and inspiring quotes, at one point, I remember stumbling across the girl who had it ALL together in one place: Kelsey DeLange of Honey and the Hive. Kelsey is the Designer and Illustrator behind Honey and the Hive, an online shop of Beautiful home decor prints and much more. And I got SO SO excited guys.
But then I got EVEN MORE excited when I reached out to her about writing a post for the blog — and she was totally down with it! This girl is awesome. Her online shop in Etsy is home to beautiful and inspiring prints that are full of color, passion and creativity — not to mention her own love for what she is doing totally shines through her work. Kelsey followed her dream and started her own business.. she didn't let fear or insecurities or doubt hold her back from her dream. Her advice is golden.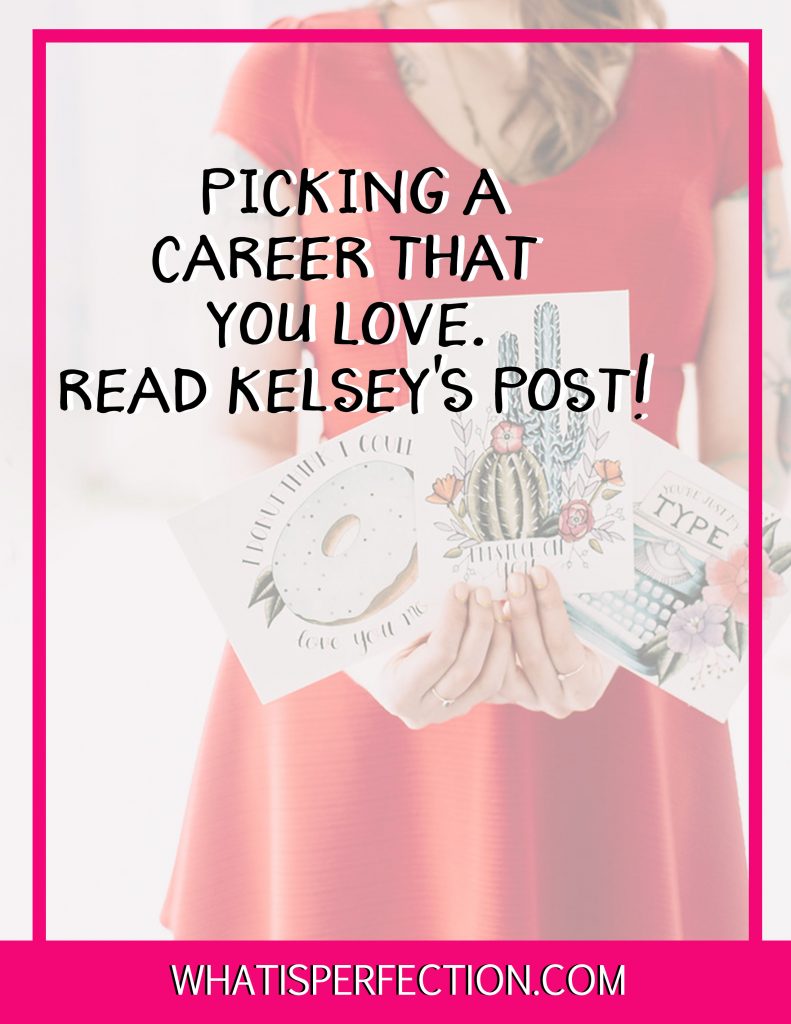 So here it is, I bring to you, a beautiful Q&A From the Beautiful Kelsey DeLange of Honey and the Hive.
Be sure to go check out her page and shop when you are done reading!
Kelsey DeLange of Honey and the Hive!
-Honey and the Hive is full of creative inspiring and beautiful art work…. but living a creative life and pursuing a passion that is alternative sometimes scares people — what would you say was your biggest fear you had to overcome in starting your own brand and business ?
Aw, thank you so much!  For me, the art that I make is really personal, it's a huge reflection of myself and my humor, so really the biggest fear I had is that people wouldn't be receptive of that.  I'm really glad that I got proven wrong there!
-What was life like before Honey and the Hive? were you trying to pursue other dreams that weren't art related? when did you decide to take the big leap of faith and pursue your passion for art? 
Before starting Honey and the Hive I was going to school studying Interior Design, had just had a baby, and was trying to navigate the world of being a young mom.  I spent a lot of time drawing and painting, and when I shared my work with people they were always asking how, and where, to buy it – this is when I really started to consider the fact that, hey, I could really make a career out of this and opened my online shop!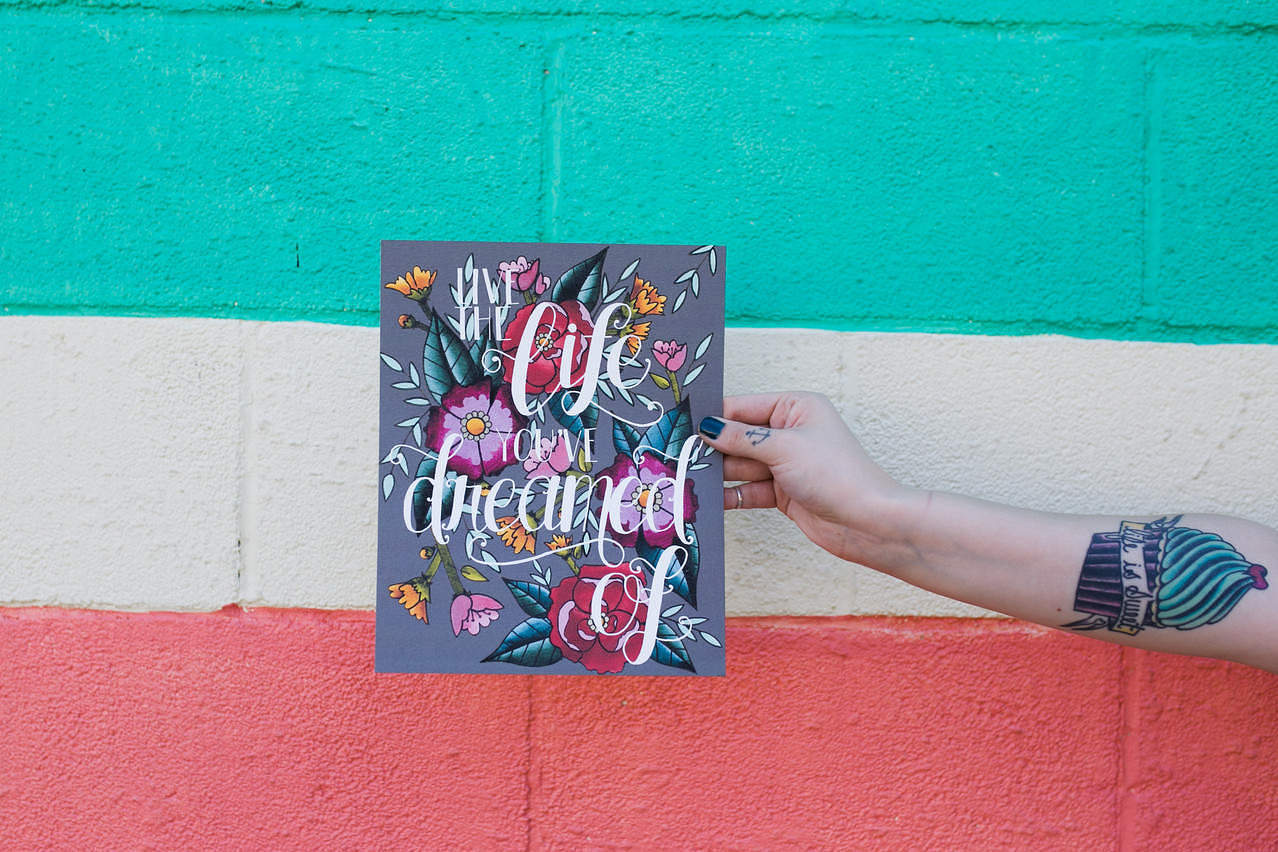 -What advice would you give women who are looking to follow a creative dream or artistic passion?? 
This may sound so cliche, but just don't give up on  yourself.  I have faced a lot of trials and naysayers, and I'll be honest it isn't always easy.  There's a lot of late nights in the studio, and stressors that go along with running a business and wanting to do your best every day, but if you have confidence in yourself and keep a clear head about what it is you're trying to accomplish, all of the work is so worth it and I promise you there's nothing in the world that will make you happier than following your dreams.
-You are a full time mom — and i imagine have a ton of other responsibilities besides running honey and the hive.. is juggling everything difficult? how do you manage doing so much ?? 
Yes!  Some days it can be absolutely nuts juggling all that I do, but I love it all and I wouldn't have it any other way.  It took me a while to learn to set realistic goals for what I could do in a day, and to learn to go with the flow instead of getting upset when things didn't go exactly as I had tried to schedule them.  It's also been really fun (and really crucial to the success of my business) to involve my toddler in some of the behind the scenes of Honey and the Hive.  He loves to help pack orders (well, I pack the orders, he counts them and puts them in the bin for the mail lady to pick up!) and putting stickers on packages.  He also sits in the studio and plays and paints with me while I'm working too which is a lot of fun.  This has given us an opportunity to spend almost all of our time together, and it's a really fun and practical way to teach him things too!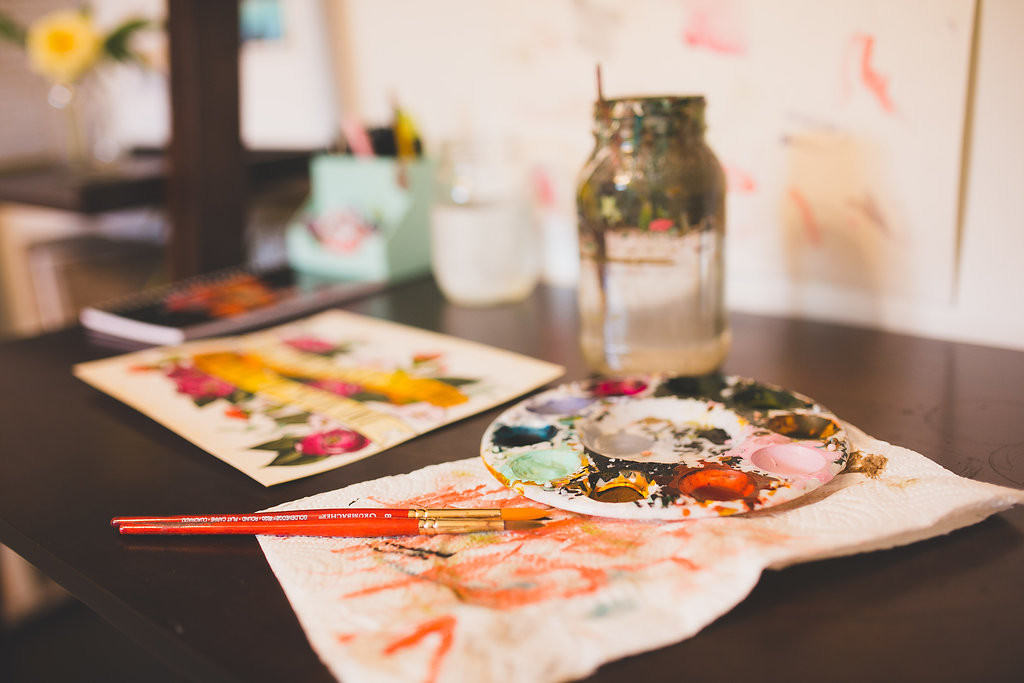 -What is an average day like for you on the job? 
I always start off the day with a big cup of coffee and answering emails.  From there I head into the studio and make a list of what I need to do for the day.  Usually that entails sketches for clients, or working on new projects for the shop!  I spend most of the day painting, break for lunch, and shoot some photos when I can.  It's usually pretty calm and I love it.  The last thing I do every night is pack up orders from the day to ship out the next morning, before closing down shop for the day.
-What is your favorite design you ever made Do You have a Favorite? 
All of the designs that I've made have a special place in my heart because they all reflect different feelings or places I've been in my life, with a little sassy humor thrown in, but I have to say that I'm really partial to my "Just Go" design.  When I made that piece I was in a pretty pivotal place in my life, and for me it meant letting go off inhibitions and the things that hold you back, and just get out there and live your life for yourself, and experience all the places and things you've been missing out on.  I'm really proud of the art I made for that piece and the sentiment, it's one that will stand the test of time with me.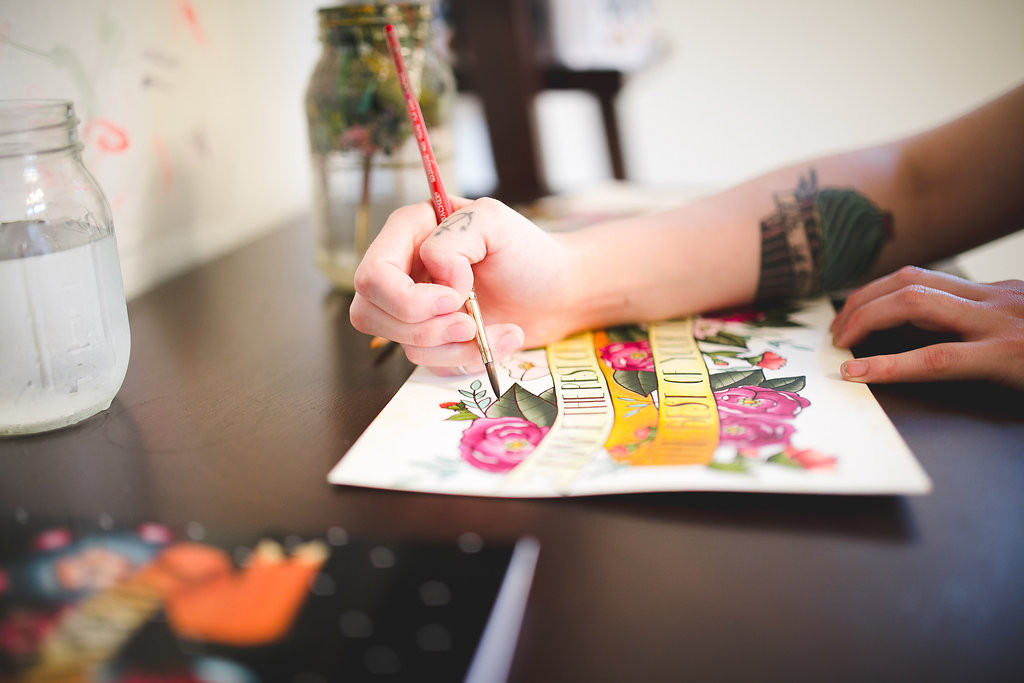 -How important is confidence when it comes to doing what you do every single day? 
Having confidence is critical in my line of work.  If you're feeling off, it can be really hard to come up with new ideas, or get the creative juices going to create something new.  Loving yourself and feeling good about yourself is definitely the first step, here.
Kelsey's List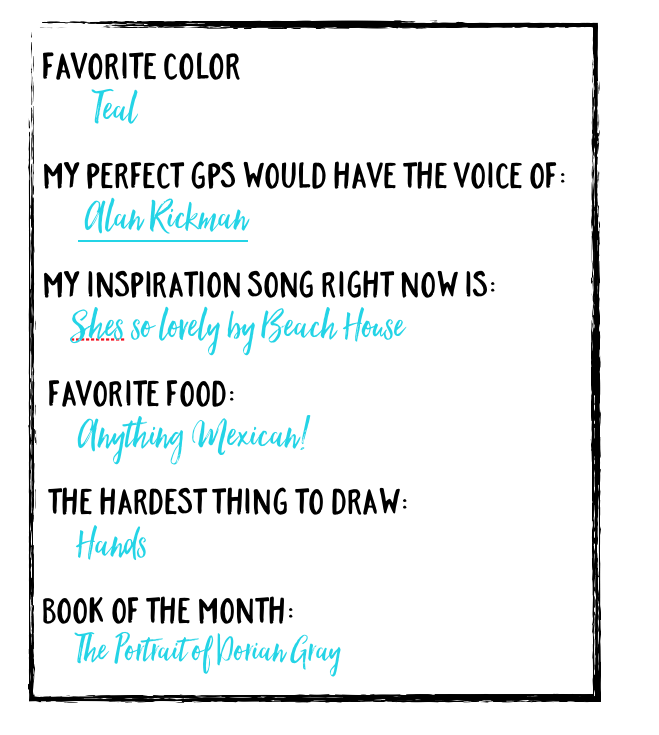 Again, be sure to Check out Kelsey and the Honey and the Hive Etsy Shop!


Sign up for Your Free Life Coach Guide! Find Confidence, Feel Beautiful and Transform your Happiness step by step. Make an Amazing Change for Your Life. I'll give you the tools to make it happen!


What is Perfection is the Self Improvement blog for the imperfect girl everywhere. Learn to find happiness, feel beautiful, and be confident in who you are. We all deserve to be happy, and we all deserve to be the best version of us. And we all are truly capable of getting there. Because Perfection Is Impossible. Happiness isn't. See The Self Improvement E-Guide Collection For Your Life Coaching Guides to Change Your Life Today!