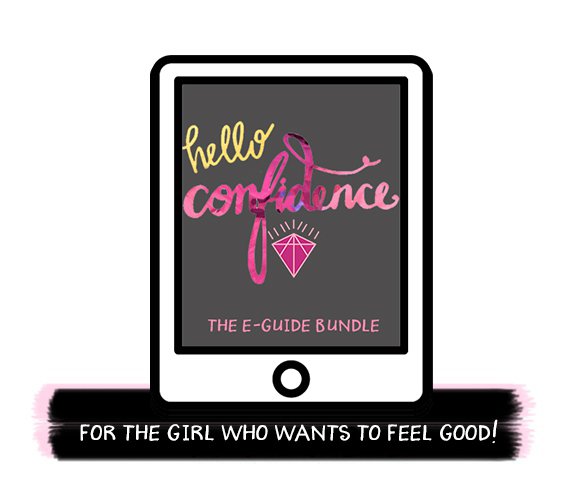 A JAM PACKED RESOURCE FOR SHOWING GIRLS HOW TO START FEELING BETTER ABOUT THEMSELVES AND THEIR LIVES.
I GET IT.
You're crazy full of love for other people, but for some reason, you can't feel that way about yourself no matter how hard you try. You are determined to change how you feel about your life and set new goals to grow your self-worth – but you don't really know where to start.
something seriously is missing.
You know you need the blueprint to actually grow your confidence into exactly what you've wanted for SO long – but something is emotionally holding you back – and you know it.
THE HELLO CONFIDENCE E-GUIDE BUNDLE IS PERFECT FOR YOU IF..
– You have a serious goal in mind that you are determined to achieve. (weight-loss, financial, relationship, etc.)
-You are tired of feeling insecure. and spending all your time self loathing.
-You are sick of hating your body, feeling ugly, and not loving yourself.
– You see other people being confident and having this secure sense in themselves that you want (but you don't know how to get it)
-You are looking for a quick and simple way to spark that motivation, the drive and determination to succeed.
I'VE HELPED HUNDREDS OF WOMEN JUST LIKE YOU CREATE THAT CONFIDENT HAPPY FULFILLING DREAM LIFE THEY WERE LONGING FOR. YOU DESERVE THAT AMAZING LIFE.
GET THE E-GUIDE BUNDLE TODAY.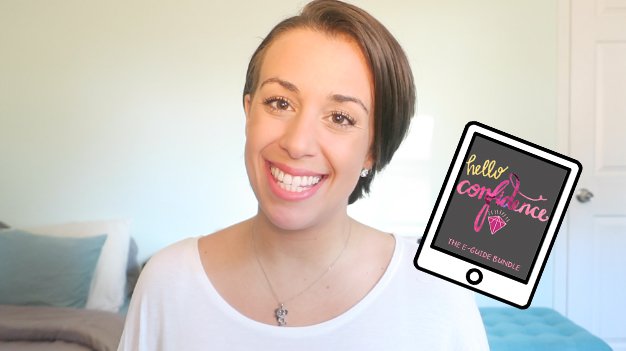 -I built my happy confident brand new life from scratch. I know the exact systems, passion and strategy that transform everything about your life – and how you live it.
-I coach 100's of women like you to gain massive clarity in their lives and ultimate happiness – showing them how to recreate their path for the first time.
-I have experience as a top life coach in the self love industry, and I know the real hustle and struggle behind insecurity.
-I give you the real deal on how to drastically change you life, happiness and self confidence—so you can be finally feel worthy and create everything you want for your future – without feeling uncomfortable.
Stop trying to the same strategies over and over again expecting different results. Get ready for the E-guide that show you how to build your confidence in a way that works!
GET THE E-GUIDE BUNDLE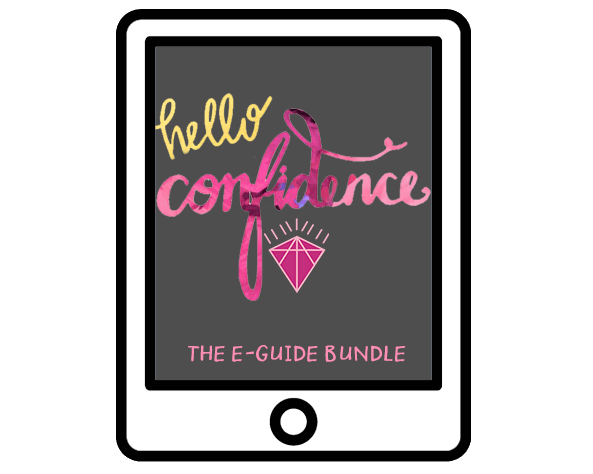 -22+ Page Hello Confidence E-Guide
-The How to Stop Caring What Other People Think E-Guide
-The How to Feel Beautiful Roadmap E-Guide
-Lifetime Membership to the WIP Girl Section
What You'll Get with the Hello Confidence E-Guide Bundle 
-Discover the emotional limiting beliefs that are holding you back from feeling good about yourself .
-Find the new empowering beliefs about your worth, your life and what you want for you future.
-Push yourself into a place where you believe you are deserving of everything you want in your life so you can finally stop settling.
-An outlined vision manifestation strategy for understanding exactly what you want to feel more confident, happy and fulfilled in your life.
-Get Laser clear about what you want for your life and develop a foolproof system for going to get it.
-The systems that are most effective for developing goals, achieving them and succeeding.
-Finally gain leverage and make your drive to change so super clear that no one can stop you.