Hey hey gorgeous girl. Need a little confidence boost lately? Good thing you're here.. because I want to tell you all about the FREE 5 Day Self Love Jumpstart. I made it for all you WIPGIRLS out there looking to feel a little happier. It's a free awesome Five Day Program to help you set new goals, revamp your life, and make some big awesome changes (well… 5 days worth)

HERE'S HOW IT WORKS:
In five day's you'll start
building self confidence
setting new goals
feeling a little happier
and even a bit more determined too.
Cool huh?
plus it's FREE yo.
So why not give it a try!

HOW TO GET THE FIVE DAY JUMP START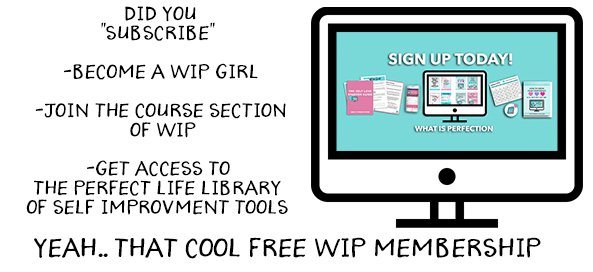 If you're already a WIP GIRL, then you should have received an email with all the deets.
(let me know if you didn't by contacting me here in the group)
IF YOU AREN'T A WIP GIRL YET.
IT'S FREE. YUP.
Once you create an account I'll send you all the details.

SO GO AHEAD! GET STARTED!