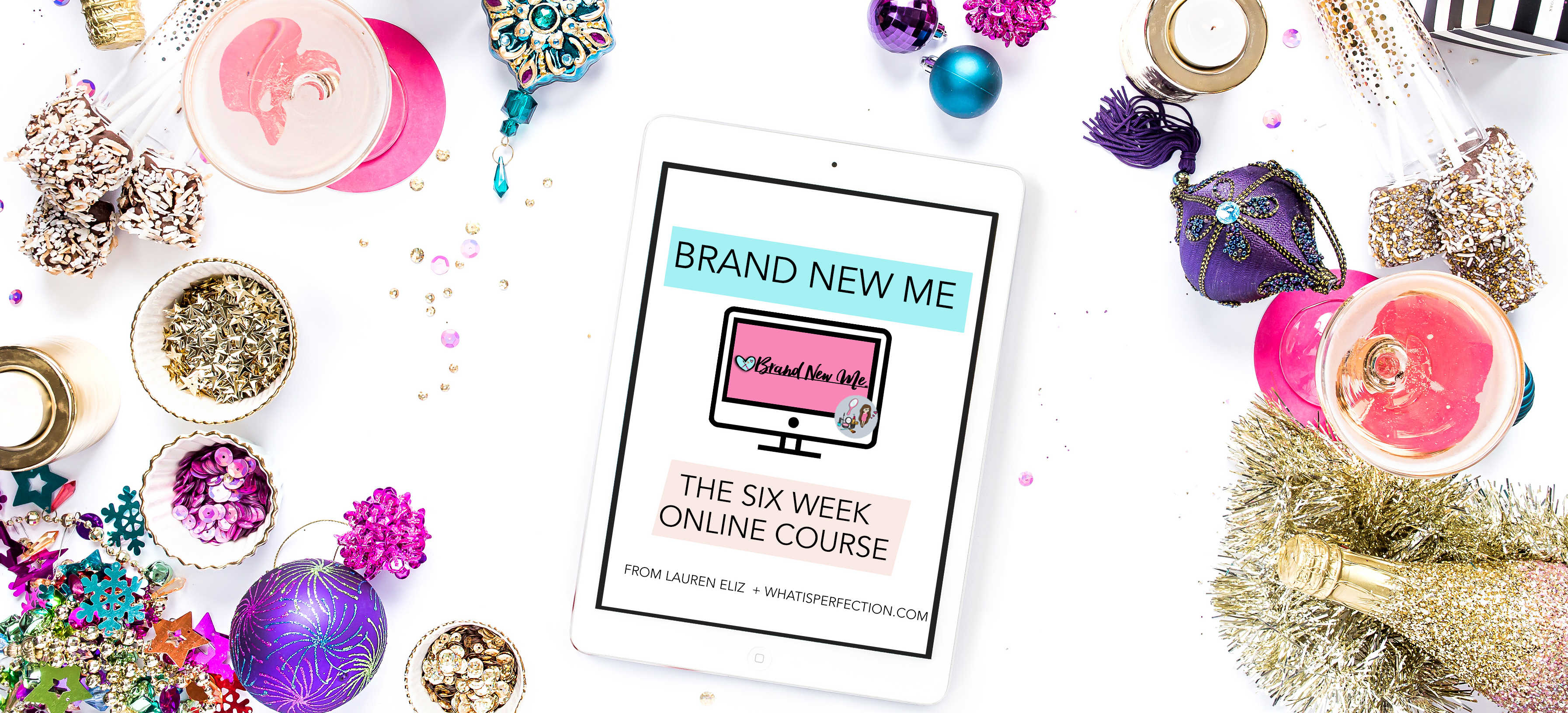 TRUST ME, I'VE BEEN THERE.
Rockbottom living sucks. But the truth is, wherever you are right now, is not where you have to be. You can change the future.
You can be a Brand New You.
You only have one life, why not custom design it the exact way you want it to be? You may feel like the world is telling you to be happy and feel good about yourself, but for some reason, you just can't feel that way. Maybe you are really good at caring for other people, but have a super hard time putting yourself first and being that version of you that makes you proud.  Or perhaps you ar hungry for a bigger beautiful more confident life, but for some reason something is holding you back.
If you want to be a Brand New You, it's time to start thinking differently.
BRAND NEW ME IS PERFECT FOR YOU IF..
– You struggle to feel good about yourself.
-You feel stuck at rock bottom.
-Nothing you ever do feels good enough.
-You are tired of pretending to be happy all the time and actually want to feel happy!
-You are fed up with having body image issues, constantly nitpicking your appearance and never feeling beautiful.
-You are so tired of feeling lost, far away from the life you want for yourself.
-You often feel stuck in your head feeling like you can't enjoy the life around you (because it isn't the way you want it to be.)
– You feel lost and holding on for dear life with little idea of how to start actually feeling good
– You know that you have to fix yourself before you can have the amazing life you truly want.
-You find yourself surrounded by toxic relationships, unhappy and disappointed by other people.
-You are tired of trying to rely on other people to make you happy only to feel stuck in sadness.
-You are a driven, passionate, loving person, but for some reason you can't use that energy to help your own self.
-You continually put other people's needs before your own wants and desires.
-You want to finally be able to call yourself beautiful and actually feel it – believe it and know it.
– You want to finally take power and control of your life.
-You are sick of failing your goals and ready to achieve your dreams.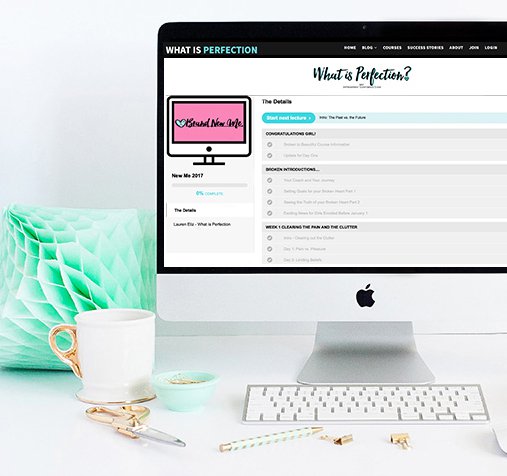 RECREATE YOUR LIFE
-24 Course Modules of Action Packed content.
-Video lectures, audio assignments and PDF Guides.
-Endless community support in a private group.
-Instant access to the WIP Girl community.
-Happiness and Fulfillment Mindset Masteries that you have for a lifetime when you enroll.
THE BRAND NEW ME 6 WEEK COURSE
STARTS MAY 1ST
THE BRAND NEW ME COURSE TEACHES YOU…
– How to have a total belief breakthrough for your life that will push you into the life you've been dreaming of.
-How to actually retrain your brain to stop settling for less than you deserve
-How to completely level up your energy vibration to start attracting positive experiences in your life.
-How to abandon unhealthy habits of failure and rejection.
– Identify and breakthrough the emotions, feelings, and actions that are holding you back.
– Develop an unshakeable sense of confidence.
– Say goodbye to your cycle of being unhappy with yourself, your relationships and your life.
– Create a Life and a version of you that finally feels good.
I'VE HELPED HUNDREDS OF WOMEN JUST LIKE YOU CREATE THAT CONFIDENT HAPPY FULFILLING DREAM LIFE THEY WERE LONGING FOR. YOU DESERVE THAT AMAZING LIFE.
EARLY BIRD ENROLLMENT NOW OPEN!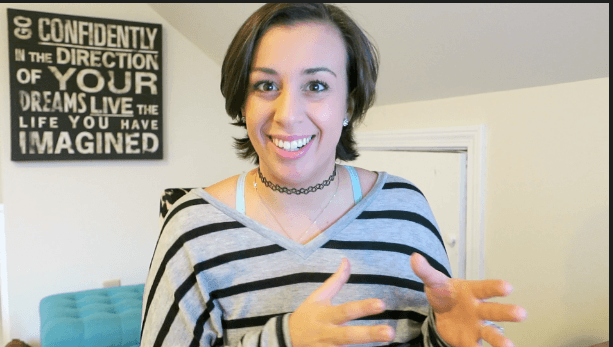 IS THIS YOU? "I know I deserve to be happy and confident, but I feel like I need change a million things about myself to feel that way... and no matter how hard I try, I can't seem to put those beliefs in motion." - IT'S TIME TO DO SOMETHING ABOUT IT.
If you're ready to finally feel like you are "enough" like you CAN and WILL be happy - then you are in the right place to show you how to do exactly that.
-I built my happy confident brand new life from scratch with the exact systems I teach in this course.
-I have coached 100's of women like you towards ultimate happiness – showing them how to put beliefs in motion to get that confidence they deserve.
-As a top coach in the self love industry, and I know the real hustle and struggle behind insecurity and I know exactly how to fix it with strategies that work.
-I give you the real deal on how to drastically change you life, happiness and self confidence—so you can be finally feel worthy and create everything you want for your future –

STOP RELYING ON OTHER PEOPLE FOR YOUR HAPPINESS. GO CREATE IT FOR YOURSELF INSTEAD. WITH A SYSTEM THAT WORKS.
ENROLL NOW
WHAT YOU'LL LEARN IN THE "BRAND NEW ME" COURSE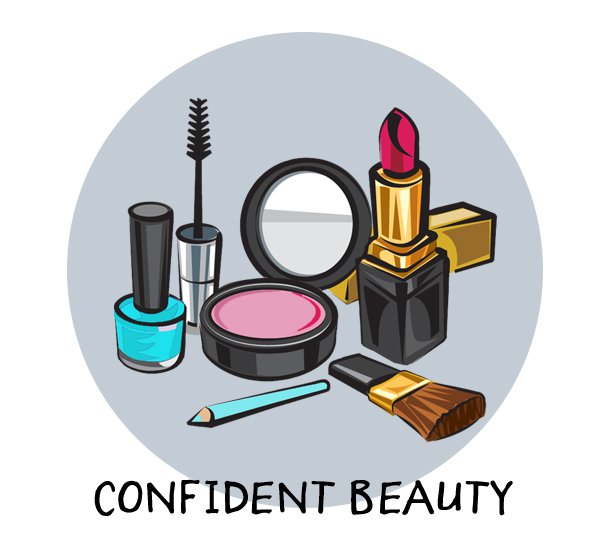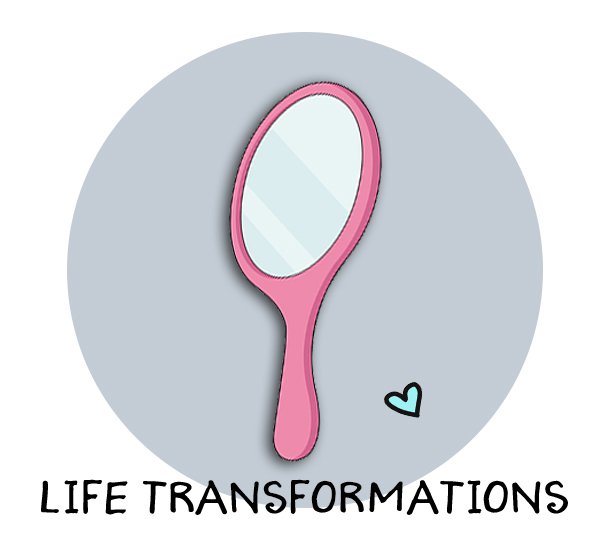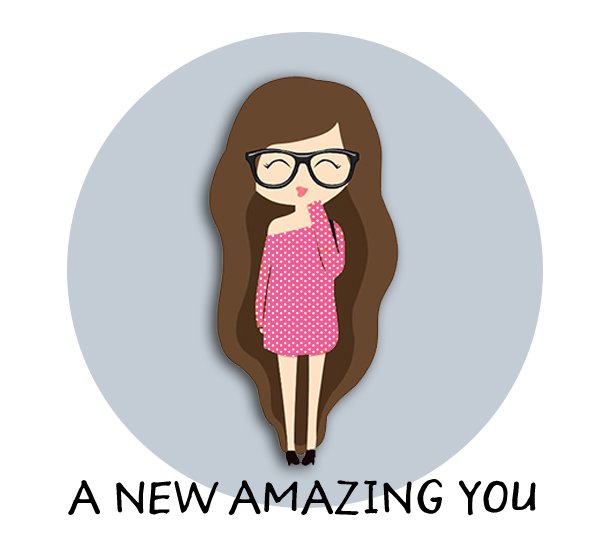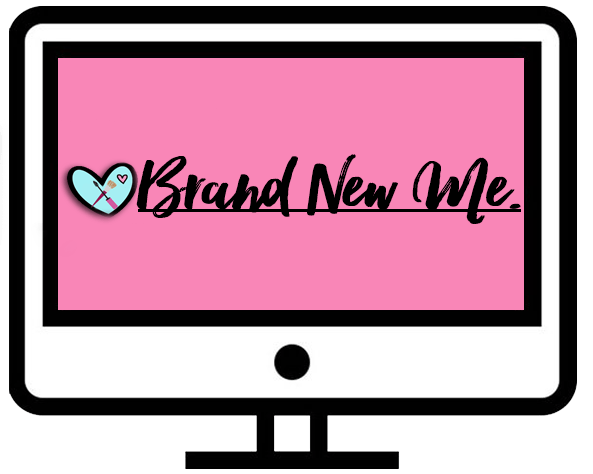 -24 Course Modules of Action Packed content.
-Video lectures, audio assignments and PDF Guides.
-Endless community support in a private group.
-Instant access to the WIP Girl community.
-Happiness and Fulfillment Mindset Masteries that you have for a lifetime when you enroll.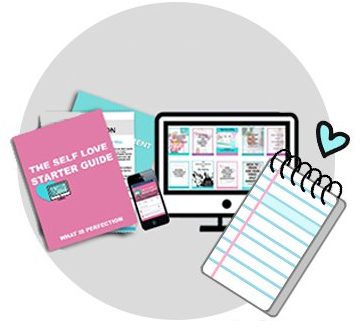 Each week we dive deep, taking you through the exact step-by-step process to overcome fear, elevate your confidence, increase self worth & achieve your goals for success.
SIX WEEK CLASS NOW OPEN!*

-Map out your 90 Day Dream life direction plan with a step by step strategy that works and creates abundant happiness.
-Overcome major happiness blocks that are keeping you stuck at your "not good enough," point.
-Uncover any old patterns that are keeping you from ultimate success and happiness. Expand your confidence so you can finally close the deal on that future happy life you want so badly.
-Identify your happiness "sweet spot" and gain clarity and confidence in your mission as a amazing human.
-Become an expert in who you are and what makes you wonderful so you can start believing in your worth again.
-Learn how to stand out with confidence that is natural, effective, and truly game changing for your life.
-Get Laser clear about what you want for your life and develop a foolproof system for going to get it.
-The exact "how to" details or mapping out self confidence, happiness, and self love.
-The systems that are most effective for developing goals, achieving them and succeeding.
-Finally gain leverage and make your drive to change so super clear that no one can stop you.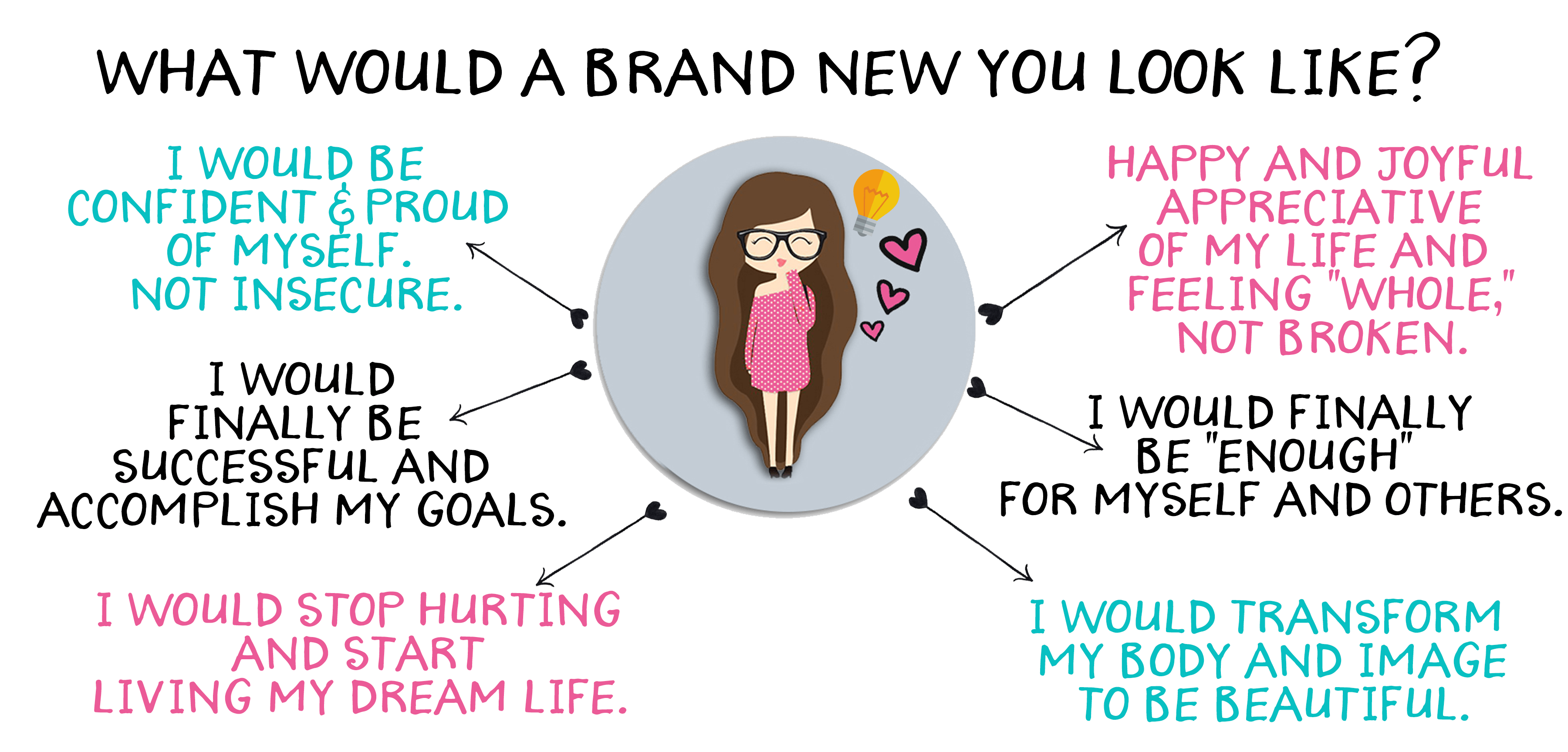 BRAND NEW ME IS THE #1 PROGRAM FOR SHOWING YOU HOW TO ACHIEVE YOUR GOALS FOR A HAPPY CONFIDENT LIFE.
ENROLL NOW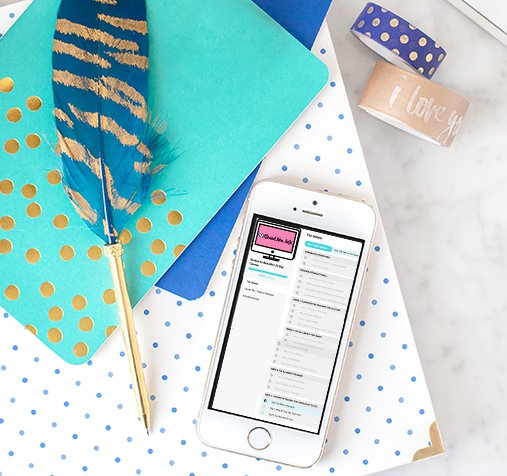 I'LL SHOW YOU HOW TO GO FROM SKIN AND BONES CONFIDENCE ZERO - TO A FULFILLED, HAPPY, TOTALLY AMAZING NEW YOU
THE BRAND NEW ME
SIX WEEK ONLINE COURSE.
GROWING CONFIDENCE WITH A SUCCESSFUL STRATEGY.
NO FAKING IT. NO LIVING IN FEAR. FINALLY BEING THE FABULOUS HAPPY YOU.
HERE'S HOW IT WORKS: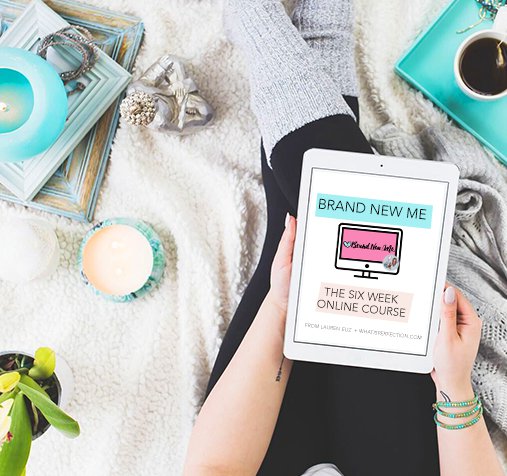 What You Get When You Enroll
-6 Weeks of Video Modules, Lectures and Audio Assignments
-24 Hours of Direct Online Coaching strategies and guides
-32+ Journal Worksheets and Reflection Downloadable E-Guides
-10+ Hours of Audio Lectures for Goal Setting Confidence Building
-5 Solid Personal Development Maps for Success
-Lifetime Access to Course Content
-Self Confidence and Worth Building Techniques
-Goal Setting Strategies and Printables
-Desire Map Outlines and Manifestation Guides
-Journal Prompts and Self Reflection Challenges
-Body Image and Self Worth Therapy Sessions
-And Yes. Lifetime access to ALL OF IT.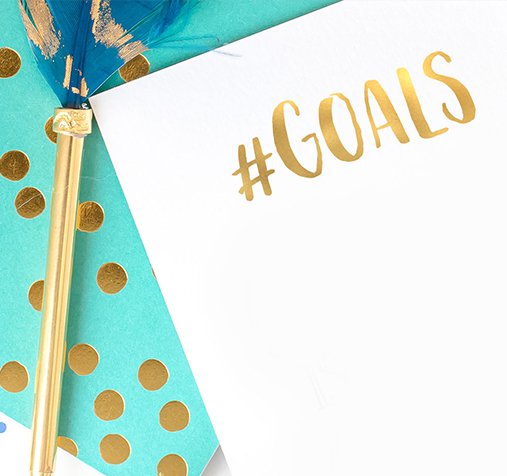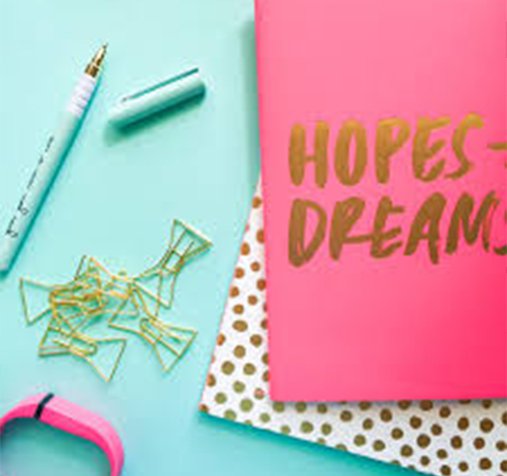 "I'm tired of not feeling confident."
"I am sick of never finding the drive to actually lose weight."
"I am so fed up with my life and feeling unhappy with the person I am. I just want to change."
"2017 NEEDS to be my year."
Guess what… it can.




THIS COURSE CHANGES ALL OF THAT.

This course has been wonderful … If you sign up for it, I PROMISE you that you will NOT be disappointed. All my life I have struggled with taking care of myself, and knowing that it is good to take care of myself….This course walked me through learning what I need in order to be able to say that I am happy (you'd be surprised if you think you know what that is), why I feel like I can't achieve true happiness…and then has been walking me through being able to find it. Throughout these last few weeks I have found way more confidence than I have ever had in my entire life and I have found the courage to know what I want from life and how to go about getting it. Ive also gained wonderful friends along the way, including Lauren Eliz, who is always there for you! Not sure if now is the right time for you to sign up? I will tell you that sometimes life butts in and stops you from being able to work on your course work, but once you're signed up, you have the course materials for life and you will always be able to work on them. When was the last time you did something for just yourself? No one else—just you. Do THIS for yourself today! Its okay to do what you need to do to make yourself happy. YOU deserve true happiness! Sign up today for the Brand New Me Course! You won't regret it!
Angela C.
💗So I decided to change my life for the better and I'm not even finished week 1 of this 6 week self improvement course, and I already feel more "connected" and happy!! 💗the support I have from my peers is something I've been needing💗a fun loving group of women who are committed to self improvement💗‼️‼️‼️
Lauren is my coach and I adore her and her "realness". Her authenticity inspires me daily!!
Our private group is honestly changing EVERYTHING for me!! I'm able to get REAL, RAW, and EMOTIONALLY HONEST with zero fear of judgement or criticism. It's all LOVE AND SUPPORT!! And our coach LaLauren Eliz Cioffis so attentive to us all!! She's there to guide us and give us the tools we need to go DAY BY DAY!! I can't even WAIT to see where I'm at after 6 weeks. I already feel a "shift"!! There's so much love and support it's RIDIC!!!
Kristen K
My review of the Brand New Me Course:
Fucking amazing.
In all seriousness, I struggle with physical and mental illnesses (but now call myself chronically awesome). I've been in therapy BUT I haven't grown as much in my almost 2 years in therapy as I have in the past 5 weeks. I was at a real low point and struggling hardcore. It was ugly. The world and my situation felt so dark. I knew something needed to change. I decided to take the course last minute and it was the best decision I have ever made. Lauren really is changing my mindset. The course made me take a hard look at myself and my bullshit beliefs. My husband has even noticed the progress I'm making. I was also able to make some bigger decisions that I needed to make. I cannot wait to continue my progress and growth. Thank you Lauren! 
Danielle D.
"I'm loving it so much… it's so raw and real.. I'm so glad for you and the timing couldn't be more perfect. This course has done so much for me then counseling has done."
Pam
one of the best things I could have done for myself, enrolling in Brand new me . Taking the 6 week course , helped me get to the root of the road blocks I had in my life. Trust me, sometimes you think you have it figured out and discover you were missing the obvious piece to the puzzle all along. I have had more light bulb moments than the Home Depot electrical aisle 😉 The course helps you really step back and take a look at your life and start to make changes gradually, you build upon each lesson to start looking at yourself as a whole and not the labels or negative self talk you crowned yourself with . honestly the course shows you how to start living and not existing and settling. A course like this is imperative to your mental hygiene. I am not here to say you can enroll and expect to change without doing the work, but when you do the work and put the time in and invest in yourself, great things start to happen. Small changes will eventually lead to big changes, the course reminds me of one of my favorite quotes. As the great Ralph Waldo Emerson states , Recognize the Jewel within – what lies behind us and what lies before us are tiny matters compared to what lies within us <3 , P.S. Lauren Eliz Cioffi Rocks
Jennifer P.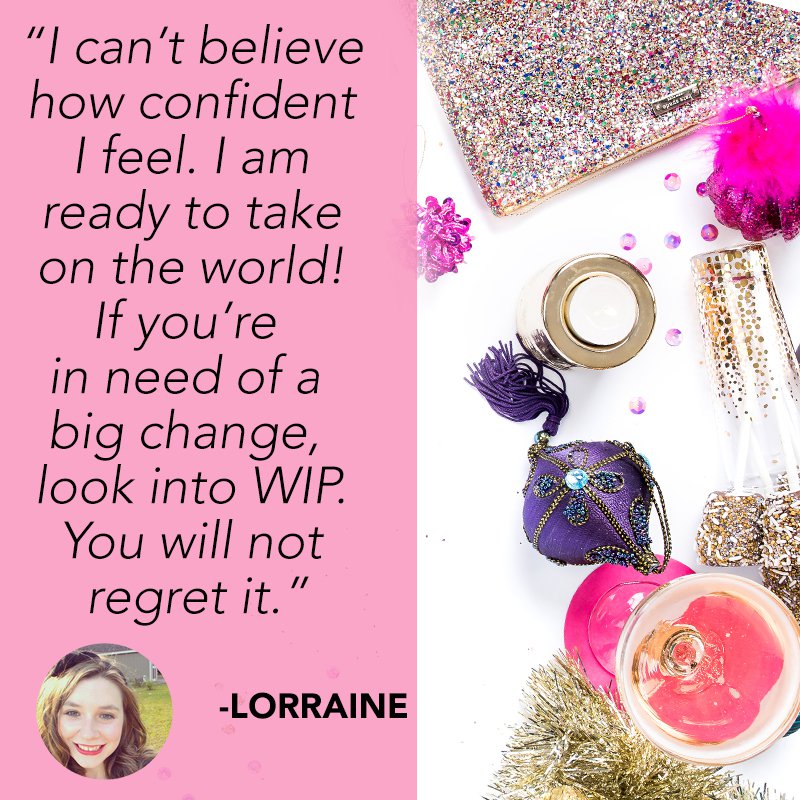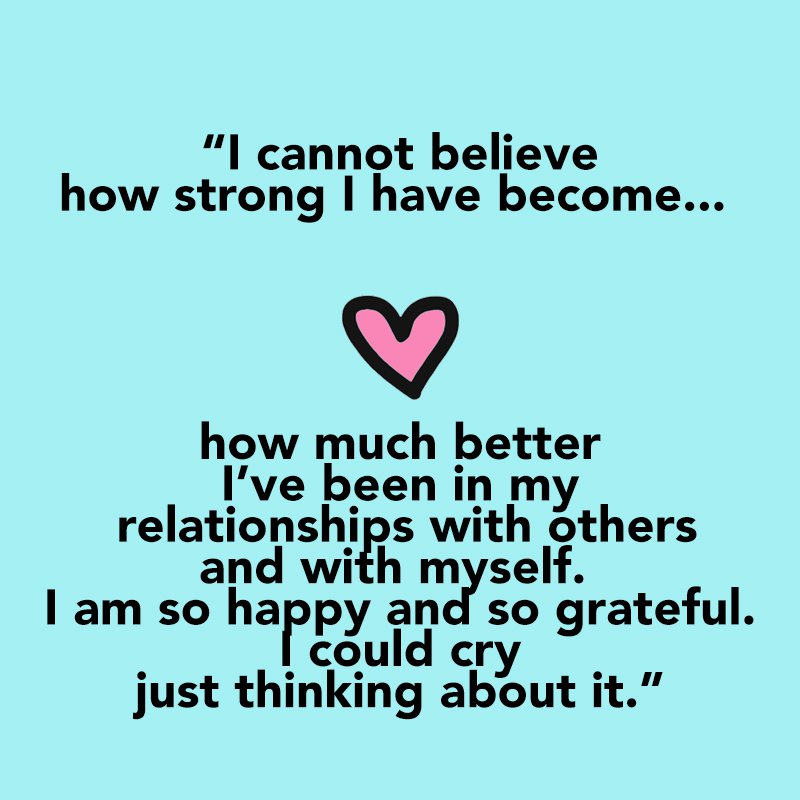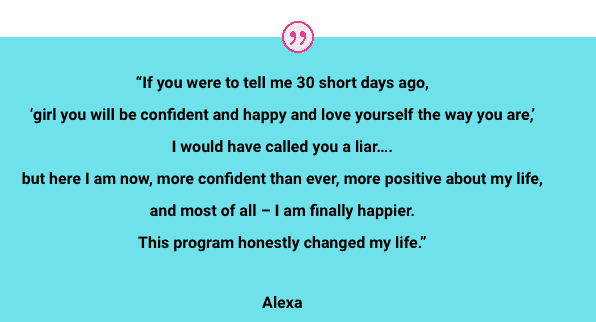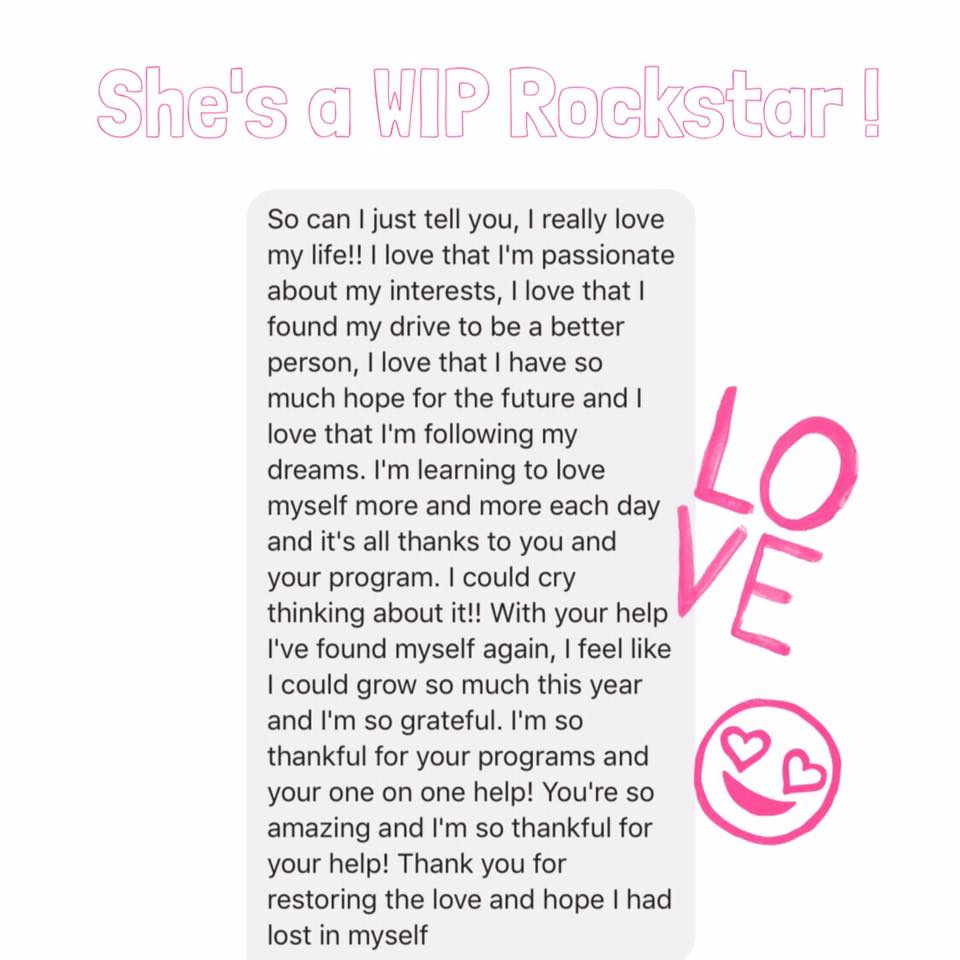 Lauren Eliz
Founder of WIP
I'm Lauren Eliz, "that What is Perfection girl." I am the self improvement guru leading women out of rockbottom living. My goal as a coach and a top emotional development expert is teaching women how to rebuild their lives, their confidence and their happiness. My mantra and mission is to lead you through creating that awesome life you truly deserve.


BECAUSE THIS ISN'T JUST AN ONLINE COURSE....
IT'S A LIFE TRANSFORMATION.