Building self-esteem isn't always easy. Okay, most of the time it's the hardest thing ever, am I right? But today I am sharing three effective strategies for building self esteem so that you can learn how to do it in a simple easy way.
Three Simple Steps to Building Self-Esteem
Step One: Stop striving for perfection. This is  a real serious first step that you must take in order to build your self worth and grow your confidence. The first step to building self-esteem is really ditching that "all or nothing" approach to feeling good about yourself. You need to recognize that you aren't perfect. You will never be perfect. Perfect is not an option or a goal. Because Perfection doesn't exist. So give it up. Once you do, you'll quickly notice a shift in your outlook.
Have you ever gotten down on yourself because you didn't achieve a goal you wanted to? Did you ever feel embarrassed by things you've done in your life? Do you feel like maybe your past decisions were failures?  That's the "perfection obsession" talking. Ditch it. Let it go. Say goodbye.
The truth is no matter what you have been through in your life, you can overcome it.  The road to happiness and self-esteem is never perfect, so don't ever try to make it perfect. Don't believe? You can read all about my imperfection and what I overcame to build my confidence and self love in my about me page.  If I can do it, you can too.
Step Two: Develop solid self-love practices. This is so important. Developing some sort of self love routine to incorporate into your daily schedule is super important for living a confident life and building self-esteem. Start a gratitude journal if you haven't already, or try using daily journal prompts for self reflection to help in building self-esteem.
If journaling isn't your thing, try practicing self love mantras. Find a few self-love phrases that make you feel empowered and receipt them every morning. You can also practice positive self talk by taking a few moments each morning to compliment yourself. Whatever works for you girl. Do it!
Step Three: Educate yourself and look at building self-esteem as a life journey. In order to grow confidence and change how you feel about yourself, you need to prioritize it. You need to look at growing your confidence as a true Priority in your life. If you don't invest the time and energy (and sometimes the money) into growing self-worth and building self-esteem, you will never do it. So educate yourself, and invest your time into developing the tools you need to grow who you are and what you love about yourself.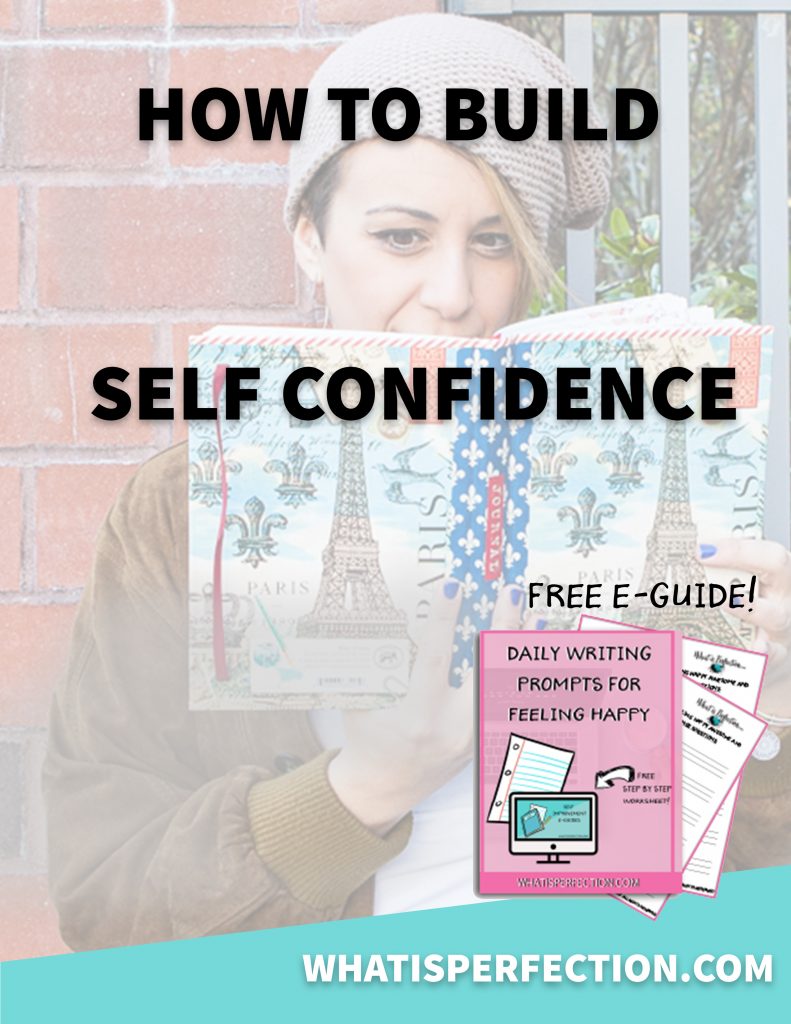 Building Self-esteem made easy: with the Perfection Program
The Perfection Program is a solid place to do that. If you believe you are ready for a change, go check it out.
Oh, and if you don't feel ready for that big change, check out this free self love journal guide to help you with building self-esteem



Sign up for Your Free Life Coach Guide! Find Confidence, Feel Beautiful and Transform your Happiness step by step. Make an Amazing Change for Your Life. I'll give you the tools to make it happen!


What is Perfection is the Self Improvement blog for the imperfect girl everywhere. Learn to find happiness, feel beautiful, and be confident in who you are. We all deserve to be happy, and we all deserve to be the best version of us. And we all are truly capable of getting there. Because Perfection Is Impossible. Happiness isn't. See The Self Improvement E-Guide Collection For Your Life Coaching Guides to Change Your Life Today!