Lets face it: taking a prescribed pill never solved my problems. And I'm probably safe to say it never solved yours either. There are so many people out there battling mental health issues, and so few of them battle it in any other way besides going to the psychiatrist. We need to do do other things besides take a pill every day in order to feel balanced, healthy and mentally stable.
At least I do. (See my last post on mental health)
I remember when I was on medications from the doctor – it always started and ended the same way. I would start with one pill.. but then, side effects would come. I would have trouble sleeping. I would have trouble focusing, I would gain a ton of weight.
Problem after problem, doctors always gave me the same solution: Just take another pill to fix the side effects.
So what started as a "one pill a day recipe" turned into eight or nine or even ten.
And I never felt better.
A while back on my self love journey I decided it was time to do away with all the medication bull shit. I was so sick and tired of feeling sick and tired.  I was on a ton of different medications and nothing was working. In fact, I was only feeling worse.
So here's what I decided: Taking a pill once a day is not solving my problems, so I need to do something different. I need to find new ways to treat my illness.
So I did. I started researching natural remedies to help combat anxiety and depression. And Soon – boom. I had my own special dose of pills to take every day – prescribed be me. And they were all 100 percent natural baby.
Guess what? My depression is none existent now. My anxiety is at bay and is easily regulated. My energy levels are coming back to normal (more on that in another post)
Full disclosure: Do not go off your medications unless consulting your doctor. Because I am not a doctor.
But I can tell you these are the suppliments that helped me feel more mentally stable and kept the brain fog at bay. And I take them religiously.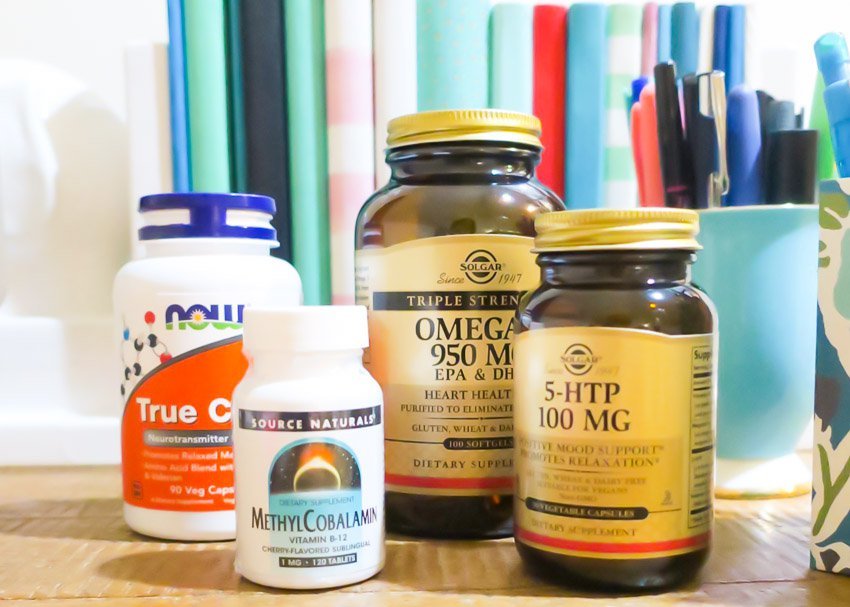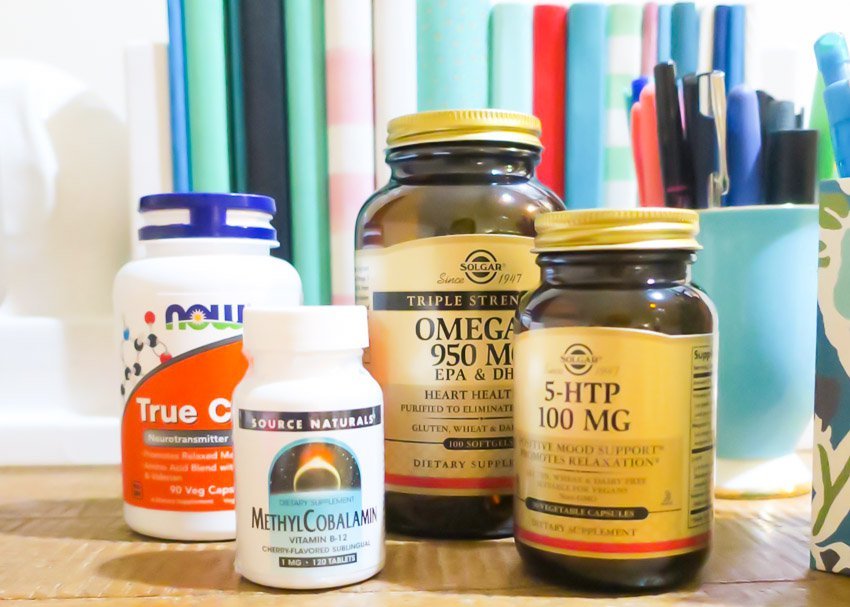 OMEGA THREE.   If you suffer from any type of emotional imbalance or mood swing issue, I highly recommend you get some type of Omega 3 Fish oil concentrate into your daily vitamin intake.  Numerous studies have shown that there is a link between anxiety, depression and low blood levels of Omega 3 fats. The Brain is incredibly sensitive to cellular inflammation and one of the best ways to combat it is with omega 3. The brain is made up of two types of fatty acids and taking omega is such an added bonus to your routine. I found that just after a few weeks of taking omega 3 my mood balances out, and the highs and lows are much more balanced and calm. Solgar Omega-3 Fish Oil Concentrate Supplement, 240 Count
5-HTP MOOD SUPPORT  This is a natural supplement derived from seed pods of a plant (no not pot.) What you need to know is that this chemical directly converts to serotonin in the brain.  "Serotonin has many profoundly important functions, including a role in sleep, appetite, memory, learning, temperature regulation, mood, sexual behavior, cardiovascular function, muscle contraction, and endocrine regulation."  I find that my mood is happier and more carefree when I take this supplement on a regular basis. 5-HTP CAN RESTORE SEROTONIN LEVELS AND HELP IMPROVE General mood, Depression, Anxiety, Insomnia, Weight loss, PMS, Chronic headaches7, Migraines"8, and Fibromyalgia. I call this Natures Prozac. Solgar, 5-HTP 100 mg, 90 Vegetable Capsules
TRUE CALM AMINO RELAXER: This is my new favorite supplement "blend. A mix of different vitamins, True Calm is mainly made up of different vitamin B's. The first on the list: Niacin. Niacin (b-3) is a really important B vitamin. When we don't have enough in our body we experience signs of depression, brain fog, and fatigue. B6 (also in the true calm amino relaxer) helps your body find hormone balance. Which is HUGE. Especially for people who struggle with anxiety. The third strongest vitamin in this blend is Magnesium, also known as the "most important female supplement." Taking magnesium regularly can help with migraines, anxiety, Depression and PMS. Now Foods True Calm(tm) Amino Relaxer 90 Caps ( two-pack)