I used to ask myself that question all the time. And if you're reading this, you might be asking yourself that question too. But "Why am I so unhappy?" is such a loaded question sometimes don't you think?
So in order to help you answer it, let's rewind things a bit for a hot minute. I want to tell you about my life before  I learned how to love myself. Not because it's an exciting story or anything, but because back then  I was asking that question all the time. I'm not kidding. "Why am I so unhappy?" was the constant mystery of my life that for a while went unanswered.
Why Am I So Unhappy?
I'm not going to lie to you. There were moments in my life where the answer to that question was obvious. It's easy to know why I am so unhappy when so much is going wrong in my life – that's pretty much a given. And back then, feeling ugly, having a horribly unhealthy love life and hating my job were all clear sources of my sadness.
But then there were other times where my unhappiness felt almost like an anomaly. I would feel sad and unfulfilled in my life but I would also feel like I had no idea why.
And it's really difficult to fix your sadness when are you aren't really sure if you even "should be" sad in the first place.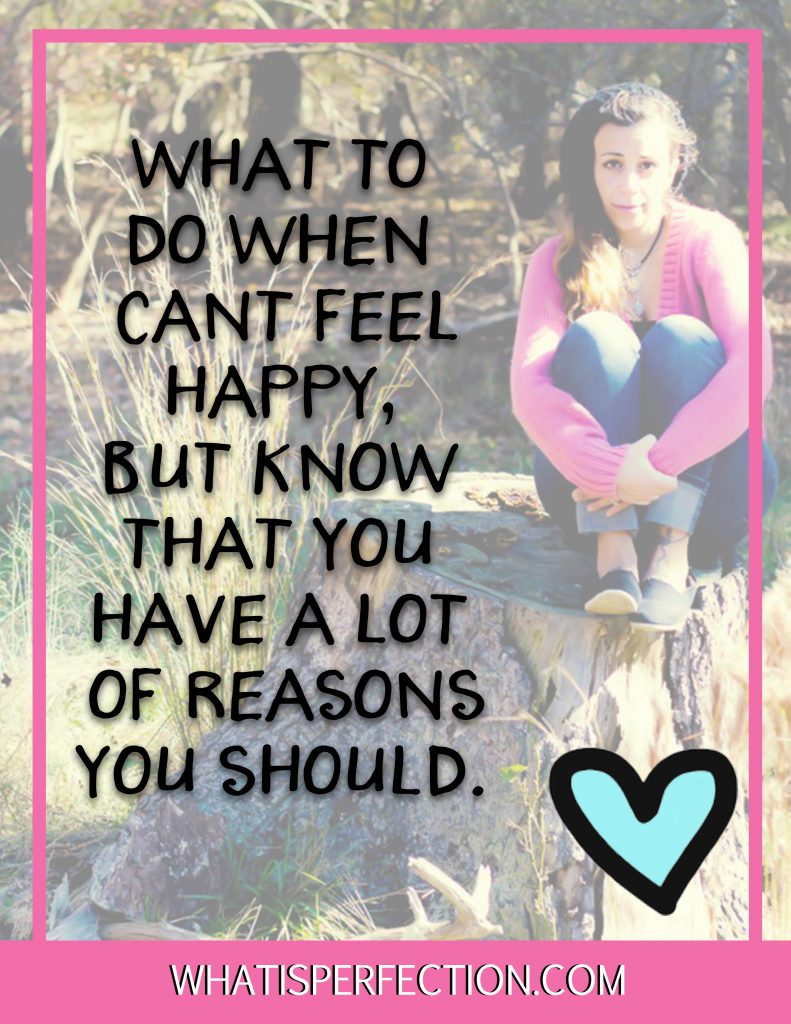 Why Am I So Unhappy When Everyone Is Telling Me I Should Be Happy!
A big problem with trying to overcome those sad blues (especially when you don't really understand why you have them) is the feed back you get from other people. There were so many times in my life when I would reach out to a friend and tell them how I was feeling, and all I would hear back from them was, "but you have so much to feel happy about!" It was almost like they were telling me I was wrong to feel sad. And that made everything SO much worse.
I didn't want to hear I was wrong for feeling certain way. I wanted to hear how I could fix it! So if you're like me, and you're sick of hearing your friends tell you that you shouldn't feel unhappy, I'm here to tell you otherwise.
Consider me your BFF sitting with you at the bar helping you wash away all your troubles.
Here's how you do it.

How to Go from "Why Am I So Unhappy" to "Here's How I Can Change That"
Step One: Recognize that your feelings are valid. You are never going to fix a problem if you keep telling yourself that you don't really have a problem or that if you do,  you really shouldn't. I don't care what any of your friends tell you. You don't have an imaginary problem. You don't need to just "put on a happy face." If you are constantly trying to answer the "Why am I so unhappy" question, then you need to acknowledge that something needs to be fixed. Figure out what it is. And do it.
Step Two: Shut out the people who are telling you that you should be happy. Have you asked people ""Why am I so unhappy" only to be told your an idiot for feeling that way? Do you confide in people about your sad blues only for them to tell you things like, "but your boyfriend is so awesome!" or "But you have a great job and a great family!" Shut those people out and stop confiding in them. Other people think your life is great? Good. Good for them. But not good for you. Because if you aren't happy about those things, then what other people say really doesn't matter. Other people don't have to live your life. Only you have to live your life. Stop asking those people "why am I so unhappy" and start asking yourself instead.
Step Three: Figuring out what exactly is wrong with the "good" areas of your life.  Okay, so let's look at those areas of your life for a minute. You know, the areas of your life that everyone else thinks are so awesome but don't leave you feeling happy; what's going on? I always tell clients who are trying to find their happiness to dig deep into the root of the problem. Don't ignore it: Discover it. Take out a pen and paper and start making a list of all the things you "should" feel happy about or "want" to feel happy about (those may be two different lists by the way) And for every one of those things, figure out what exactly is missing. List out all the issues you have with that area of your life so you can see them right in front of you. You can use my free E-guide at the bottom of this post for guidance!
Step Four: Discover what is missing in your life. A lot of the times when we have a lot to feel grateful about, we can't feel happy because we are missing something in our lives. If our careers are great, we may feel unhappy because we are lonely. If our relationships are great, and we should feel happy because we have a wonderful person to love us, we could be feeling sad because we aren't taking time to care for ourselves. Think of what you are longing for and ask yourself if life feels off balance. It could be the source of your unhappiness.
Step Five: Take action and make a change that is within your control. Finding confidence and happiness is a long process. But it never starts by just sitting around and moping. When you look at that list and see all the reasons you feel lack-luster or unfulfilled in your life, ask yourself what you can do to change it: What steps can you take to change your circumstances? Once you see all the small things you can do to reshape your life and feel better, go through that list and start making small changes. So stop asking yourself "why am I so unhappy" and instead, ask yourself, "What steps can I take to change that?"

Do you need extra help? Do you want to make a big crazy change and completely transform your life?



Sign up for Your Free Life Coach Guide! Find Confidence, Feel Beautiful and Transform your Happiness step by step. Make an Amazing Change for Your Life. I'll give you the tools to make it happen!


What is Perfection is the Self Improvement blog for the imperfect girl everywhere. Learn to find happiness, feel beautiful, and be confident in who you are. We all deserve to be happy, and we all deserve to be the best version of us. And we all are truly capable of getting there. Because Perfection Is Impossible. Happiness isn't. See The Self Improvement E-Guide Collection For Your Life Coaching Guides to Change Your Life Today!