Hi Y'all! So sorry this post took me longer to create than I expected. Life gets in the way sometimes! So earlier this week I posted the story on how I decorated my meditation corner – and I gave you guys some free tips for how you can create your own safe space meditation corner yourselves! I loved that post so much and you all seemed to love it too, that I thought I would follow it up with a second post sharing some of the tools I use for my meditation practice!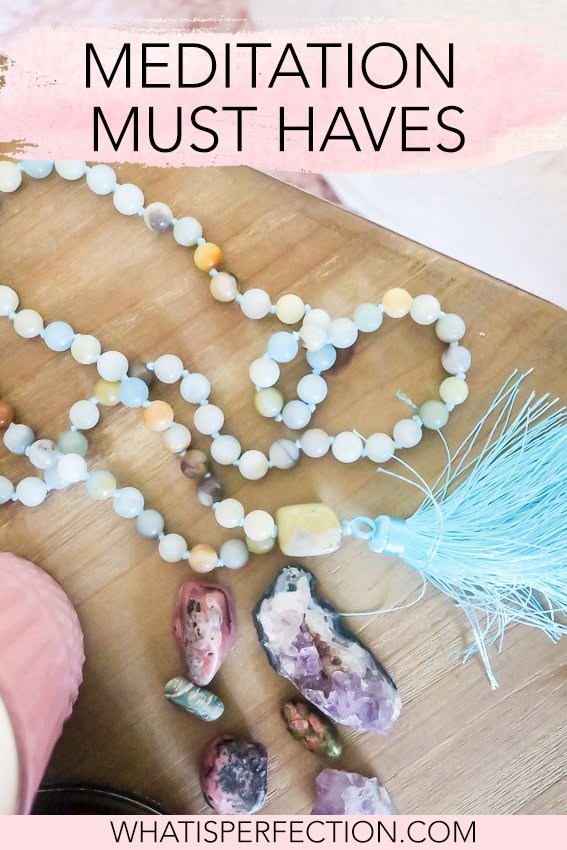 First off, let me just be clear – everyone's practice is different. And second – you don't actually need anything to meditate or start your own meditation routine. For me though, I find using tools to bring me down into my zen zone actually helps me. It enhances the experience and it lets me step into that "present state" quicker. So here's what I do every morning in my mediation corner….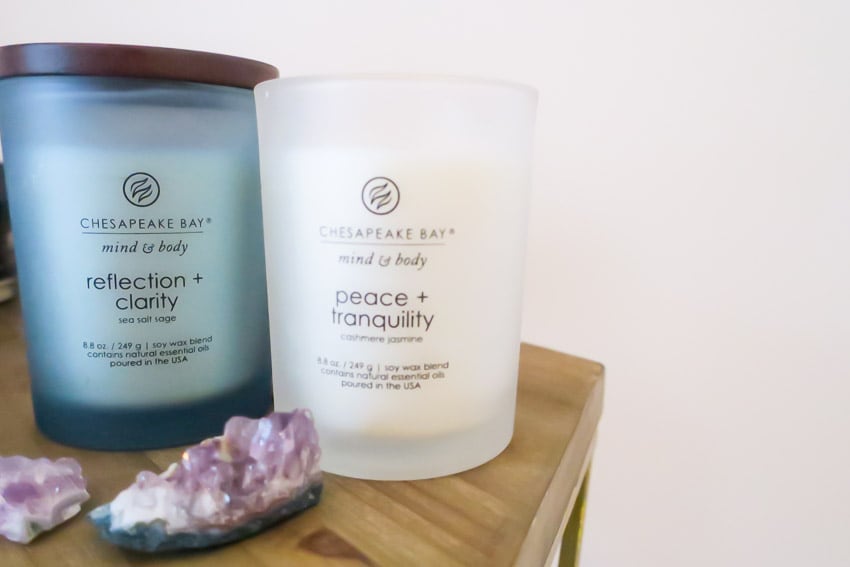 FIRST I LIGHT MY CANDLES 
I am really big into symbolism in my practice, so lighting the candle for me means that I am ready to open my heart and step into that surrender state of tranquility. I love these from Chesapeake Bay because it adds some variety to my practice. It allows me to decide what emotion I am longing for and then boom – I light it, set an intention and then move on. You can check out their line here:  Chesapeake Bay Candle Mind & Body Collection Medium Jar Candle, Balance + Harmony
 I absolutely love their scents. They are all fresh, pure and calming. These two are my favorite.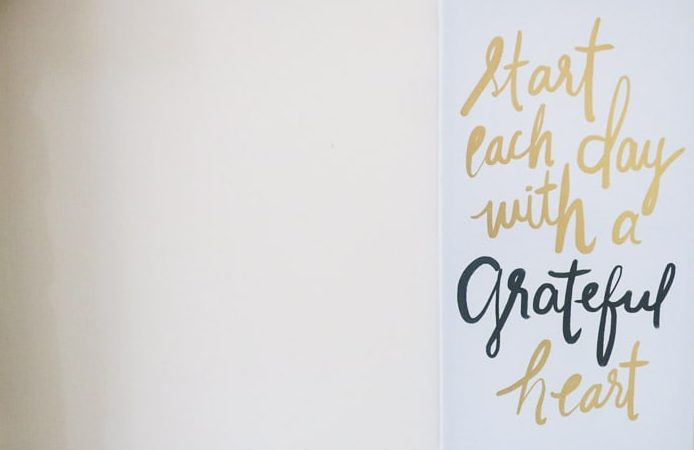 THEN I SET AN INTENTION FOR MY PRACTICE 
For me, I am always focused on gratitude. This sign that hangs in my meditation room is just a reminder to me that feeling grateful can open up the doors to so much more in my life. So no matter what I am dealing with in my life, I always try to remind myself before I go into meditation that gratitude is key. If you're looking for a gratitude reminder, I got this one at Target, but this gorgeous one on amazon is my favorite –> There is always something to be grateful for Print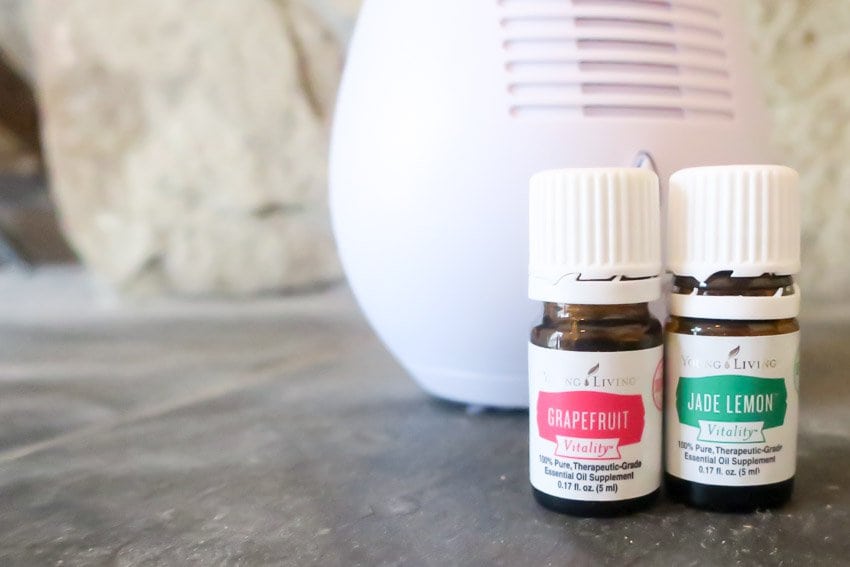 SOMETIMES I ENHANCE THE MOOD WITH OILS 
If I am craving energy or wake up extra tired than usual, I sometimes take things up a notch and diffuse some grapefruit or lemon oil. I find Grapefruit helps me feel confident and clear and the Lemon gives me that zesty energy I am hungry for on those off days. If you are looking for an oil company to go with I always recommend Young Living or DoTERRA. Both are amazing.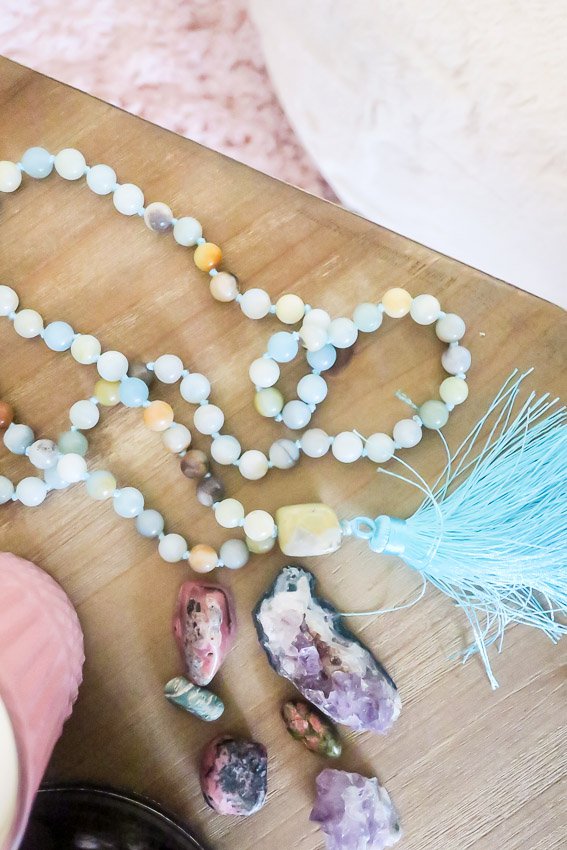 CRYSTALS, MINERALS AND MALA BEADS
Okay guys.. here's a big one – and there is post about this coming soon on the blog. I am obsessed with Crystals. It's my new thing. And I ma slowly building my collection. I carefully picked out some stones that spoke to me when I went shopping last week, and I can't wait to go back and buy more. But when I meditate I hold some in my right hand since the right hand is my receiving energy hand (I am left handed and naturally receive in my right) and I wrap Mala beads around my left  hand during my actual meditation practice. Mala Beads have roots in Buddhism and I'll def be doing a post on those soon and why they are important to use and incorporate into your spiritual practice. But for now, if you want to grab some for yourself, this style is my favorite. These are so beautiful to me. —-> Menton Ezil Elastic 3mm Tibetan Buddhist Amulets Retro Wrist Mala Wrap Beads Stones Bracelet Necklace 
I MEDITATE
Anywhere from 15 to 45 minutes depending on what I need. I close my eyes and put in headphones to drown out the noise. Sometimes I do an unguided practice where I just sit there in the silence and try to shut off my mind. Other days I go through youtube and search "meditation for —-" whatever I need that day. Once I open my eyes I surrender and thank the universe for the experience and then flip some cards.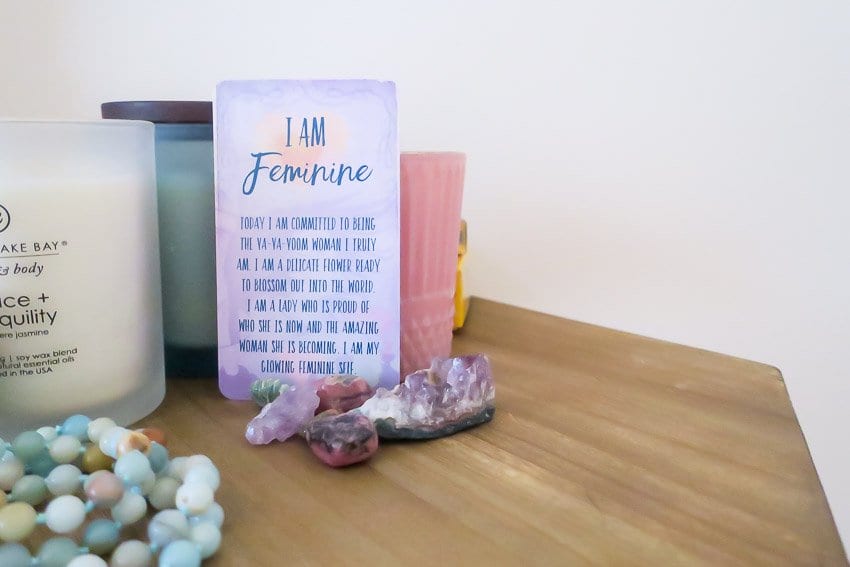 MY I AM DEDICATION CARDS 
My best friend Heather got me this gorgeous set of I AM cards, every card is beautiful designed with an inspirational message of what you are that day. I shuffle the cards and then randomly pick one. For some reason – the universe always sends me a card that I need that day. You can find I AM Cards all over the place, but This pack is so special to me of course – thanks  Heather! They were designed by Loren Slocum Lahav and you can buy them in her shop here —> Her Online Shop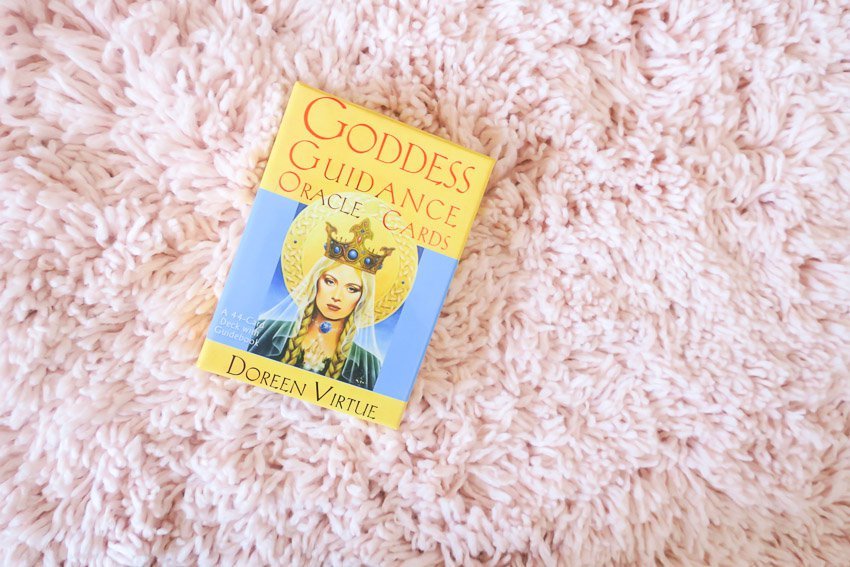 FINALLY, MY FEMININE ENERGY CARDS 
I am really strong in my masculine energy, having been a hustler in the Television industry for quite a while, it is really hard for me to go with the flow and relax when I need to. A while back the awesome beautiful Kris Britton recommended these Oracle Cards and I instantly rushed to grab them. There is a different Goddess on each card and I randomly pick one every morning to inspire me and lead me on my mission. There's a CRAZY story about these cards that I can't wait to share in another post – but for now, go buy a pack here if you want —> Goddess Guidance Oracle Cards
More in my next post! Hope you enjoyed these tips and suggestions for meditating!