I am such a sucker for a lot of things, but top two on my list of guilty pleasures?  Target shopping and home decorating.
Now, when those two things are put together, what do yo have? A TOTAL disaster for my Visa Card.
My client sent this to me and it basically sums up my life. Thank you Maria for making me laugh so hard: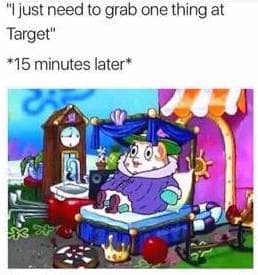 Here's the proof: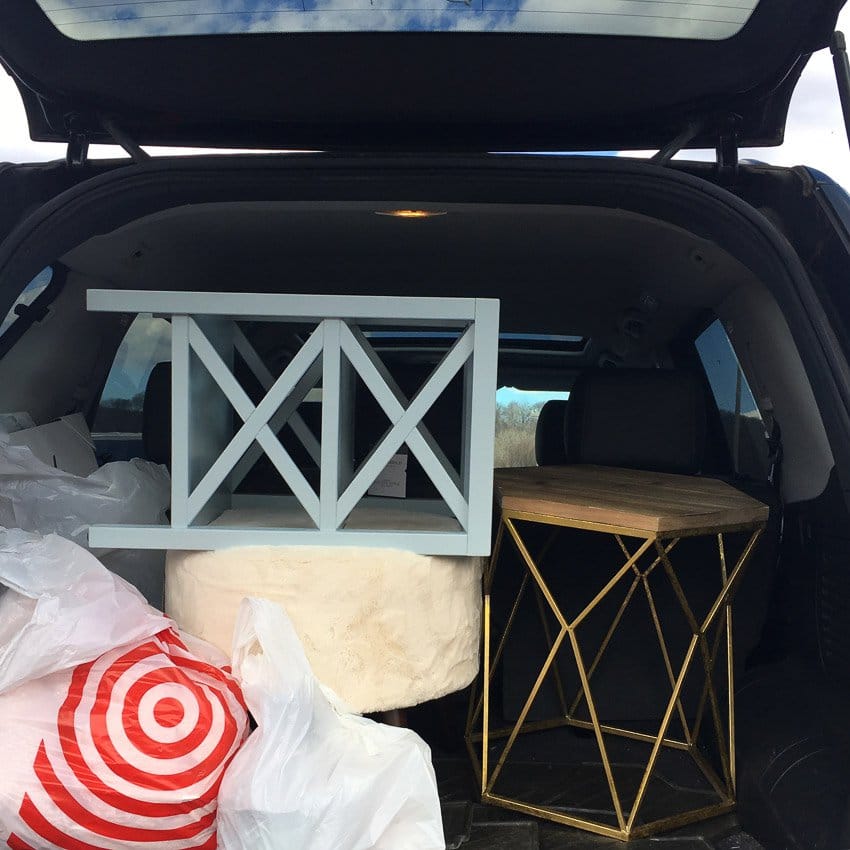 Yup….that was kinda how I looked after my trip to Target. I went in for toothpaste, came out with a bunch of furniture and forgot the toothpaste.
But it was actually amazing.. because for the longest time I had been wanting to create my meditation corner and I finally got to do it! Yay!
So today I wanted to give you guys some tips on how you can design your own awesome meditation corner.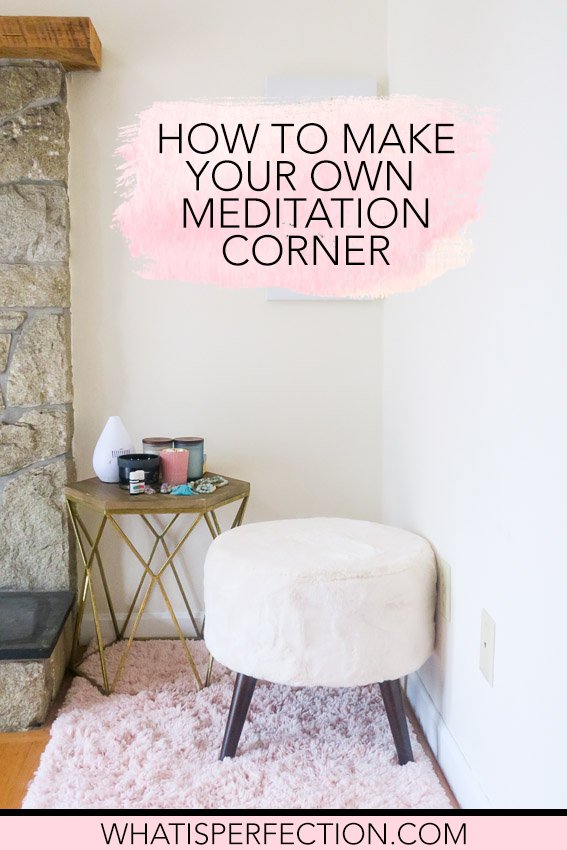 YES. I MEDITATE. A LOT.
I meditate every single day. I find that the secret to manifesting what I want isn't hustling or being an aggressive go getter. It's actually sitting back, stepping into my flow, closing my eyes and deeply imagining what it is I want for my life. (If you don't meditate I'll do another post on the site filling you in on why you should and how to start.)
But first, let me show you how I made my meditation room!
WHY YOU NEED YOUR OWN SPACE TO MEDITATE
For a while I was spending most of my meditation sessions lying in my bed and chilling out in corpse pose with headphones on. But I realized that for me, my bedroom gives off the "it's time to sleep" energy. So matter how hard I tried, I would often find myself dozing off into a little slumber mid meditation sesh. Having your own space to meditate and deeply align with your spiritual vibes is a great way to honor your practice.
WHAT IF YOUR HOUSE ISN'T BIG ENOUGH? 
As a former NYC girl, I know all about the first world struggles of not finding space in your apartment. Back when I lived in Manhattan I barely had enough room for a laundry hamper corner let alone a meditation spot. Sticking to the bedroom is fine if you don't have the space. But if you find yourself hungry for a little place in your home to call your own, feel free to walk around and take sometime feeling out the energies of your rooms. Is there a little corner in the living room you can designate to call your meditation spot? That's what I did? And it still looks great for when guests visit so I don't have to worry about rearranging anything when we host parties.
Okay.. Here we go… Let's talk details
My Meditation Corner, Before and After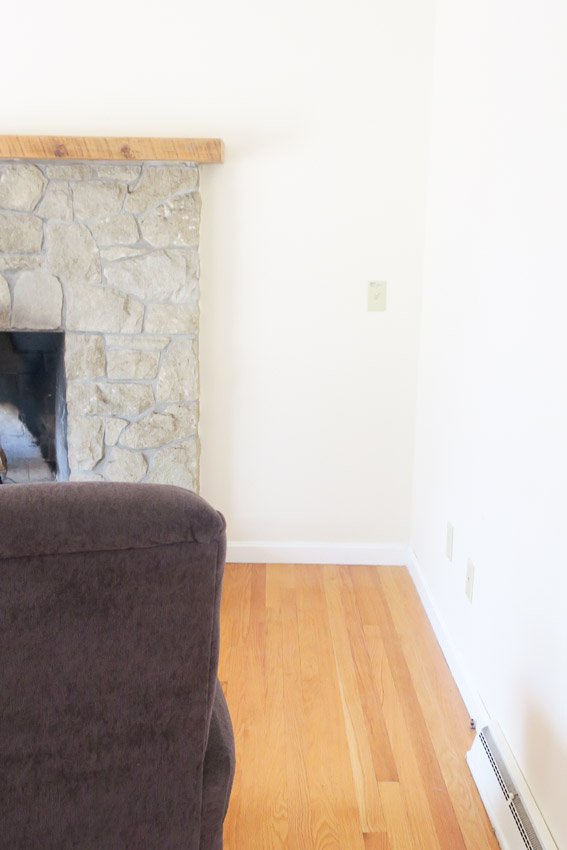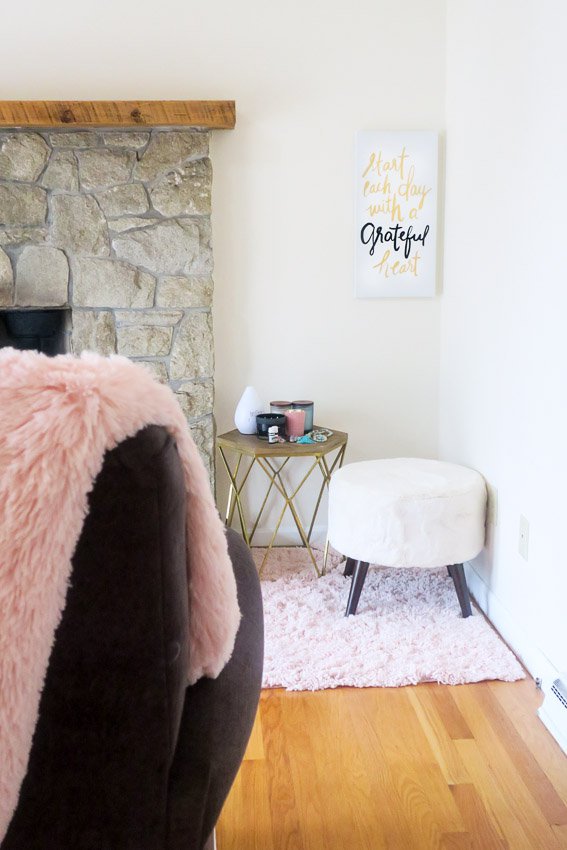 Okay..so here we go.
FIND YOUR CORNER.
Finding the space in your house can be a tricky thing. Like I mentioned, we don't all have the space. When I was trying to figure out where to create my little meditation section, I went through the house quietly feeling the vibes of each of my rooms. My Kitchen Dinning area has a lot of space, but it didn't feel right to me to put it there. My bedroom gave off more of an intimate and relaxing vibe than I would have liked, plus it is a shared space between my fiancé and me. I wanted a space just for myself. The lounging room upstairs is where Matt place his video games and hangs out, and my office is where I focus and do all of my work, so there was no way I was going to design a quiet spiritual corner in any of those places. I decided the Fireplace room was the best. It gave off almost zero negative vibes to me and it felt right. Get where I'm going with this? Find a room and a corner that most resonates with you. And feel it out.. it may not be what you expect.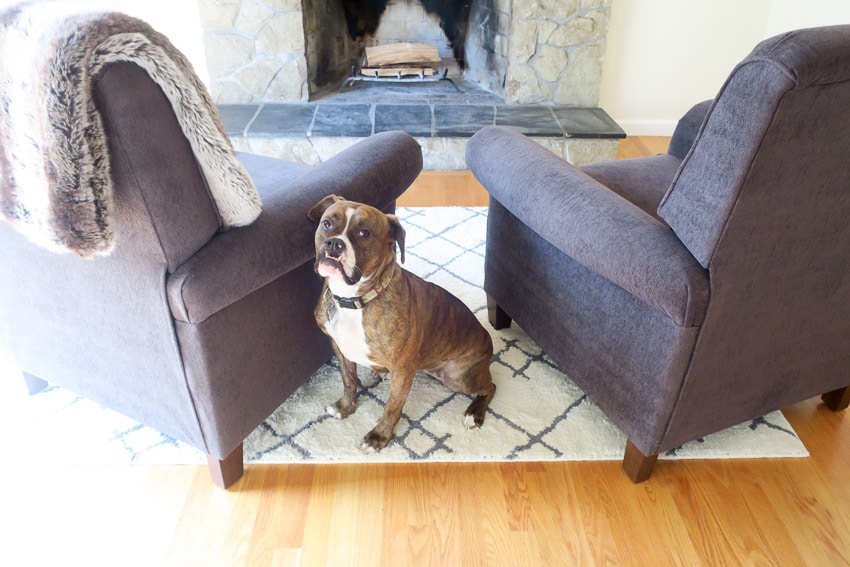 Ugh sorry.. my dog is so freaking cute I needed to throw her in here. Animal (yes her name is animal) Loves this space of the house. During the afternoons I find her sprawled out basking in the sun in front of the sliding glass doors. This space happens to be the most empty space of the house, since we are taking our time decorating and building book shelves. Anyway… it was  nice and empty. Minus the dog and the two recliner chairs of course.
TAKE YOUR TIME SHOPPING FOR FURNITURE
I went to Target and literally spent two hours picking out pieces that spoke to me. I recommend to  start you get a small table and a chair with a rug like I did. You don't need to go all out and crazy with your corner. What's important is that it stays simplistic and speaks to you and makes you feel good. I swear, by the time I was done decorating this space I was obsessed with it. You want to make sure your meditation corner is a place you are excited to go to every day.. so take the time picking out pieces.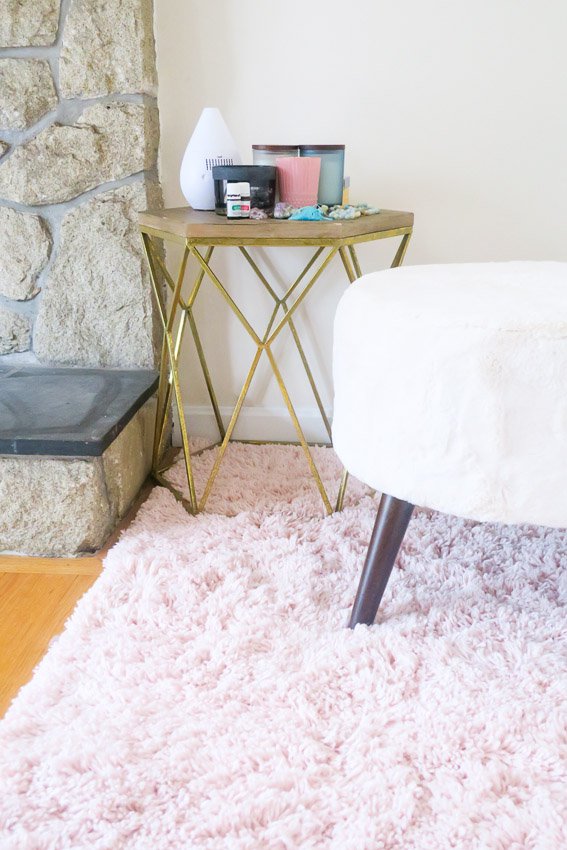 DON'T WORRY ABOUT MATCHING THE REST OF THE ROOM. 
This was something I went back and forth on, because I am a really big fan of creating happy creative spaces in my house, and I wanted to make sure my meditation corner wasn't so far fetched in style with the rest of the room. At first when I was shopping I was picking pieces that "went with the rest of the room," telling myself, "oh this matches," and then adding it to my shopping cart. I literally had to take everything out and start over. I was feeling a deeply feminine vibe for my meditation corner and I needed to roll with it. Even if the rest of the room isn't feminine that's okay. This is my special place and it doesn't need to match the rest of the house. Surprisingly, Matt didn't care that it was super girlie!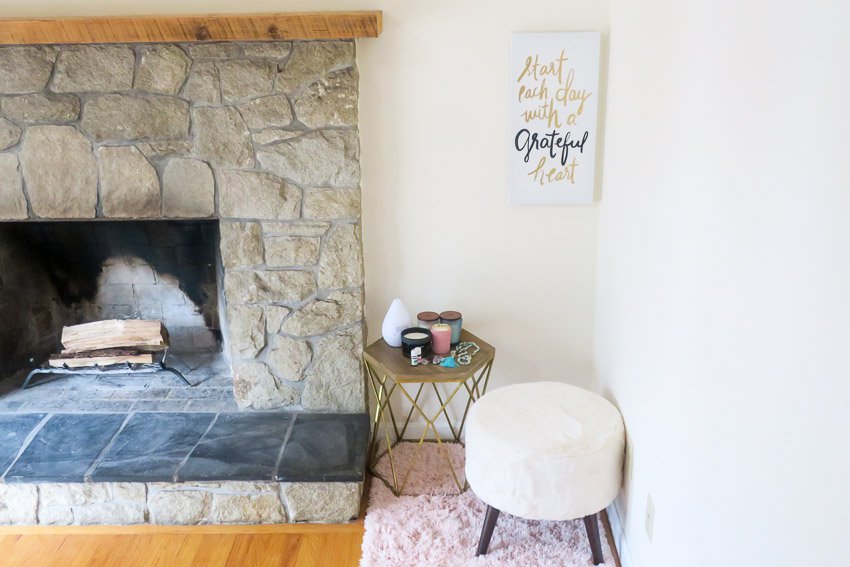 THE LESS CLUTTER THE BETTER.
The more simple the space the better. The whole point of your meditation corner is to decompress and empty your mind. The last thing you want to do is to fill the space with a ton of furniture posters and nicknacks. Keep it simple and stick to the basics so you can allow your mind the time to empty and chill out.
Make sense? I have to be honest I' m absolutely in love with it. Matt keeps laughing at me because every time I pass that space in the house I start doing happy dances.
Tomorrow I am going to share with you some of the tools and things I use to get into a deep state of meditation! So Stick around!