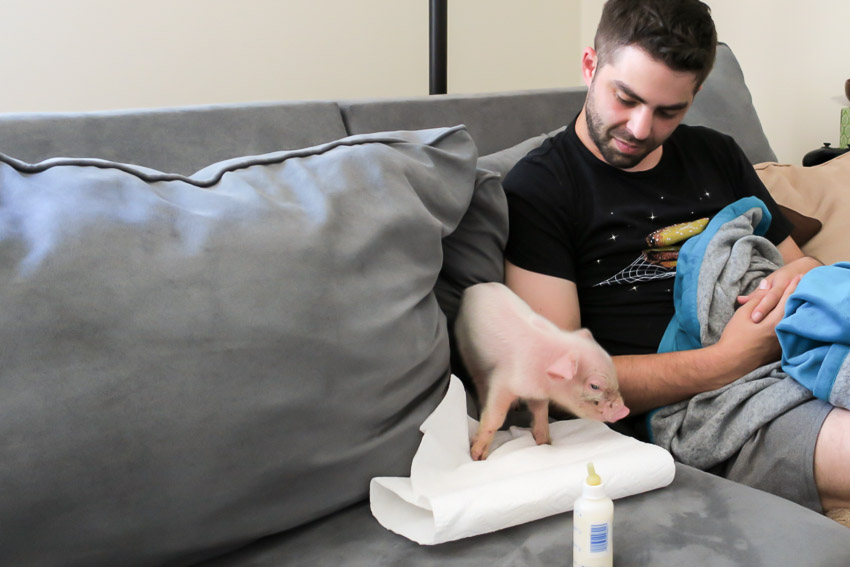 Did you see my post on Facebook yesterday? Our family grew by one! Yes, yesterday, Matt and I adopted a little piggly wiggly and we named her Pua! (Yes. From Moana.) We are absolutely in love with the little girl. She is such a hand full – more so than a dog. It actually feels like we have a new born baby on our hands! (Don't get insulted moms – I don't have babies and I'm sure its even more stressful) But yes. This little baby is two weeks or so old and needs a ton of TLC.
Okay.. so you all want to know right? How did it happen? Well, here it is.
The Story of Pua
Every Sunday morning, Matt and I have a tradition: We go to the store and get two scratch off tickets, and then we go and have a nice delicious breakfast at this diner right by our house that we love. I usually get a veggie wrap with some kind of side while he orders a different thing every time (he is setting a goal to try everything on the menu at least once.) "What do you want to do today?" I asked. "I don't know. I would kind of like to drive around and check out some new streets, that's always fun." (We are seriously old people.)
We moved to this town in January, and so every once in a while we like to go exploring. There isn't much to see around here – it's very quiet. Just a couple of little old school towns and general stores – it's a very relaxed way of living. There are a lot of farmers in the area, and we really enjoy just letting the road take us to new places.
So we hit the road. About a half an hour or so into our drive we saw a sign: "Piglets for sale, $75."
"Matt! We can get a pig and name it PUA! From Moana!!!!" I got so excited.
He agreed that we would look, but we wouldn't make any decisions until  we asked the farmer a bunch of questions.
"We'll have a sidebar and decide."
Okay I said. I agreed, all smiles.
Well, we called the number on the sign and before we knew it we were on a piece of farm property, meeting this awesome guy named Ray. He has sheep, Goats, Peacocks and Rabbits. Oh. And Duh. Pigs.
So he took us down into a dark barn where there were rows and rows of pregnant and nursing pigs. They were huge – 600-700 pounds or so! The pigs almost all go off to become meat – some grow up to breed more pigs, so we felt sort of nobel in our cause to at least try to rescue a piglet.
Ray took us up and down a bunch of trows of nursing piglets. He pointed to one bin that had pigs about a week and a half old. Also of them were pretty small, but there was one little quarter sized runt of the group. He picked her up and handed her to me.
"If you want that one you can have her for free because you are going to save her life," he said. We knew she was ours.
Pua (which also means flower or to emerge or blossom) was way too small compared to her other brothers and sisters and was getting pushed around in the group. She wasn't getting access to any of the milk and was going to starve to death.
We knew we had to take her home.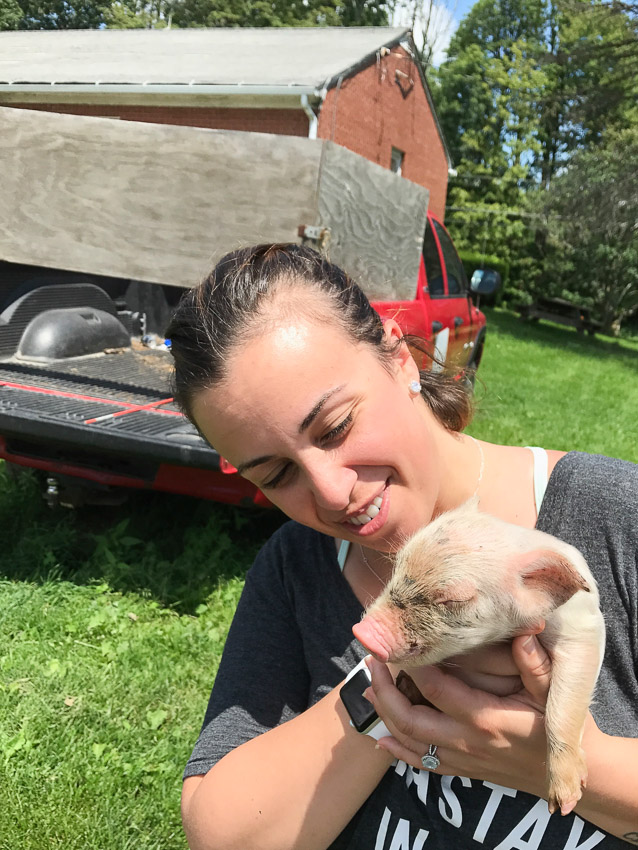 Pua is about 3 pounds or so. She was covered in dirt when we got her from all the tumbling around she did getting pushed around by her siblings. I put her in my arms and she instantly fell asleep. We went to the feeder store and got some lambs milk, a bottle, and a book on how to raise pigs.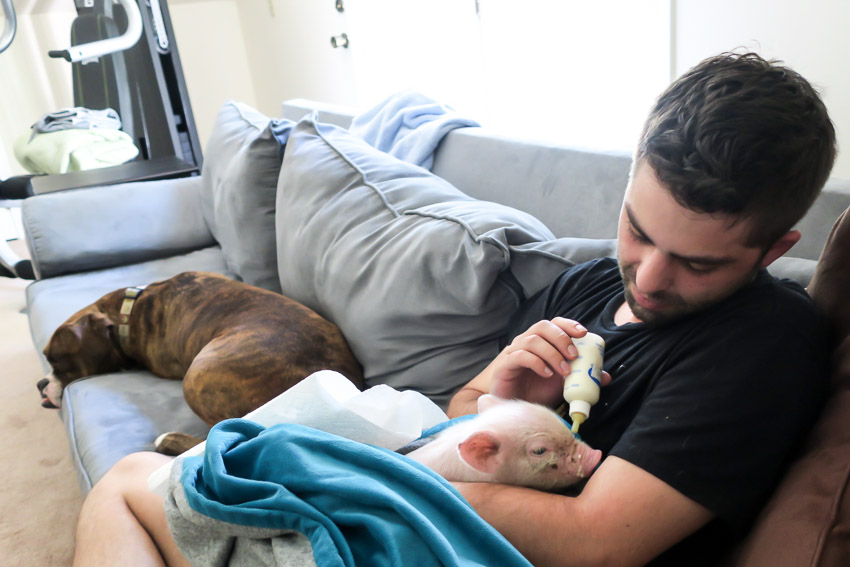 Right now, we are nursing her 4 times a day from a little bottle. She is really tired and loves to be held. It's so weird, it's like she knows we are her mom and dad. I can't explain it, but she just knows.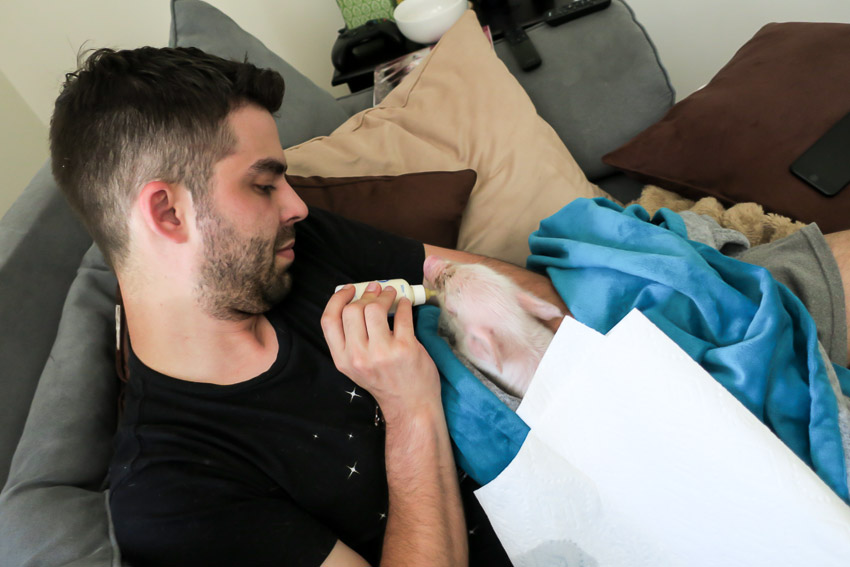 Matt is enamored with her I can just tell. He loved feeding her and watching her walk around the house and explore. We are definitely going to have to potty train her though!! (she had a poop in the house and it smelt so bad that Matt actually vomited. No joke.)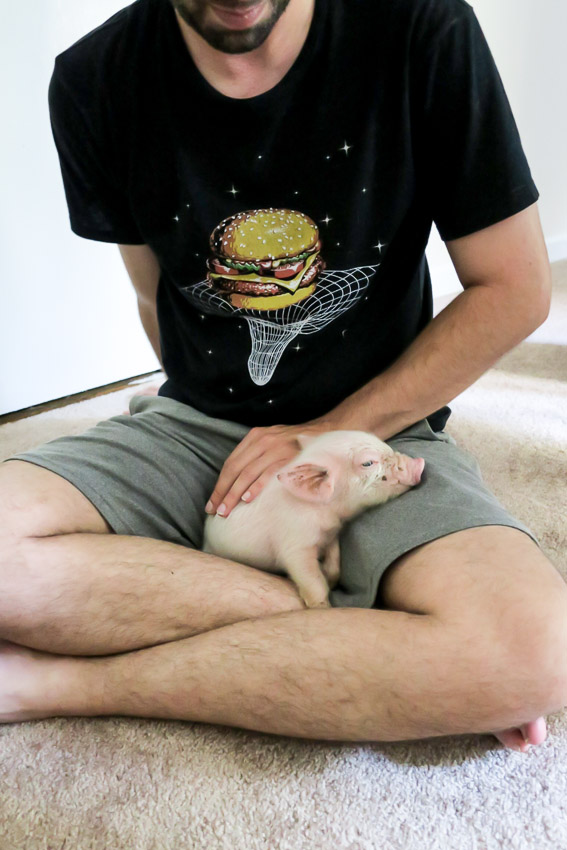 But she is so content. Pigs are actually really clean creatures. We have to keep giving her baths though because she had so much junk caked on her face. We don't know how big she is going got get – A lot of people are asking if she is a miniature pig or a regular pig – So in case you are wondering, there is no such thing as a miniature pig. She is definitely the runt, so she probably will be smaller to some degree but we don't know. Pigs that are "small" are just pot belly pigs that were malnourished by their owners. We are anticipating having a healthy pig, but we have no idea what that means for her size and stature. So overtime she will get bigger.
As far as where she lives, that all depends on her size. We hope we can keep her in the house, and we will do so for as long as it works best for us. Pigs are really smart creatures -more than dogs, and we plan on house training her just like our other little furry babies. As she grows, we may consider moving her out into the backyard. But for now – for now she is our little house pet. Our third puppy.
Oh… and in case you are wondering – the dogs love Pua.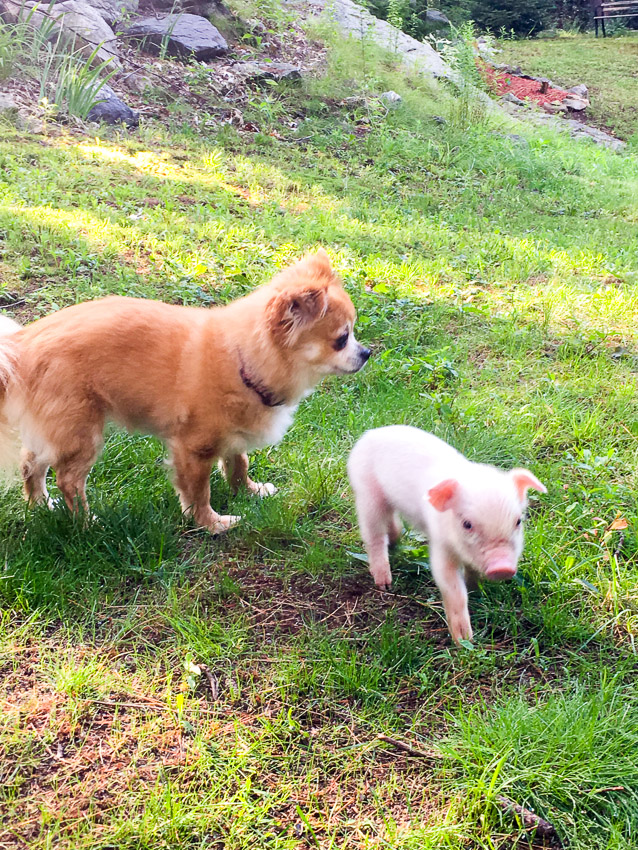 Zoey is obsessed with her little friend. I think this is the first time Zoey has actually had a friend smaller than her – so she likes it. Last night we had to move zoey's bed next to Pua's crate so she could sleep next to her. She gazed at her all night long it was just the cutest thing ever. They are in love.
More updates later from our crazy little house on Caterpillar Hill <3
xox, Lauren, Matt, Zoey, Animal, and Pua