Ever since I became an entrepreneur, I've become even more obsessed with my desk/office area. Now, if you know me personally, you're probably thinking that's crazy – since I was already so obsessed with my desk. But it's for a good reason. Now that I work from home as a full time blogger and life coach, my inspirational workspace is the most important part of my home. It is basically life.
Because I LOVVEEEE me a sexy motivational desk area.  And if I don't have one, I go crazy. No joke.
Forget about working… when my desk is a mess, it sets me off into crazy town.
To be clear, I'm not really a clean freak. I'm fine skipping out on the laundry for two weeks and letting the dishes pile up. Sometimes I even forget t to sort through the mail. All that is totes fine with me. But if my desk isn't organized or if my inspirational workspace is cluttered, then we have a serious problem in Lauren land. I've become somewhat of a pro in the art of creating an inspirational workspace. So today I am sharing my tips so you can do it too!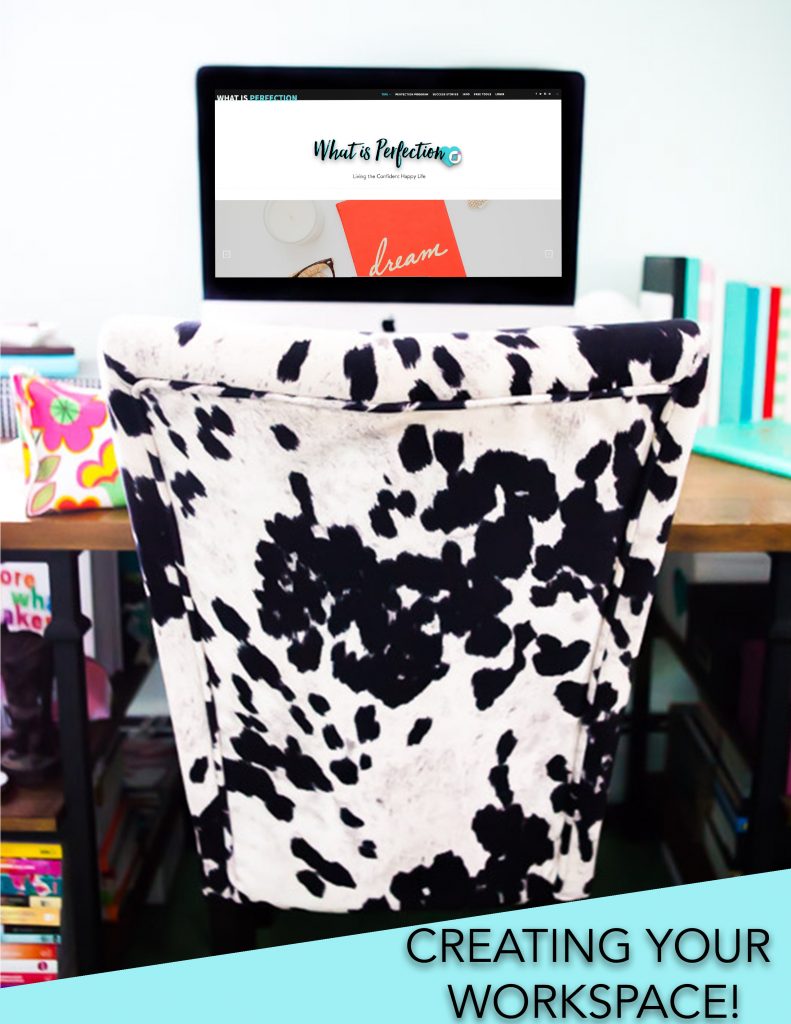 Creating an Office Area that Inspires You.
I am a firm believer that certain environments give off different energy vibes. If you are constantly working in different places, or if you don't have a desk to call your own, you are more likely to feel stressed, disoriented and chaotic in your daily work routine.
I can definitely attest to this. I get much more work done at my desk than I do when I bring my laptop in bed or to a coffee shop to work. The quality of my work is reliant on my inspirational office area.
So since I know how important it is to have an inspirational workspace, I make it a priority. When Matt and I moved into a small temporary space this past winter, I had one requirement: There MUST be room for my desk.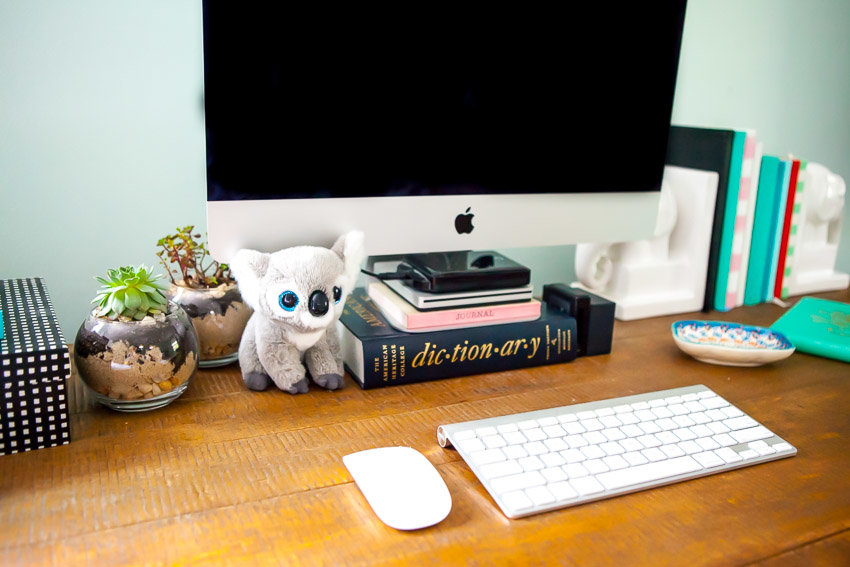 How to Create a Motivational Workspace
Here are my solid simple tips for making your own inspirational workspace that rocks.
1. Create a space that represents you. My office area is a representation of ME. And I LUVVVV that. Having an inspirational workspace that has me feeling connected to my own passions and identity keeps me continuously positive during my workday. Honestly, without my own special space, I am not sure where I would be. So when I decorate my desk, I always look to feature decorative items that make me feel connected to my soul. The koala I have next to my computer for example reminds me of my boyfriend. He calls me his koala (because I am always sleeping) It's a silly little inside love joke just between us, but when I see this little koala every day, it reminds me of the reasons why I work so hard. Because I love him, duh.
2. Fill your inspirational workspace with positive symbolism. See that dictionary that's propping up my Mac computer? I got it from a producer I worked with at CBS News. I thought he was a genius. But then he got fired. I saved this dictionary as a constant reminder that sometimes even the best of us fail. It keeps me focused on my mission to learn and grow and also keeps me humble. It's a solid reminder that even the smartest people in the world still learn hard lessons.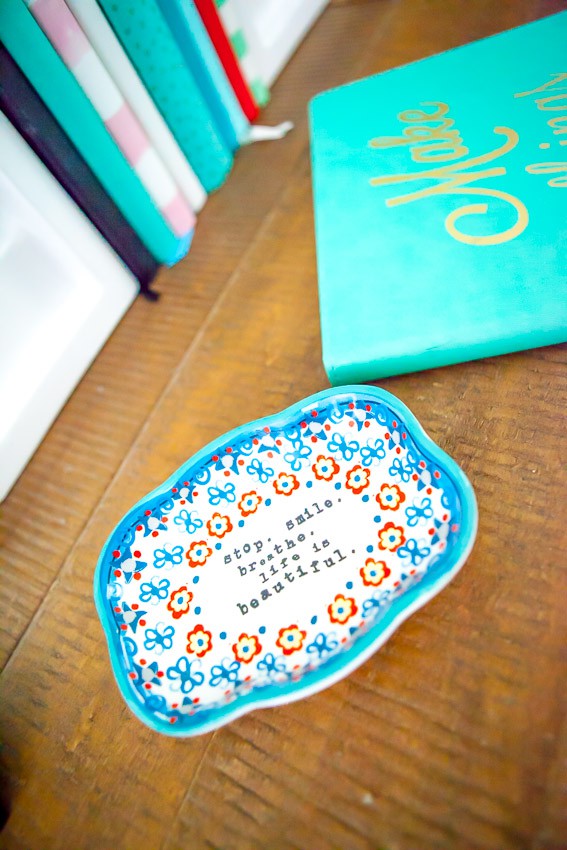 3. Fill your inspirational workspace with quotes that speak to you. I love looking at this dish on my desk. Sometimes it's covered with little paperclips and I lose sight of the quote on there. But when I get a chance to look at it, the quote makes me feel so happy, inspired and relaxed. So, when you are designing your inspirational workspace, be sure to find some quotes to display at your desk area. Whether they are framed quotes, notebooks with quotes, or ceramic piece of inspiration, it doesn't matter. Having a few scattered positive quotes across your inspirational workspace can help you push through those tough days when you aren't feeling as creative or motivated.
4. Keep the clutter away. I am a firm believer in keeping my inspirational workspace as organized as possible. So keep your office area as organized as possible. Get folders or a nice file bin to keep your paperwork clutter off your desk. Buy bins to store your markers, crayons or extra electrical cords. Keeping the clutter out of site will keep you more focused on whatever work you are doing that day. I do keep some beautiful notebooks shelved on the top of my desk for decoration. But most of my research material and office supplies is stored away in bins or in nice organized piles underneath my desk. That way I have nothing to distract me while I am working.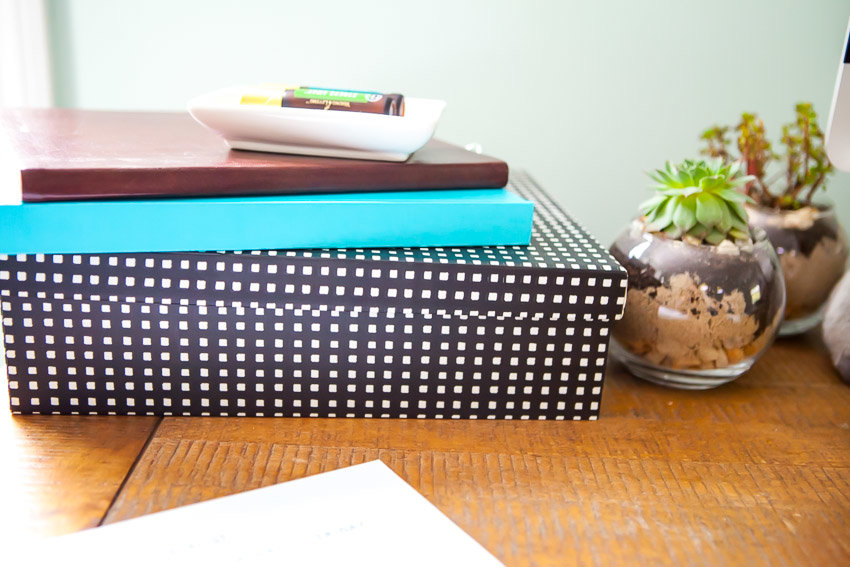 5. Keep a thematic color scheme. I have so much of that gorgeous blues and pastel teal color scattered in my inspirational workspace. I love those colors. They make me feel so happy and positive. Having a few books and decorative pieces with those color tones on my desk keeps me feeling positive in my work environment. Not to mention it also keeps me focused because that's the beautiful WIP brand color! So when you create your inspirational office area, find a few colors that speak to you and play off of them when you decorate. I am not saying you need to go out and get everything super matchy matchy. but pulling a strong color scheme through your workspace keeps the positive mood you created continuous and focused.
I hope you enjoyed my little tips today! More to come on the blog. Do you have any favorite inspirational workspace items? Share them with me, I would love to check them out! Oh.. and if you are a blogger, check out my other blogging posts in the lifestyle section here.


Sign up for Your Free Life Coach Guide! Find Confidence, Feel Beautiful and Transform your Happiness step by step. Make an Amazing Change for Your Life. I'll give you the tools to make it happen!


What is Perfection is the Self Improvement blog for the imperfect girl everywhere. Learn to find happiness, feel beautiful, and be confident in who you are. We all deserve to be happy, and we all deserve to be the best version of us. And we all are truly capable of getting there. Because Perfection Is Impossible. Happiness isn't. See The Self Improvement E-Guide Collection For Your Life Coaching Guides to Change Your Life Today!