Last year's holiday season was super stressful. And Surprise surprise – this one is no different. It seems like deja-vu. We are packing up everything and moving … again! (but now it's into an official house! YAY!) But finding the time to treat myself lately has been slim to none. I have had very little time to do much of anything lately.
Then I remembered last year, my friend Gabby inspired me to make a list of all the ways I could treat myself during the stressful holiday season. She did a a post about it last Christmas on WIP that inspired me to make my own.
I took out a pen and I decided it was time to figure out what I could do to feel more calm and put together. It worked.
So this year, I'm revising and sharing my list! These are a few little "to-do's" that I always include on my holiday season list.
The holidays are supposed to be a time for "peace" and "joy" and lots of happiness. But seriously, how often do our holidays become full of "chaos" and "stress" and lots of things to do.
That's why it's so important to keep room for a little love for ourselves in our schedule.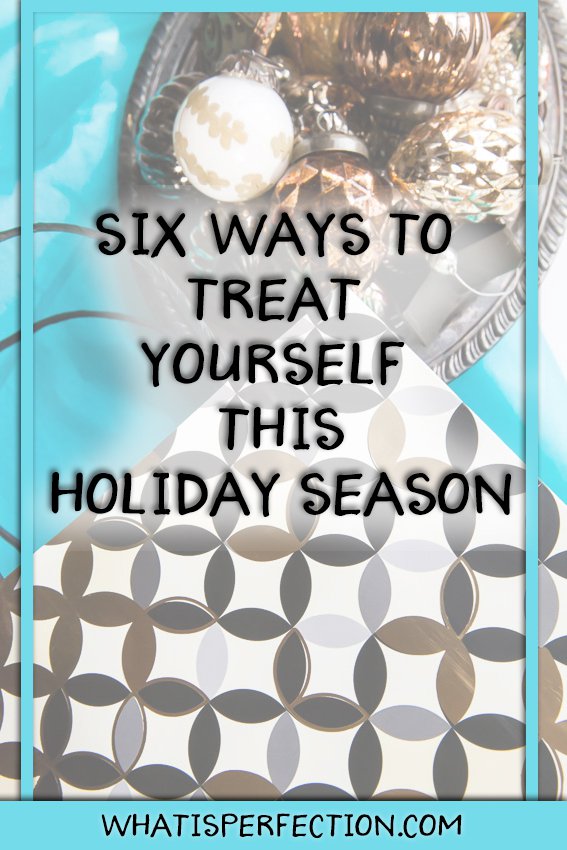 TREAT YOURSELF THIS WINTER SEASON.
Take time to brainstorm your new years resolutions.
This is one of my favorite things to do. And I always make it a ritual. I make myself a nice delicious tea, cozy up under the blankets, put on an inspirational movie and start day dreaming. It reminds me of a few things… 1- that I am still important during time of year where personal care falls on the back burner. 2- it reminds me that the holiday season is soon ending… and the new year is something to look forward to. You can grab a free excerpt of my new years resolution guide here if you want!
Have an at home spa day for just one afternoon.
I love spending extra time caring for my skin during the holiday season. Just with a little TLC I can brighten up my mood by caring for my body a little bit more. Check out this at home spa guide if you want some ideas on how I do it!
Spend some time listening to Christmas music.
Because nothing gets me more excited and happy than the old N*SYNC Christmas album.
Treat yourself to a new little gift for your emotional health.
Every year before the holiday, I go out and buy a new journal along with a little special something to treat myself for the new year. It's my favorite thing to do to keep me focused on my happiness. (I'm kind of obsessed with notebooks.)
Stay away from the scale.
One of the biggest gifts I treat myself to during the Month of December is literally avoiding the scale. It is really hard to enjoy relax and appreciate the holidays when you are obsessively weighing yourself each day.
Spend time writing a gratitude list.
When you are grateful, it's super hard to be sad. Trust me. Grab the free gratitude check list here.


Don't Forget to Join the Facebook Group!
I give you access to tons of Self Improvement Tips!
JOIN NOW